Custom audiences is where you're going to maximise your Facebook ad campaigns, as people who have interacted with your business before are much more likely to take action than those who haven't.
Facebook has made several updates over the years to custom audiences, allowing you to group people based on their actions. In this article, I'll go over 10 types of custom audiences you need to be using.
1. Email lists
It should go without saying that you must create a custom audience based on your email list. Even if customers unsubscribe from your email list, they will continue to be in your custom audience unless they manually hide your ads on Facebook.
Pro tip: Segment your email list into two custom audiences: leads and customers. This will allow you to serve the right message to the right group. Don't make the mistake of lumping all emails together (unless you have a very small email list).
2. Customers
Anyone who has bought your product or service has handed over their email address. Create an audience of customers, but make sure they are not bombarded with irrelevant product ads.
Pro tip: If you sell products that are bought on a regular basis (for example, a weekly food delivery service), you should further segment your audience based on the time from their last order.
3. Category views
If you sell a range of products or services, then you must create a custom audience around each category of product you sell. These custom audiences can be combined with dynamic product ads to serve highly-personalised ads.
4. Time spent on the site
In 2016, Facebook allowed advertisers to segment users based on the time they spent on the website. You can choose the top 5%, 10% or 25% of users. If your website is receiving thousands of visits per day, it's wise to select the top 5% or 10% only and serve them your content.
This ensures you're not wasting your ad spend on users who visited your website but have no interest in your products.
5. Engagement with your page or ads
You can create a custom audience based on anyone who has interacted with your:
Videos
Lead Ads
Canvas Ads
Facebook Page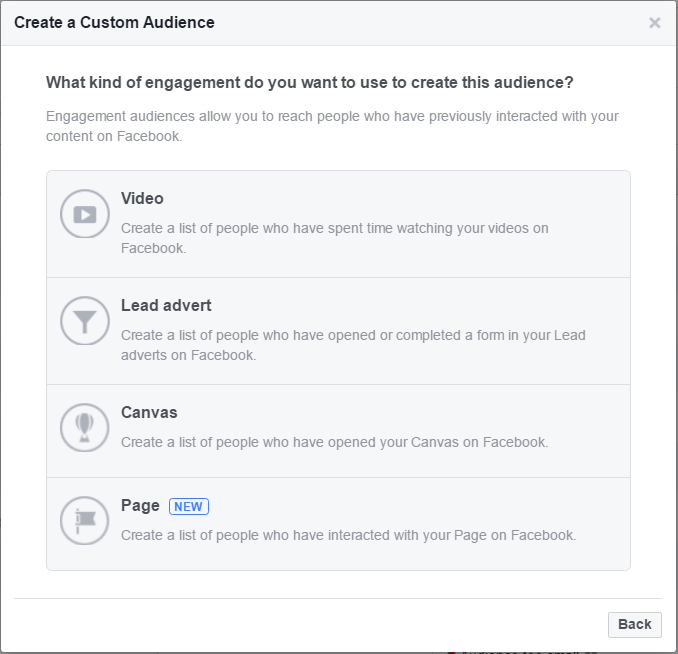 Not everybody will click on your website from your Facebook posting, so this is a useful audience to segment to serve more branding-related or retargeting ads.
6. Abandoned cart
The average website has a 65% cart abandonment rate.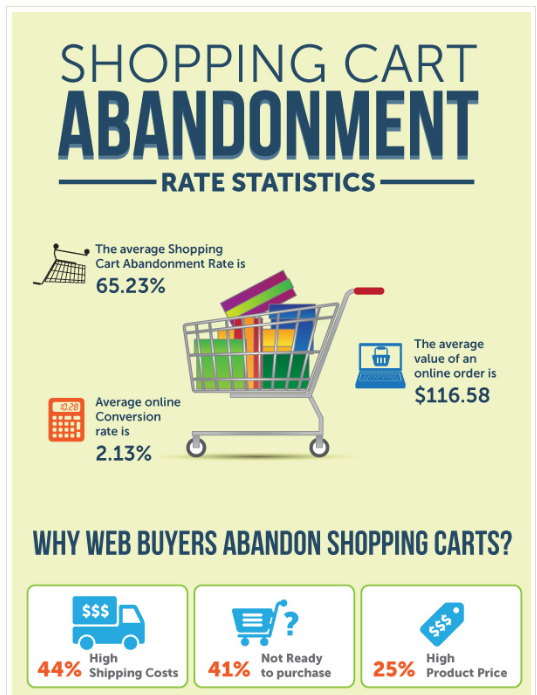 (Source)
Through the power of Facebook ads you can bring back lost customers through custom audiences. You can do so by creating a custom audience targeting users who have visited your checkout page, but haven't landed on your order confirmation page, or by using standard event pixels.
7. People who haven't visited in a while
A nice evergreen ad is a boomerang to serve to users who haven't visited your website in a certain amount of days. For example, if the average customer orders from your website every 12 days, then you can create a custom audience for people who haven't visited your website in 13 days or more.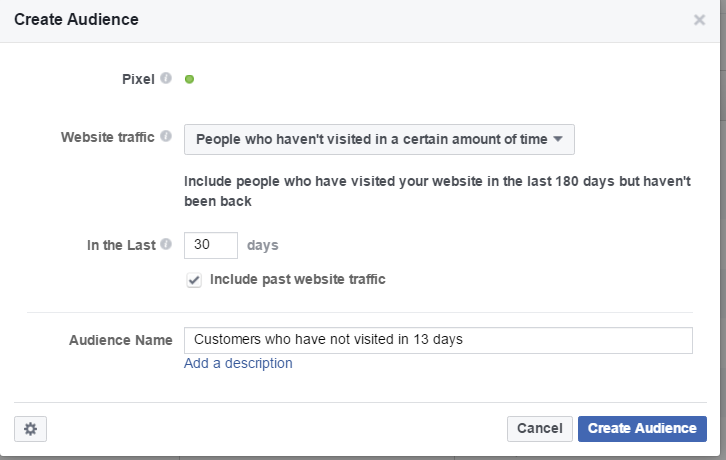 They can be served a reminder ador even an offer to encourage them to come back.
8. Advanced website custom audiences
From May 2016, Facebook introduced advanced website custom audiences that allow you to create audiences around standard events, such as sign-ups, page views, add to cart and purchases.
These are all useful audiences to create as you can use them to exclude users from seeing specific ads.
9. App activity
Do you have a web or native app? If so, then you can target users who have taken a certain action or visited in the last 60 days. App custom audience targeting works just like users who visited your website, but do require a little more work to set them up.
10. Your power customers
OK, this might be cheating a bit, since we already mentioned customers up in #2, but it's worth emphasizing again here – customer-based custom audiences will almost always be the most effective, both for direct targeting and building looklikes.
They say that 20% of your customers account for 80% of your sales. Do a search through your CMS and identify your top 20% of customers. Insert them into a custom audience and combine that with a lookalike audience to create a new pool of leads that can enter your funnels and jump into any of the custom audiences (#1-9) above.
Summary
It may sound like hard work creating all these audiences, and it is, but nothing in business comes easy.
The above are the 10 must-have custom audiences. Some of them will have several more custom audiences inside, so it's not unreasonable to end up with 20, 30 or even 50 custom audiences!
Have I left any custom audiences out that you think should be mandatory? Tweet @MuteSix and let us know.