With the holiday season creeping upon us, for many businesses the final quarter is where they allocate the lion's share of their marketing budget, and where they hope to generate the bulk of their yearly revenue.
Without a solid strategy and an optimized Facebook marketing campaign this holiday season, you may end up leaving a lot of money on the table.
In today's article, I'm going to show you 7 Facebook hacks to supercharge your holiday campaign in 2015.
1. Start Making Use Of Carousel ads
During the holiday period, your prospects are just looking for an excuse to spend their money. It's the only time of the year where they can buy presents and gifts guilt free without worrying too much about their expenses.
Carousel ads are often the hardest Facebook ads optimize as there's more variables in place than a regular post to test, but here's a few tips to get you started:
Merge your best posts together – Locate the best 3-4 ads you've published this year and merge them together in a carousel ad. This takes a lot of guesswork out of deciding which products to show and what images to use.
Make products theme related – When serving products through carousel ads, make sure the products you serve are similar. For example, creating a carousel ad serving women's shoes, jeans and t-shirts is well connected, whereas serving an ad with a laptop, couch and tennis racket is not relevant to prospects makes your business look unprofessional.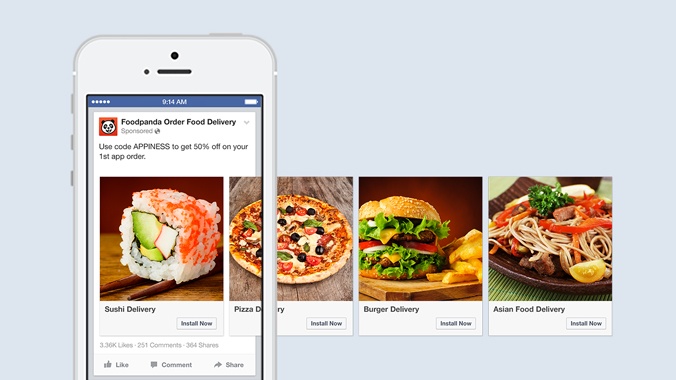 Use quality images – Carousel ads typically have a shorter text heading then normal posts, making the image the biggest attraction (see example above). Take high-quality pictures or hire a freelancer to Photoshop and improve your images.
Carousel ads may need to be checked and changed on a regular basis until you find the winning formula. Setup 3-4 ad units at once, allocate a $20 budget to each carousel, measure their performance and scale the ones that yield a positive ROI.
2. Create several remarketing messages
Shoppers will be doing a lot of research during the holiday season, and your website will be one of several they visit before deciding where to spend their money. We highly recommended you setup a number of remarketing campaigns based on where prospects are in your funnel.
Generally speaking, the more recently a prospect visited your website, the less incentivized your offer should be. For example, a prospect who visited your website 24 hours ago is much more likely to purchase than someone who last visited 55 days ago.
Prospects who recently visited your website have your brand fresh in their minds and are more likely to come back prospects who visited a month ago.
A typical remarketing campaign we run for clients would look a little like this:
1-5 days – No offer, just a standard ad retargeting prospects back to your website
6-14 days – A 5% discount voucher or free shipping for all products
15-30 days – A greater discount offered or a buy one get one free on certain lines
31-35 days – An even greater time-sensitive discount that expires within 48-72 hours
Keep in mind the above is just an example. The key takeaway is that the further away prospects are from your funnel, the more incentives you'll need to offer to bring them back.
3. Merge leads ads with coupon codes
I recently discussed Facebook leads ads and I think they'll be a huge part of the 2015 holiday season. Combine them with coupon codes or free shipping vouchers and have an email auto responder already setup to nurture prospects who submit their details.
If you don't want to offer coupon codes or free shipping vouchers, consider creating a PDF newsletter of all the offers you have online and use it as a lead magnet in exchange for emails.
Pro-tip: If you have an active Instagram presence, go through your photo feed to find images that received the greatest amount of engagement setup ads with call-to-actions back to your store. Also think about setting up the same lead ad to run on Instagram.
4. Run A Holiday Quiz
Any other time of the year, quizzes doesn't usually have a great impact. But during the holidays, a great seasonal quiz can go viral and generate plenty of leads. You really have to spend a bit of time formatting your quiz to make it look attractive and interesting, otherwise prospects won't pay attention.
If you're on a budget, then Shopping Quizzes and Quizzr are your best options, but if you want to take things a little more serious, then WooBox is the way to go.
WooBox lets you setup amazing quizzes that keeps prospects on Facebook, increasing the likelihood them participating. Here's a quiz from Coors Light who wanted to further show the value proposition of their product using a quiz: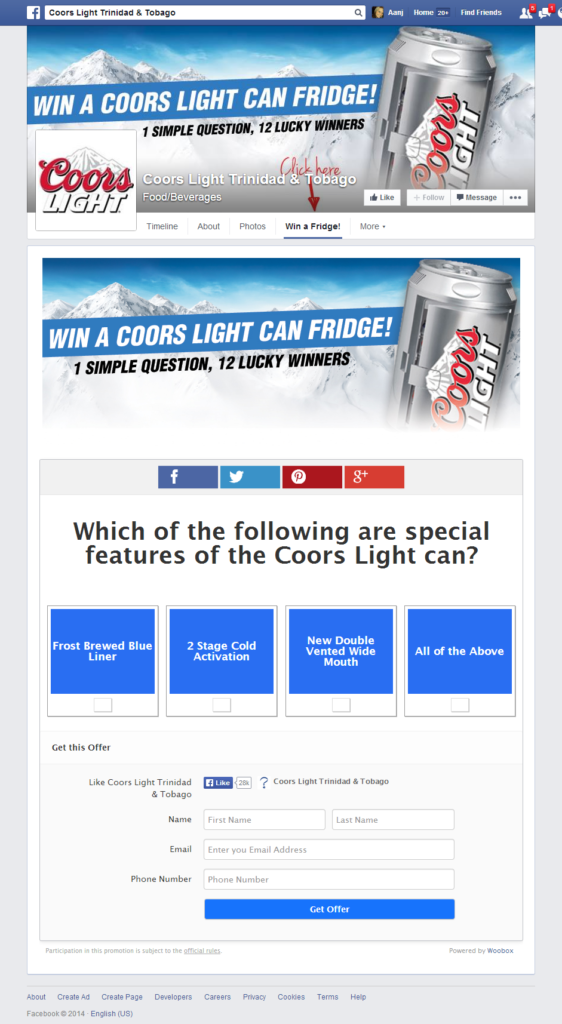 Quizzes work best when you offer incentives such as prizes or vouchers. Internet users are not going to spend 5 minutes of their day filling in a form if they don't receive any value out of it.
5. Allocate a larger budget for November and December

Numerous reports show that the final quarter is where most ecommerce businesses spend the bulk of their marketing budget. As I said, the Christmas period is huge for shoppers, and you'd be better off allocating more of your marketing budget in the months of November and December than January and February.
As consumers jump on the Internet to find gifts and presents, your click through rates and conversions will almost always be higher, even without optimizing. If possible, you should ideally scale your spending more favorably for the upcoming months.
6. Make your content seasonal
The media space in the next few months is going to be a battlefield if you operate in a competitive niche. Ad relevance is going to be important to show your offers are new and relevant, adding a seasonal touch is a great way to emphasize that.
For example, if you sell fashion clothes, place a Santa hat on your model or put a Christmas tree in the background. Once again, if you don't have the images to make your content seasonal, you've got plenty of time to hire a freelancer who can do it for you.
7. Facebook Product Ad Lists
Facebook product ads were introduced in February 2015 as a way to help businesses showcase their products to customers: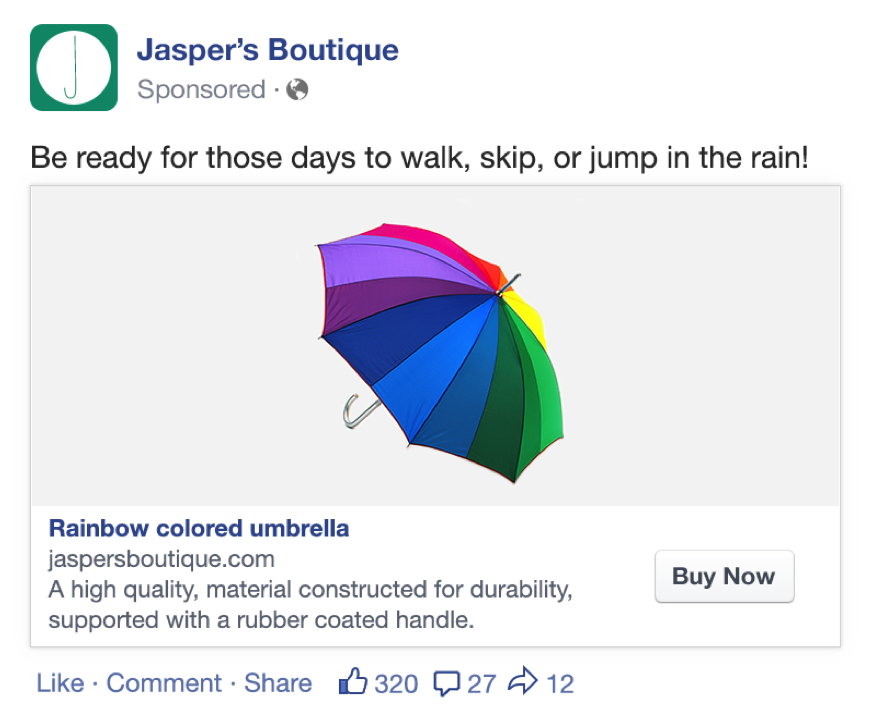 Don't make the mistake of serving product lists to new prospects (who haven't visited your website) as they not qualified prospects and will eat a lot of your budget.
Instead, locate products that receive the most page views, create custom audiences for each product and serve each custom audience Facebook products ads through retargeting. Facebook product ads lets you serve a single product or multiple products.
Summary
Whether you've had a poor 2015 or have performed above expectation, everything can turn on its head in the next two months. The Christmas season is a billion dollar industry and the most crucial time for your business to have a bulletproof Facebook strategy.
The 7 growth hack tips I've mentioned will take a little bit of time to setup and test, but the ROI they can bring is huge.
If you're a business that relies heavily on a strong Q4, feel free to get in touch with us today if you need further advice on setting up a winning Facebook plan this Christmas.