From our partners at Okendo
With A/B split testing (and a sprinkling of user-generated content), you can perfect your email marketing campaigns and boost revenue.
Is email marketing still relevant in 2020? It's a great question, especially with millions of people using social media, text, and video to communicate.
That said, the stats show that email is still alive and kickin'. Nearly 300 billion emails were sent and received daily in 2019 — set to increase to 347 billion by 2022. Email marketing delivers an impressive return on investment – $42 per $1 spent, to be exact.
But to benefit from email marketing efforts and identify what's working and what isn't, you need to determine your demographic and utilize segmentation, or A/B testing. Doing so will support conversion rate optimizations. Read on to learn how to use this technique (and a dash of UGC) to boost your email campaigns.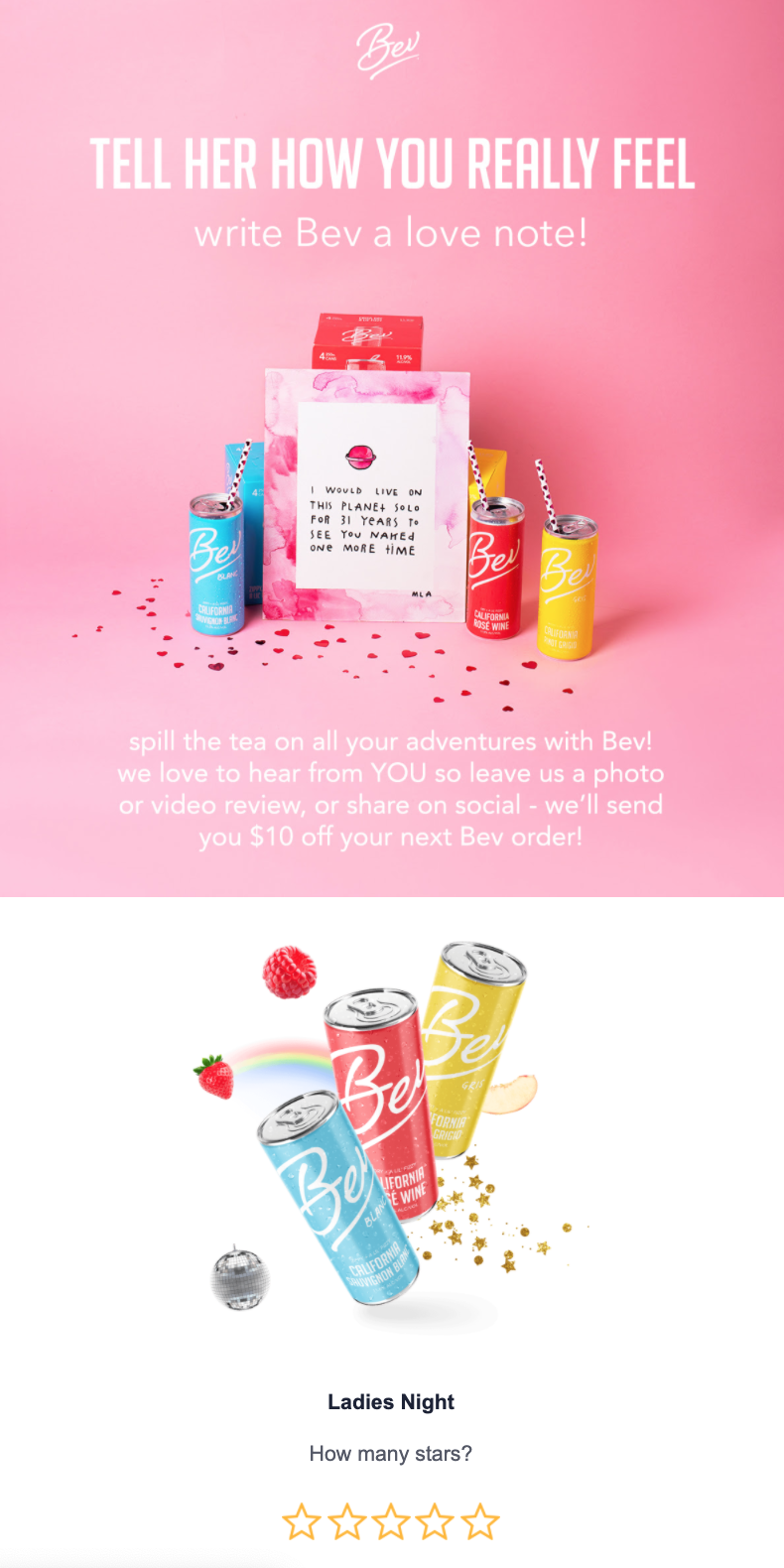 What is A/B testing, and why is it important?
A/B testing – or 'split testing' – is a method marketers use to compare two emails to determine which performs best and why.
A/B testing can apply to any email aspect such as the intro, call to action, images, or layout. Just choose a single element to change, so it's clear what moved the needle on your campaign metrics.
Brands that always use A/B testing in email campaigns see a 48:1 ROI, compared to 35:1 for those that never do.
To conduct split testing, you need a tool that allows you to create, segment, and send automated emails. It also needs A/B testing features so you can quickly compare metrics.
Klaviyo comes with the features you need to create and test your email campaigns successfully. And thanks to the new Okendo-Klaviyo integration, it also has additional capabilities for implementing user-generated content.
Let's take a closer look at why this is essential.
What to include in your A/B tests (and why use UGC)
User-generated content (UGC) refers to your customers' content, such as blog or video comments, online reviews, and social media mentions.
UGC's beauty is that it is powerful social proof for your brand — people who look at UGC convert 161% more than those who don't.
There are several metrics you'll want to watch and improve on in your email campaigns. As well as open email rates, clickthrough rates, and conversion rates, it's also a good idea to keep an eye on bounce rates (for outdated emails) and both opt-in subscribers and unsubscribes rates (to see if you're targeting the wrong groups).
As you're testing your campaigns, you should focus on the following key areas:
Subject lines (Maybe writing in all low caps works best? Should you personalize it?)
CTA (Should it be a link or a button?)
Images (More or less?)
Body copy (Should you change the message?)
Email format (Will the same template work for a welcome email as it did with a promotional email?)
User-generated content (Will reviews boost average conversion rates?)
Since you're adding UGC in the mix, you'll want to use tools that make it easier to gather, use, and test customer content. Okendo's recent integration with Klaviyo enables marketers to send review request emails automatically and then create, test, monitor, and refine flows. Automation is vital in this area.
Nimble Activewear decided to implement UGC in its cart abandonment emails using the Okendo-Klaviyo integration. The brand created an A/B test for its abandoned cart emails, both with Okendo's review snippets and without. The variation that included reviews saw a dramatic increase in desired actions and conversion goals — a 16% increase in Average Revenue per Recipient.
The bottom line
If there's anything you take from this, it should be that email is still relevant and should be a critical part of your digital marketing strategy.
Building personal relationships with your customers not only helps them to convert — it can also turn them into long-term e-commerce buyers and brand advocates. By tying in UGC content such as reviews, you can prove to your email list that your product is worth the purchase.
Find out more about how the Okendo-Klaviyo integration can help you unlock the power of UGC and create, send, and A/B test your email campaigns.