[Updated June 2019] It's been a while since I last reviewed a Shopify app, but today's app has been receiving a lot of attention and it's time for me to give my two cents.
In this article I'll review the Shopify app Privy and discuss which e-commerce business it's best suited for.
What is Privy?
Privy is a Shopify app that helps e-commerce businesses grow their email list, reduce cart abandonment rates, and drive repeat visits and sales.
I know what you're thinking: "Do we really need another email-related app for Shopify?"
Yes we do, because Privy just happens to be one of the best email growth tools on Shopify right now.
Features of Privy
Privy has all the usual features you would expect from an email capture app on Shopify: you can create exit pop-ups, scroll boxes, embed forms, welcome series, abandon cart emails, and autoresponders.
Where Privy stands out from other apps is that you can create unique forms based on a prospect's cart value, scroll, time spent on the page, geography, device type, page visited, number of visits, referral site, language, and more.
For example, if a customer is from Mexico, you can serve them a pop-up form with free worldwide shipping or serve the message in Spanish.
Privy also has its own 'spin to win' wheel where users can spin a wheel to win a prize (even if they have yet to place an order).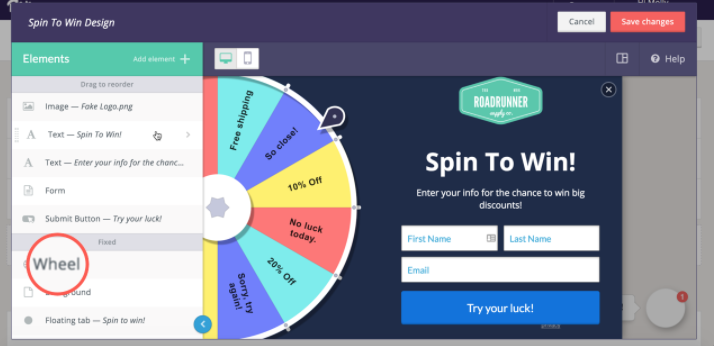 For e-commerce stores with large amounts of traffic or those who target worldwide, being able to segment users by cart value, geography, referral site, and language gives you the ability to personalize the pop-up form with the right messages and offers to increase sales.
You can run automated A/B split tests to see which forms and copy work better, and even add free shipping bars if a user is about to leave the checkout page.
Unlike other email growth apps, all of Privy's features work right out of the box; they use a WYSIWYG editor to create everything, sync in real time with your email provider and, best of all, all of their forms, pop-ups, and emails look amazing.
For example, when a user gives you their email address to get free shipping, you can use a confetti overlay to increase the excitement.
Little features like this and the 'spin to win' wheel makes shopping at your store fun and gets customers coming back again and again. Privy doesn't just focus on letting you email better, it makes shopping fun again for the customer – they'll actually want to engage with your exit forms.
As for reporting, Privy will show all interactions each customer has with your forms, what form they engaged with, on which forms they gave their information, how many of the offers they took, when they placed their orders, and the total amount spent.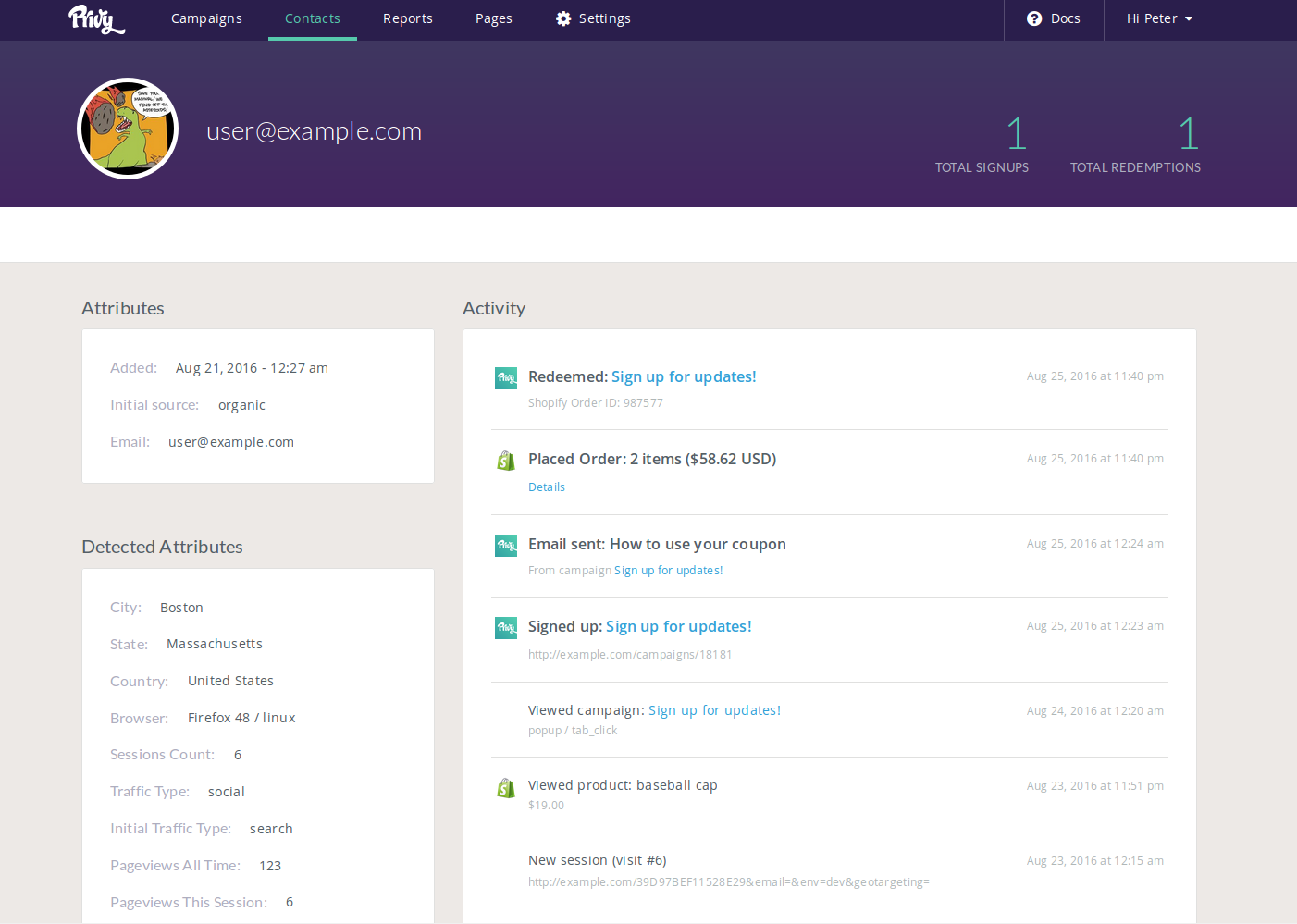 Privy also provides you with detailed information such as their city location, state, country, and the URL they visited to find your website.
Who is Privy for?
If you watch their short 'how it works' video, Privy will tell you that their app is for small and medium-size businesses:
I do agree with that statement.
However, for businesses that are just starting out, if you already have half a dozen apps, you need to ask yourself if your business is at a level where you need to start on-site optimization for email collection and cart abandonment rates, or whether that money would be better spent on ads.
For businesses that are already driving thousands of visitors per day and churning out solid sales numbers, you need Privy.
Privy is for the smart marketer.
The smart marketer is the person who is always looking for ways to optimize ROI by A/B testing emails or creating unique pop-ups for users based on their behavior or spending history.
With its whole list of features, retargeting capabilities, and a fairly compressive reporting system, there is an infinite amount of things you can implement and test to improve your store's bottom line.
You may even save money using Privy if you currently use individual apps to do many of the things that Privy does.
How much does Privy cost?
Like most Shopify apps, the pricing depends on your volume and needs.
If you're just getting started and getting less than 5,000 pageviews per month, you can use all of Privy's features at no cost. If you're getting over 5,000 pageviews per month, you'll be priced based on your traffic tier starting at $20/month. Privy also has an email plan based on the number of mailable contacts in your account. Privy's email plan starts at just $10/month.
The cost of their service is based on where your business is right now in terms of size and where you'd like to go next.
Should your business use Privy?
There's no doubt about it, Privy is an amazing Shopify app to grow your business.
If you have a small online store or are just starting out, focus on the areas of your business that are lacking. If it's traffic, then focus on Facebook ads; if it's sales and lead generation, take a look into Privy.
If you're an established e-commerce store with daily sales and lots of visits, then there's really no reason not to get Privy.
It's a great all-in-one solution to on-site email marketing and coupon offers.
Have a question about Privy? Leave a comment below.