Earlier this year, Facebook updated its Custom Audience feature by letting brands obtain more data from their website visitors based on the time spent on website and dates visited.
Using its API feature brands were able to create custom audiences based on:
Time spent on website
Specific dates they visited a website
Total amount of time someone spent on website
With its recent Power Editor and Ads Manager updates, you no longer need to use an API or third-party tools to create custom audiences based on time spent on website.
This is going to be a huge cost saver and ROI maximizer for brands who spend thousands of dollars on Facebook, all of which I'll be discussing in today's article.
Time Spent On Website Custom Audience Benefits  
If you spend thousands of dollars per month on Facebook ads (or marketing in general), when working with larger budgets you'll always attract people to your site who are not interested in what you're selling.
As well as paying to bring them to your website, they'll be sucked into one of your retargeting audiences where you'll serve them ads over and over again, annoying them, increasing your spend and lowering your ROI.
Users who spent minimal time on site – you can segment users who spent the least amount of time on your personal website and exclude them from all retargeting ads, as many will not be interested in your product or services.
Cut this audience from viewing ads and reinvest that money in the two audience groups below.
Users who spent a considerable amount of time – prospects who spent a great deal of time on your website are obviously interested in what you have to offer, and have shown a positive buying intent or interest by staying so long.
You can now create another Custom Audience for people who spent a considerable amount of time on your website but did not complete a transaction. Allocate them a greater share of your marketing budget as they are more likely to make a purchase.
The in-between-ers  – what about prospects who didn't leave right away but didn't spend a considerable amount of time either? Create a third audience serving them videos, blogs and other content to build awareness and trust as they may need further nurturing.
These are just three examples of audiences you can create and place into various parts of your sales funnel (or exclude totally) based on their interaction with your website.
How To Setup Time Spent On Website Custom Audiences
To setup a Custom Audience based on time spent on website, head to your Business Manager and go to Audience.
Click on Create Audience and select Custom Audience: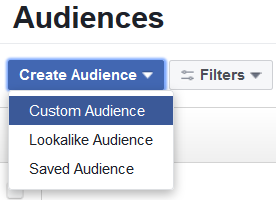 From the list of options select Website traffic: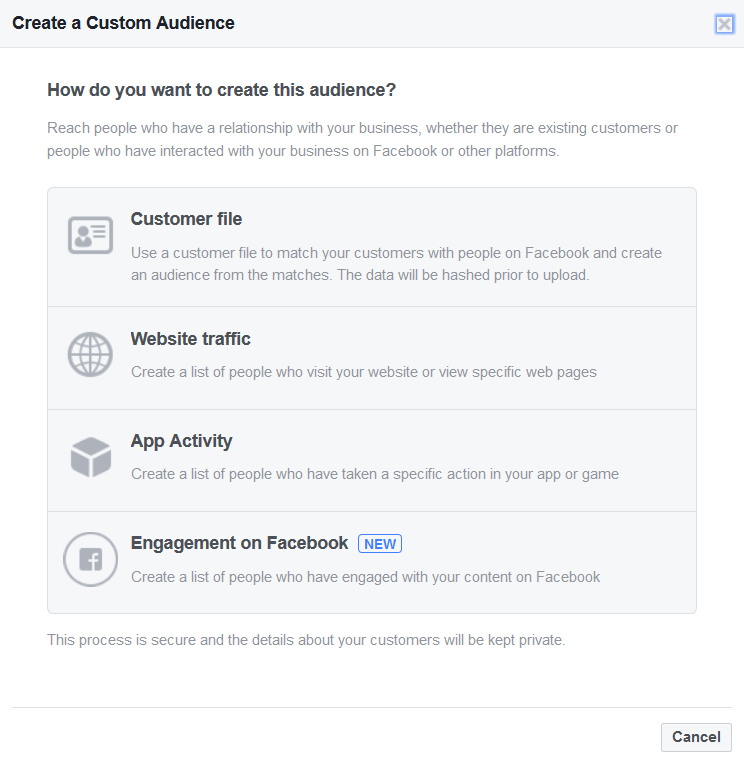 Click on the Website Traffic drop-down list and at the bottom you'll see the option to pick Based on time spent on your website.
You'll now see the drop-down option to target the top 25%, 10% or 5% of active users on your website based on the last 180 days:
Give you audience a name and click save.
Let's say you selected the top 5% of website visitors to segment over a 60 day period, who will this audience consist of?
All your website visitors which Facebook can track are then listed in order of total time spent on your website over 60 days. If over the last 60 days, 100,000 people visited your website, the top 5% are placed in your audience leaving you with a Custom Audience of 5,000 users.
Other Things To Note
At this moment in time you can only create a total of 20 audiences using the time spent on website rule.
If you're using your Facebook pixel on multiple websites, be sure to include the domain you want to create your Custom Audience for, otherwise it will group users from all websites that contain your pixel.
If you sell a number of products in various categories, it's recommended to create a time spent on website audience for each individual category and combine them with dynamic product ads.
Summary
As with most things I write about on the MuteSix blog, this new feature was only just released and you may not see it yet in your Facebook Ads account. If you cannot see the option to target users by time spent on website, then you may want to contact your Facebook rep, or if you don't have one you can contact us.
How will you be using this new Custom Audience feature?