In August, Facebook quietly added a Video Creation Kit to its ads section of the Facebook Ads Manager, allowing businesses to create quality videos using static images directly off Facebook. 
In this article, I'm going discuss how the Video Creation Kit works and how you can use it as part of your Facebook ad strategy.
What is the Facebook Video Creation Kit?
The Video Creation Kit lets advertisers create mobile-first videos using existing static images, with the use of logos and text overlays.
The introduction of the Video Creation Kit is to allow businesses to quickly create videos for zero spend. The idea behind the Video Creation Kit is that videos created using this feature will perform better than static images, and it will give businesses the ability to use more inventory slots on Facebook (suggested video feed and in-stream).
How the Video Creation Kit works
You can find Facebook's Video Creation Kit in the ads section. Choose 'Single Video' as your ad format and, in the 'Upload Video' section, click on 'Use Templates.'
You can use square templates for the news feed or vertical templates if you want to advertise on Stories. 
You can choose from two themes: holiday or standard. Currently the holiday theme is for Christmas only.
There are four templates that you can choose from. They are:
Promote a product (2-5 images, 6 seconds in length)
Drive product discovery (1-6 images, 15 seconds in length)
Sell multiple products (4-7 images, 6 seconds in length)
Show product benefits (5-10 images, 15 seconds in length)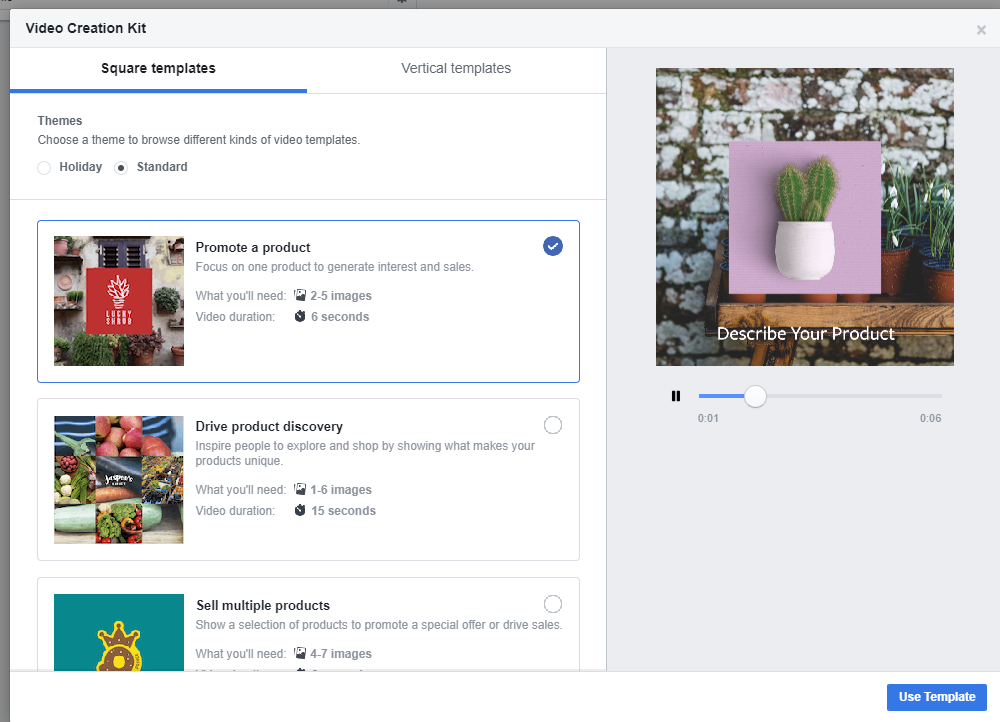 All videos are 15 seconds or less, making them available on Instagram. Once you choose your theme, creating your video is easy. Facebook's Video Creation Kit uses a WYSIWYG editor. Simply select the images you'd like to use and upload them, enter your overlay text in the available boxes, and make basic color adjustments.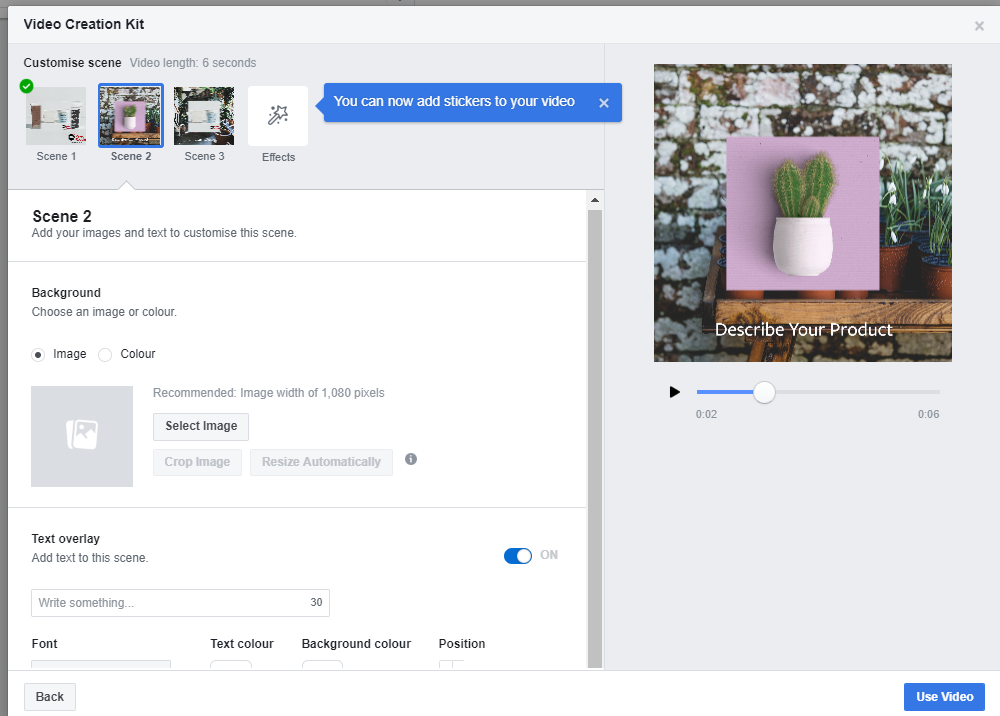 There's also a cool sticker section which you can add to increase urgency of your video.
As normal, you'll also have the ability to add text, a website URL, a headline, a description, and a CTA to your video.
How to use the Video Creation Kit
Facebook's Video Creation Kit isn't there to replace your current video creatives, it's a tool to supplement your static ads with videos.
Videos can be made on the fly in just a few minutes and require no video creative skills. They are very limited in features, so if you have a large brand or values, the Video Creation Kit isn't going to do a good job of getting them across compared to if you create your own videos.
If you primarily run static ads because you're unable to create video content for whatever reason, then this feature is for you. Run an audit on your ad account and start testing templates against your static ads to see if they perform better. With the right video and CTA you should be able to lower your cost per action as you can now serve ads in extra inventory placements.
How do you use template videos?
The template video feature is a great way for you to reach audiences who consume content in the video or Stories placement.
I'd start by A/B testing your static creatives with Facebook video templates to see which perform better. Mix up your images and themes to see which templates best resonate with your audience. I believe that, combined with the video views objective, they will work well at the top of the funnel to attract new audiences.