One of the biggest issues e-commerce businesses face is delivery fulfillment.
I can't tell you how many times I abandoned a cart because the item took too many days to deliver. And I'm not the only one; according to reports, 66% of online shoppers have said they buy goods from one store over another because they offer better delivery options, with 49% of shoppers saying they would happily pay extra to have items delivered quicker.
And that's where Deliv comes in. Deliv provides same-day delivery in over 35 markets to brands that sell on Shopify.
How Deliv works
Deliv is able to offer same-day delivery by working with contracted delivery drivers in local communities who visit retailers and pick up your items directly.
Deliv drivers must obtain certification and pass a number of tiered screening tests before becoming a Deliv driver.
Each package can be insured for up to $100,000 for damage, theft, or loss, and customers are able to rate drivers based on their experience. Their algorithm awards jobs to the best drivers to ensure your customers get their products on time.
After signing up to Deliv, you provide details about where and what you want picked up, and then provide them a time and location for delivery. In real-time, Deliv will provide you with a quote for the delivery cost.
How Deliv works with Shopify
This year, Deliv is now allowing Shopify retailers to offer same-day scheduled delivery to customers using the Zapiet plugin.
You can use Deliv with Shopify to offer in-store pickup and local same-day delivery.
Zapiet lets you insert multiple store locations each with their own calendar and available pickup times. Dates can be blacked out when your store is closed, zip code search ensures that users travel to your nearest store for pickup, and you can restrict in-store pickups or local deliveries when a customer's order reaches a certain price or weight.
Their pricing is pretty transparent at $24 per delivery or $35 if you'd like both options.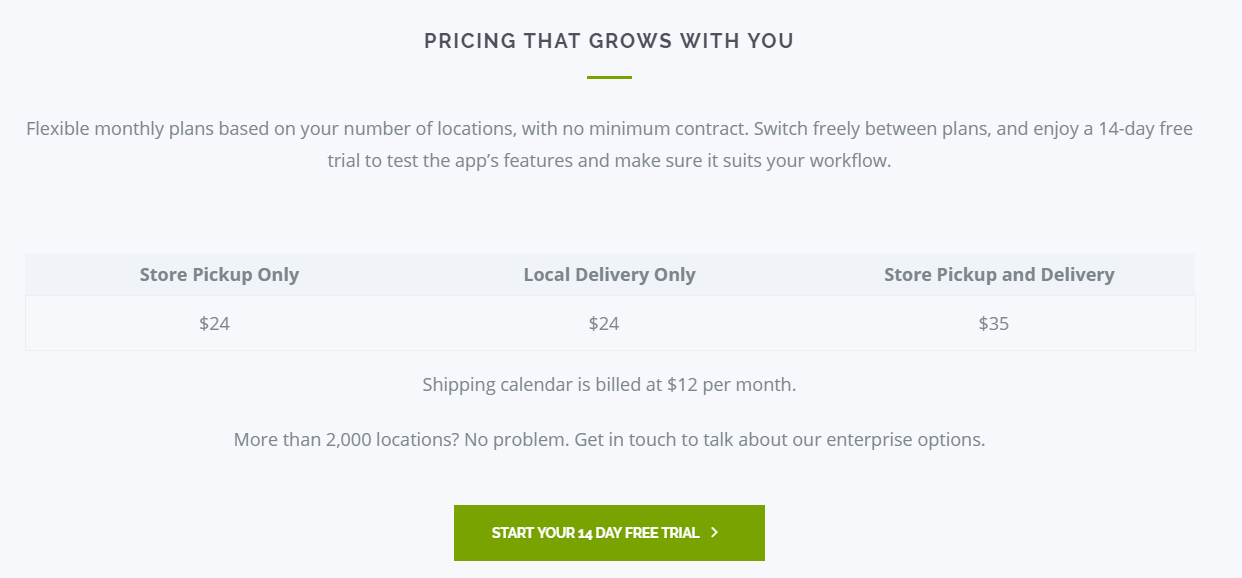 These prices are what you pay Deliv for each order, but you can set the pricing to as high or as little as you want to customers. For example, you may want to offer free same-day delivery to customers who spend over $1,000 on a single order, while charging a higher delivery fee on low-ticket orders given the amount of work that needs to go into delivery.
Who is Deliv best for?
If your online store is getting a lot of add to carts but customers are not checking out, troubleshoot to see if the main reason for loss of sales is because you don't offer better delivery options.
For 10 years, online shoppers have been happy with their order taking a week or two to arrive, but today with brands like Amazon offering same-day delivery, online consumers are impatient and want their items delivered quickly.
Offering same-day delivery is a unique selling point¸ and we already know that customers are willing to pay more for same-day delivery. Deliv and Zapiet have a 14-day free trial, and I suggest that brands that drive a lot of sales each day to give it a go and see how your audience responds.