Do you own a brick-and-mortar store and believe Facebook ads aren't suited for your business?
If you feel that's the case, I have some good new for you.
Facebook recently announced Dynamic Ads for Retail which help brick-and-mortar businesses drive more traffic to their physical stores.
In this article, I'll explain how it works and provide you with some best practice tips on how to get started.
How Dynamic Ads For Retail Works
Dynamics ads have been used for a while by ecommerce businesses to maximize the revenue from their website traffic. Facebook has now decided to extend their dynamic ad offering to drive more foot-traffic for physical businesses.
Here's how it works.
Let's assume Macy's wants to run a nationwide promotion for a certain range of products to drive in-store traffic. Using Dynamic Ads for Retail they can link their store inventory to a Facebook campaign serving items that are in-stock based on a user's location.
For example, if you're in Boston, Macy's Dynamic Ads for Retail will be tailored to show the closest Macy's store based on the user's location. Along with showing items in-stock Macy's local store, it will also provide a Google Map location of the store with directions: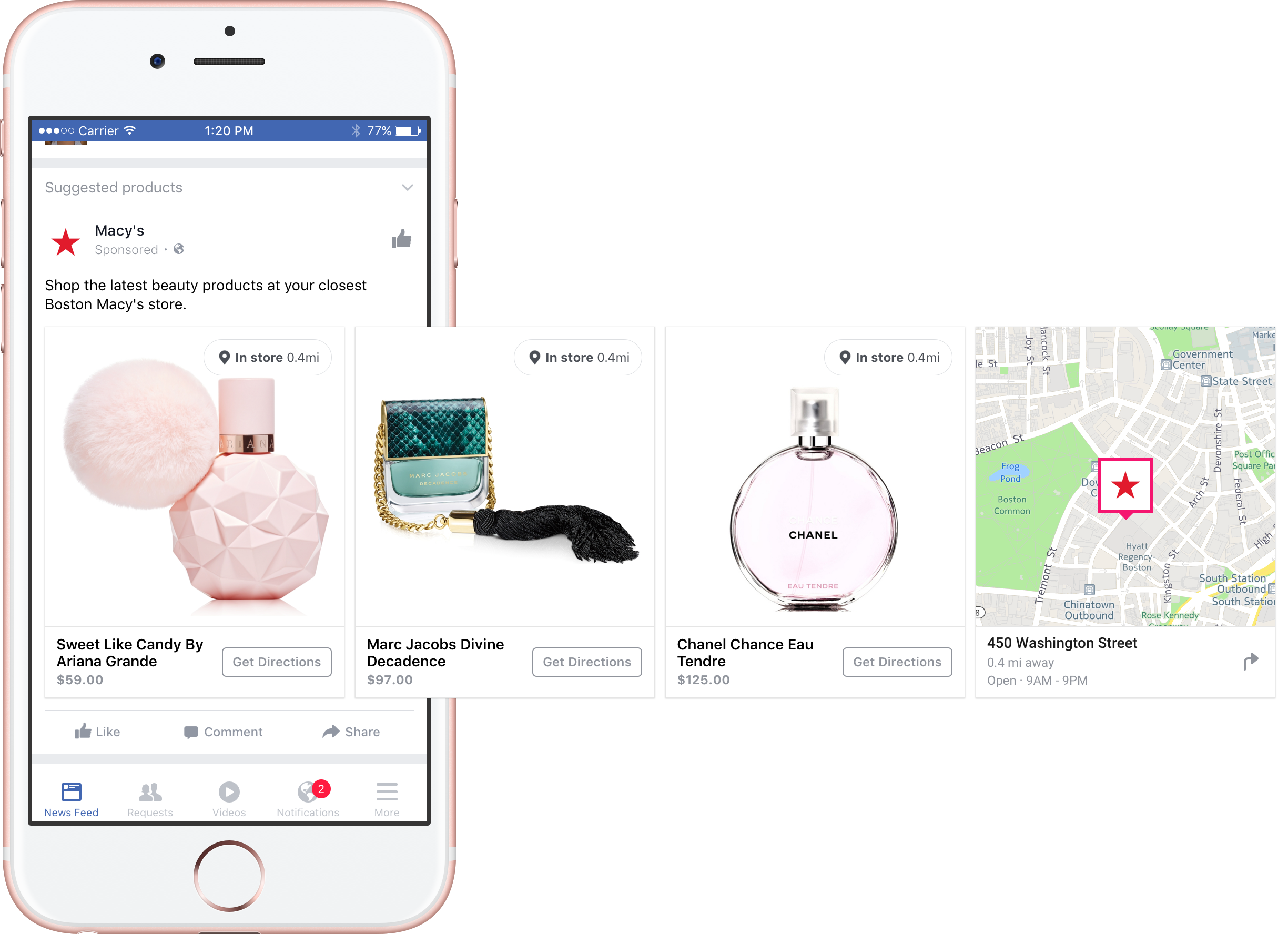 If any item is sold out in one store, the ad will change dynamically to show the next closest store based on the user's location that has items in stock.
Dynamic Ads for Retail provides users information on:
Local availability – serves ads showing items in stock closest to the user, along with a store locator making it easy for them to get directions.
Product summary – a detailed summary of the product that can be read directly on Facebook.
Similar products – dynamically populates similar items allowing users to browse items in Facebook without visiting a website (carousel ad), personalizing the shopping experience.
Call-to-action – such as store directions, contact your business via telephone, order online or saving the product for future reference.
Shop Visits Objective
In the next few months you'll see the Shop Visits objective appear within your Business Manager. Shop Visits objective is an extension of the Local Awareness objective and will use actual in-store shop visits as the new optimization model when bidding.
This bidding model will help you reach people who are most likely to visit your shop, reducing your cost per shop visit. According to Facebook, Albertsons was able to decrease their cost per shop visitor by 40% using the Shop Visits Objective.
With the new objective, you'll be able to define audiences based on geo-targeting through population density and desired research. Facebook states it will begin a full rollout of Dynamic Ads for Retail next month for all advertisers.
Benefits To Using Dynamic Ads For Retail
One of the advantages of using this new ad objective is that businesses with multiple locations can manage their Dynamic Ads for Retail in a single location.
Instead of fracturing your Facebook marketing to each individual store (having a Facebook marketer at each location or a set of locations), through the use of product catalogs you'll be able to sync everything together to ensure you always serve items which are in stock to people at the right location.
This keeps your branding, messaging and offers constant throughout all stores when managed from a central location.
The next largest advantage is being able to offer unique advantage of your competitors. Google found that 74% of consumers are more likely to visit than an offline retailer if they know the item is in-stock nearby: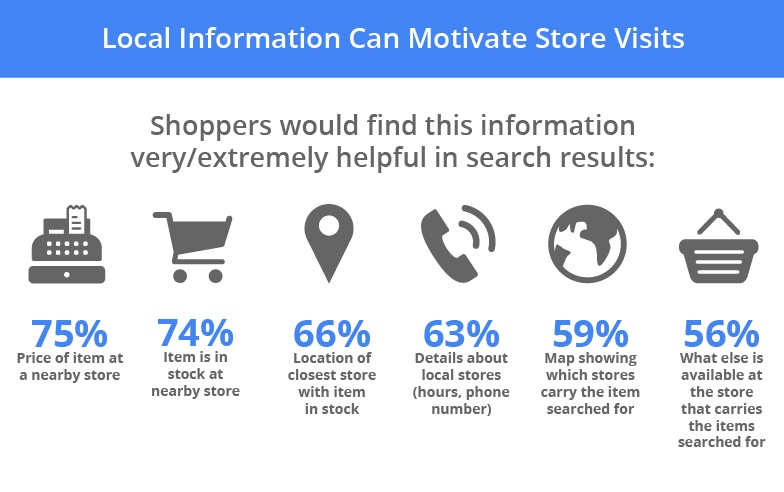 Using this new objective will give you a better competitive advantage over online retailers by giving consumers the option to view a product before they buy.
Summary
Dynamic Ads for Retail is only shown to users on mobile devices. If you've been having trouble getting foot-traffic to your store, the Shop Visits Objective may just be the perfect aliment.
With Christmas just around the corner, creating a great offer with the Shop Visit objective could see your Q4 sales skyrocket! Leave a comment below letting us know your thoughts on Facebook's new feature.