Holidays are the time when we get together with friends and family, celebrate traditions… and go online to find amazing gifts for our best friends and, more importantly, ourselves.
For e-commerce businesses, Q4 holidays such as Black Friday, Cyber Monday, back to school, Christmas, and the New Year will make or break their year.
Q4 is the most profitable part of the year for many businesses, with most allocating a larger chunk of the marketing budget to Q4 to maximize profits.
Not sure how to prepare your Facebook ad strategy for the holiday season in 2018? In this guide I'll show you how.
How are consumers holiday shopping?
Facebook estimates that the average person spends three hours per day on their mobile device.
Here's a few stats to get your head around:
56% of US shoppers say they use smartphones when shopping in-store during the holiday season.
48% of holiday shoppers agree their mobile device allows them to make more informed purchase decisions during the holidays.
43% of holiday shoppers say they use mobile for holiday shopping because it's more convenient than going to a store.
42% of holiday shoppers say they care about ordering online and picking up in store.
26% of holiday shoppers said they planned to use their smartphone more for shopping research in 2017 vs. 2016.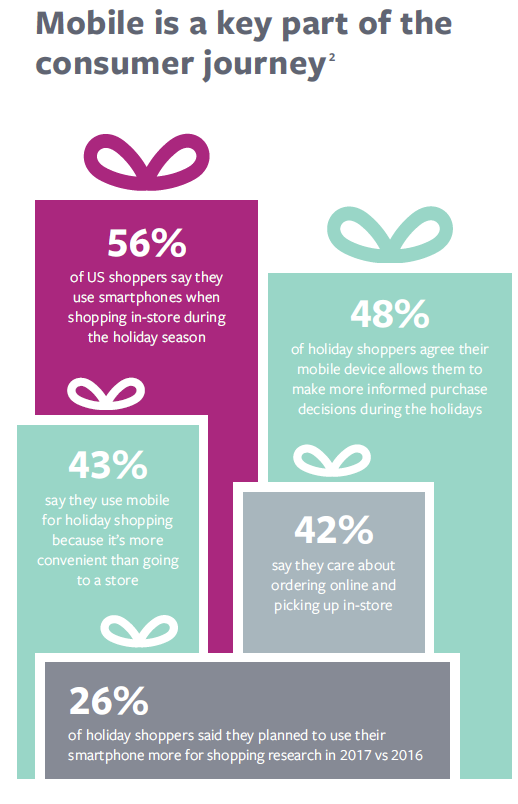 Mobile shoppers aren't using their smartphones simply to find products, but also to read reviews and price-check when in store.
Businesses that offer an omni-channel marketing experience during the holidays allowing customers to order online – and having the option of home delivery or in-store pickup – will not only do the best in Q4 but for the years to come.
Consumers have so many options and many prefer going back to the old way of shopping so they can see the product before they buy.
There are two key takeaways from this information:
Focus on mobile – Your Facebook holiday ad strategy must focus around mobile. Very few people own a desktop or laptop computer, and they do so usually because of their work.
Everything from your creatives to your ad copy to your product pages must be optimized for mobile. How easy is it for shoppers to find a product on your site, scroll through the thumbnails, read comments, add the product to cart, and then check out using a credit card?
Bottlenecks on your site that slow the mobile user experience down will impact your Q4 profits.
Omni-channel buying – I know that for some businesses having a physical storefront is out of the question, but for those of you who can, you should carry out serious research to see if it would be a viable option in the future.
We've all bought something online we didn't like, and the stress of returning it can get a little too much, or we end up not buying because we had to wait 3-4 days for delivery. Having a storefront relieves both of these issues.
How are consumers thinking?
With the number of online businesses rising each year, consumers are more open to trying a new business for the first time, with 39% of shoppers saying they look for new stores to buy from and roughly half of shoppers saying they try to find ways to save money or time (49%).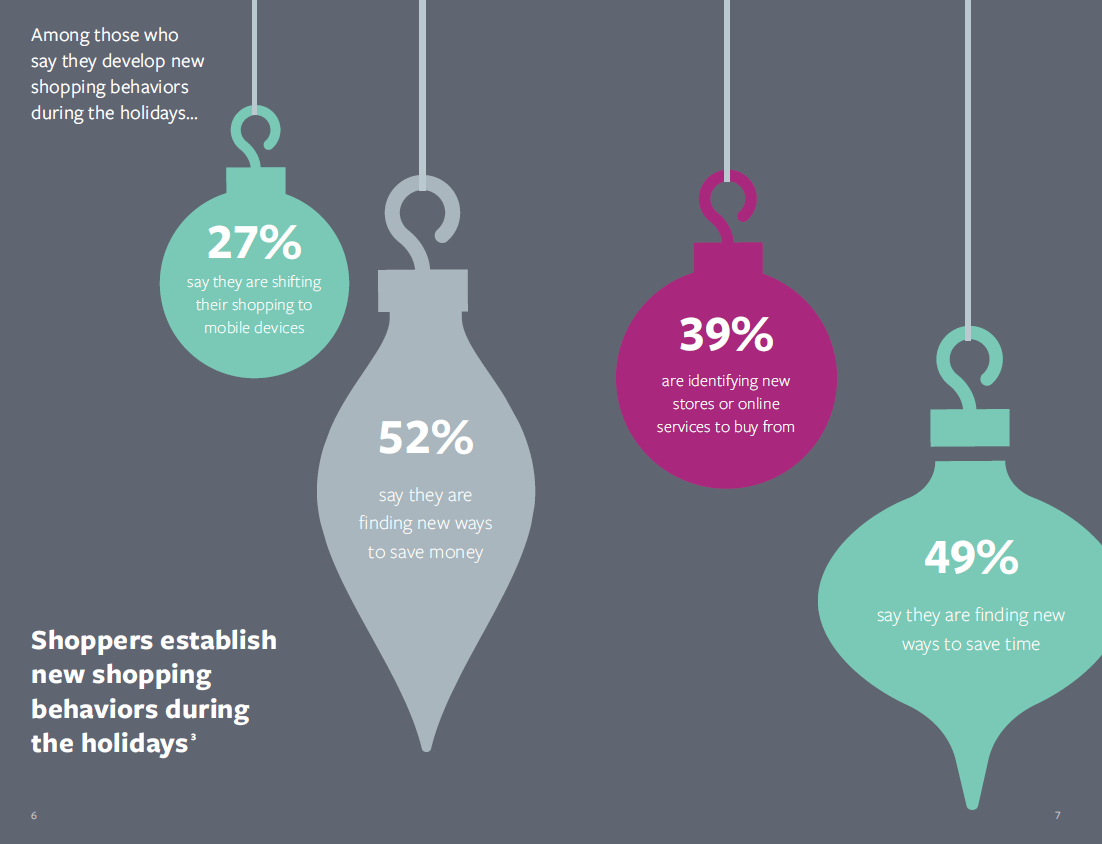 Shoppers want to save time and money and are open to trying new stores (YOU!). You can leverage this information by getting website visitors to install your mobile app, if you have one, to help them save time when shopping.
Audit your offers for the year to find the best performers and re-run them during the holidays. Shoppers are savvy enough to know that everyone will be running offers in Q4 and will often price-check to find the best deals.
When are people starting their holiday shopping?
You know the holidays are around the corner when you walk into a store and a Christmas tree is already up (and it's only October!).
That's because 20% of shoppers start buying holiday gifts in October, with 49% of shoppers starting in November and 24% starting in December.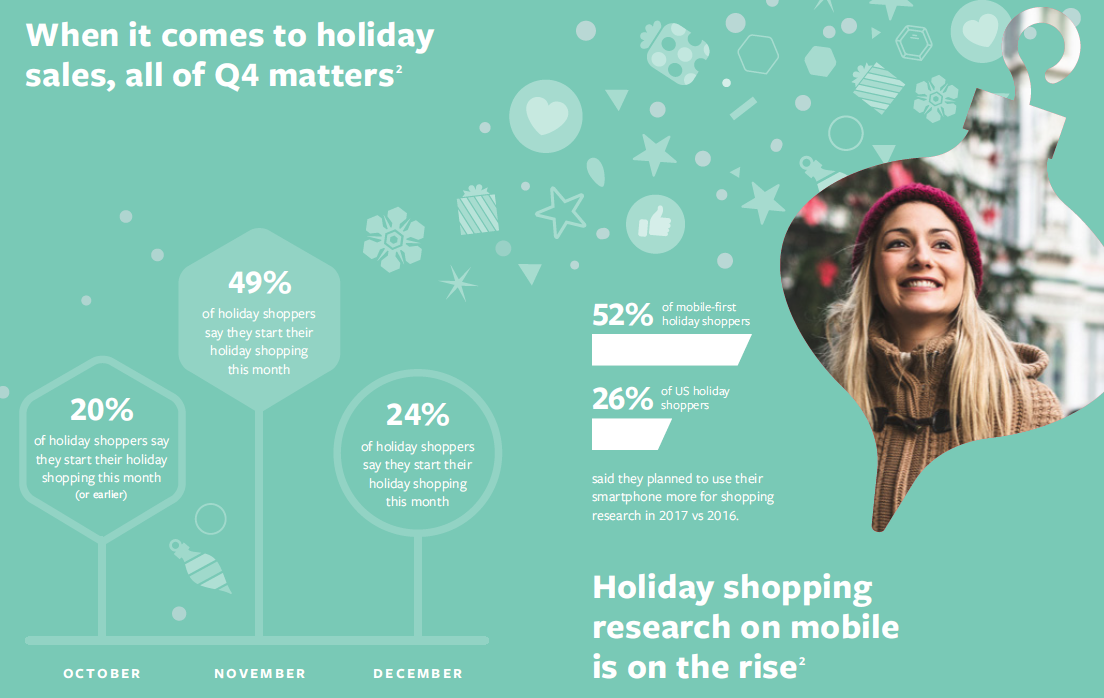 No later than October, you should be serving conversion ads to your audience, and really pump your message and budget in the months of November and December.
There are four phases you need to split your Facebook holiday ad strategy into. They are as follows:
Planning: In the months of August and September, start planning what type of content, video, audiences, offers, and creatives you'll use for Q4.
There are a number of themed holidays in Q4, so match your ad copy, images, and videos to reflect the holiday to maximize engagement.
You should plan in advance because, when October rolls by, all you'll want to do is run ads and optimize. You don't want to be rushing around for more creatives or offer ideas if what you currently have isn't working – that's a recipe for disaster.
Plan your Facebook holiday funnel in advance to ensure there are no surprises around the corner. Be sure to include the following in your plan:
Optimize your ads and website for mobile
Install a Facebook pixel on your site and website app
Create numerous cold and custom audiences for testing
Have ample creative formats (videos, content, images, offer ads, carousels, etc.)
Structure your Facebook holiday funnel for specific goals (awareness, sales, video views, etc.)
Know what metrics to follow
Implement a Messenger strategy (a must-have for e-commerce)
Build momentum: In the months of September and October you'll want to build relationships with new audiences to get them familiar with your business. I recommend using video views and brand awareness objectives to reach audiences at scale and to build large retargeting audiences.
The goal here isn't to get sales (although sales are welcome) but to establish a relationship with your new audience. Produce blog content and give away vouchers for them to subscribe to your email list to connect with later.
Maximize sales: While sales for your business happen 365 days of the year, for most industries Q4 is the biggest and most profitable period.
Since 25% of consumers do their holiday shopping in October, it's in this month you really want to open the floodgates and run a number of offers and promotions to drive sales, and continue this even harder in the months of November and December.
Cross-sell and up-sell: Once the holidays are over and you've made sales and hopefully segmented buyers into unique custom audiences based on products they purchased, now is the time to use dynamic product ads to serve them relevant cross-sells and up-sells.
January is the time when consumers come up with New Year resolutions, so you should ask yourself which products you can promote that will help people stick to their 2019 goals
How are you running holiday ads on Facebook?
To have a great Q4, you'll need to plan in advance and focus on mobile.
Don't leave your Facebook holiday strategy to the last minute and miss out on tons of new customers and revenue. Chances are your competitors are already planning for Q4 today – don't let them have the edge.
Not sure how to plan your Facebook holiday ad strategy for 2018? Feel free to contact us today for a free strategy session to see how we can grow your business.