Recently, Facebook launched Automated Ads, a new way for small businesses that don't have their own marketing team to create Facebook ads.
This feature is a huge upgrade from the Boost Post function. In this article, I'll show you how to get started with Automated Ads and when to use them.
How to create Automated Ads on Facebook
To create Automated Ads, visit your Facebook page and click the 'Promote' button:
Choose 'Get started with Automated Ads' and select the categories that best represent your business (you can select a total of three categories):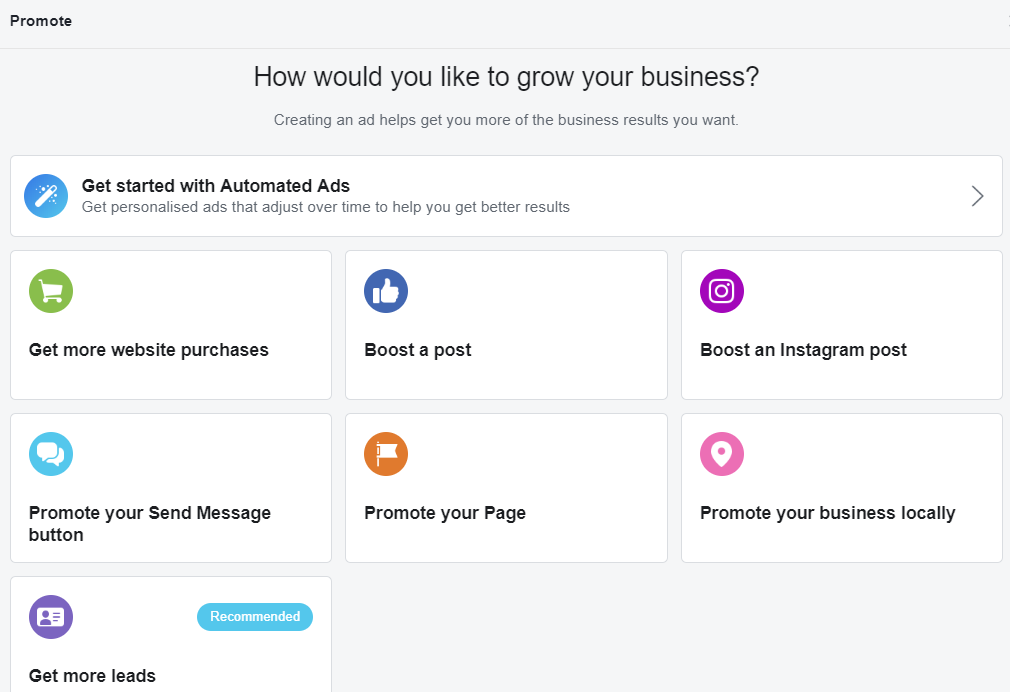 Facebook will then ask you about all the ways you do business. You can choose from online, in person, or direct contact.
Online – you will need to provide your website URL
In person – you will need to upload your business address
Direct contact – no further information needs to be provided
Choose the option most relevant to your business.
Next you'll be asked to choose the interests and hobbies that your customers share. Facebook will use this information to find the right audience to target:

From the data provided, Facebook will choose a business goal for your ads, which in this example is to get more people to the website:

The next step will be to create your ad copy. You'll need to provide a text description, a headline, a call to action button, your website URL, and either a photo or video: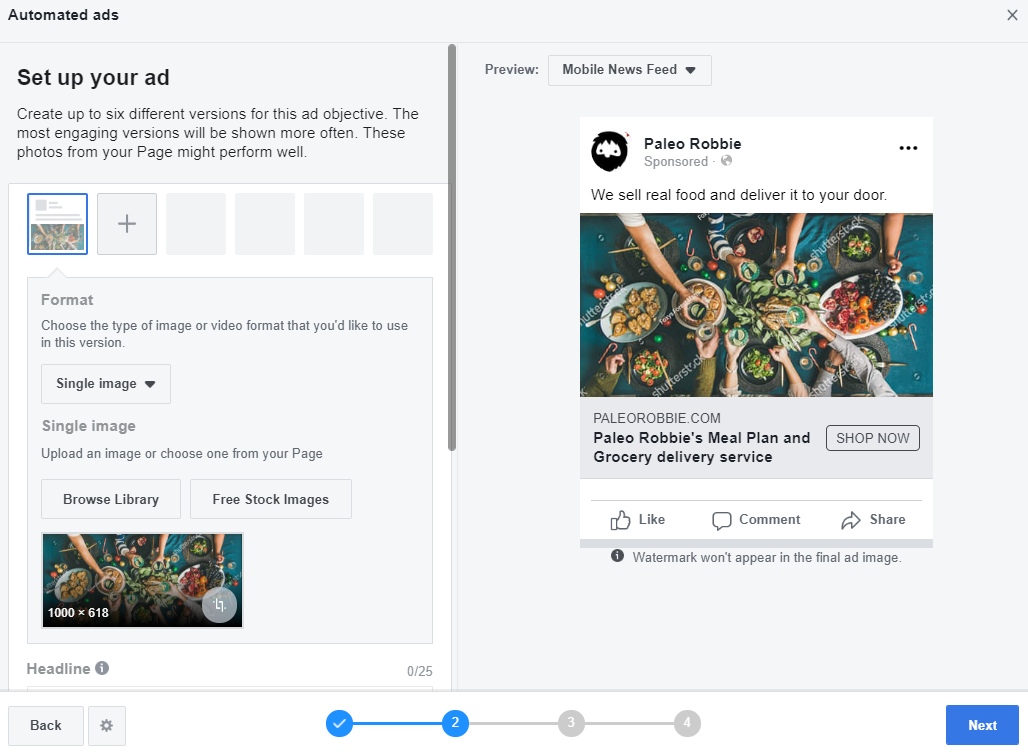 You'll be able to create up to six variations of an ad by only changing the image or video.
Facebook will then ask you to choose your audience or target people who like your page, friends of people who like your page, or people in your local area:
The last action you need to do is to choose your daily budget and click 'Promote.' Once your ad is live, Facebook will send notifications about how your ads are performing and how you can improve them.
Should you use Facebook Automated Ads?
If you run a small business and don't have a marketing team and cannot afford to hire a marketing manager, Facebook Automated Ads was made for you.
It's a super easy way to create ads and reach new customers.
If you do have a marketing team or want to use Facebook as a serious platform to grow your business, you should not use Facebook Automated Ads because it's much more limited compared to the Ads Manager.
Facebook has stated that this new feature is primarily aimed at small businesses that have zero experience in running ads and don't have the time to run ads using the Ads Manager.
Using Automated Ads, you won't be able to scale, split test, set up ad rules, use manual bidding, or even choose your own marketing objectives. Not having these tools makes it very difficult to scale or get good results on a consistent basis.
Have you tried Automated Ads?
I think Automated Ads are a great feature of Facebook ads, and they will be useful to small businesses that are just starting out with small budgets.
I'm sure that if small businesses start seeing results with Automated Ads they will invest more into the platform and move away from Automated Ads and toward the Ads Manager, which is Facebook's long-term goal.
It's encouraging to see that Facebook is making it easier for businesses to use their platform.
But for businesses that are already using Facebook and spending large amounts of money on ads, you're not going to get much value from automated rules because it wasn't created for you.
What are your thoughts on Automated Ads on Facebook?