Not a week goes by without Facebook launching or revamping some part of their service. This week is no exception as Facebook have introduced their updated conversion lift tool.
If you struggle to run successful Facebook ads or feel you're not getting the best ROI, Facebook conversion lift may be the solution you're looking for.
What is Facebook conversion lift?
In a nutshell, conversion lift is a tool that helps you measure the online and offline impact of all your Facebook ads. Conversion lifts provides more accurate metrics on your overall ROI and which channels/ad types return the best ROI.
Facebook conversion lift works by taking a campaign and splits the audience into two groups. Group A will be served your ad while Group B will not be shown anything. As your campaign is running, you can share online/offline sales, opt-ins and other data with Facebook, using their algorithm will calculate the total uplift in conversions the ad had against group A and B.
The data returned will reveal which ad types, direct response messages and promotions are working for your business on Facebook and whether you're meeting your ROI goals.
Conversion lift – the hottest marketing tool of 2015/2016?
There is no question that social media is the biggest tool an online business has to market their brand. With more consumers influenced by social media than ever before, knowing which ads perform best and message types will not only save you thousands of dollars in testing each year, but actually make you money as you'll be better informed on which media works best.
There is no other paid marketing platform that offers a conversion lift tool that has the ability to measure the success of your ads quite like Facebook.
If you currently find yourself paying too much for ads on Google or Bing, perhaps it's time to make the move to Facebook to get the most value from each marketing dollar?
How to use conversion lift to improve your marketing strategy
There are a number benefits to using conversion lift, they include:
Track offline sales – Not everybody wants to buy online, many people like to actually see a product before they spend their hard earned cash. If you manage a bricks and mortar business, before conversion lift it was very difficult to assign a conversion value to any offline sales.
Conversion lift aims to change that by allowing you to send offline sales data to Facebook who will then supply you with measurable data on how many offline sales were made as the result of a ad.
Improve your ad testing – Do carousel, boost your post or lead ads work best for your business? Sometimes all the data in your Ads Manager can get a little confusing, not to mention how inaccurate it can be too. Conversion lift lets you put two ads against each other using randomized test groups to reveal which media units bring you the best ROI.
What devices are driving sales – Are your consumers buying from mobile, tablet or a desktop? How are mobile users interacting with your ads compared to desktop users? Do carousel ads resonate with consumers on tablets or are you running ads that yield a negative return? Chances are you won't know the answers to all these questions because up until now there was no way to measure them accurately.
Want to know how prospects react to media on different devices? You'll need conversion lift to find out.
Conversion lift has been a huge success so far
Conversion lift was initially launched in January for beta testing and used by several large brands.
Wix ran a conversion lift test to figure out which ad message and video would drive sales of their membership service. Using conversion lift they found that while direct-response ads generated sales, when the messaged was combined with a short video, their premium subscriber rate dramatically increased while the costs per conversion remained near enough the same.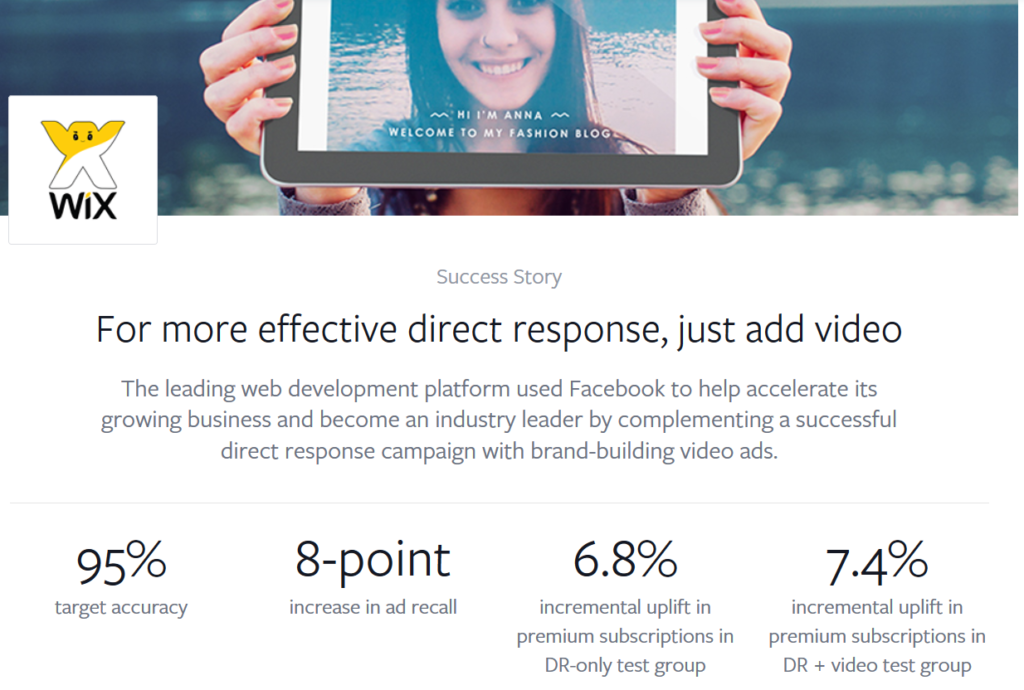 Westwing also used conversion lift to find out whether generic link ads or carousel ads were better to generating driving registrations. After using conversion lift for the first time, they found that carousel ads performed 34% better in meeting their goal.
Conversion lift uses a number of different data sources to determinate uplift of ads, they include:
Facebook pixel

App Events

Email addresses

Phone numbers
It can take in hashed data which it then uses against its own database to see how your targeted audience responded to your ads on various devices.
How to start using conversion lift today
At this moment in time, conversion lift is only available for advertisers who work with Facebook teams. Your account representative will be able to see all the results in real-time using the Ads Manager reporting features. Facebook said it is looking to increase the reach of conversion lift in the near future.
Summary
Conversion lift is going to be yet another game changer, unlike before you'll now be able to monitor offline sales and find out which ad units really bring you the best ROI.
You'll be able tweak everything from your ads' direct-response messages, multimedia and understand how desktop, mobile and tablet users interact with your ads thanks to conversion lift.
If you're having trouble converting with your Facebook ads or would like to run a conversion lift on your media units, get in touch with us today to see how we can grow your business to the next level.