Are you looking for love? Well, you might just find it on Facebook Dating, a new service that is FREE to all Facebook users.
In this article I'll discuss how Facebook Dating works and what it means for the marketing world going forward.
How Facebook Dating works
Facebook Dating can be found within the Facebook app (there is no need to download a new app), but you'll need to create a separate profile from your Facebook account to use the service.
The only information carried over from your Facebook account is your name and age – nothing else. Based on your location, interests, and Facebook's machine learning algorithm, it will match you with users in your location.
You'll be able to include or exclude people who have attended the same events on Facebook as you or people who are in the same Facebook groups as you.
By default, you will NOT BE matched with anyone on your friends lists and they won't know whether you're using Facebook Dating.
Where Facebook sets itself apart from major dating apps like Tinder is the features and security.
All Facebook Dating profiles can be linked to your Instagram profile so users can see what you have posted and watch any of your stories posted in the last 24 hours (they are removed after 24 hours).
Facebook Dating has a Secret Crush feature which lets you select up to nine people in your friends list who you have a crush on. If you both pick each other, then Facebook will reveal that you both have a crush on each other. If only one person has the crush, the name is not revealed.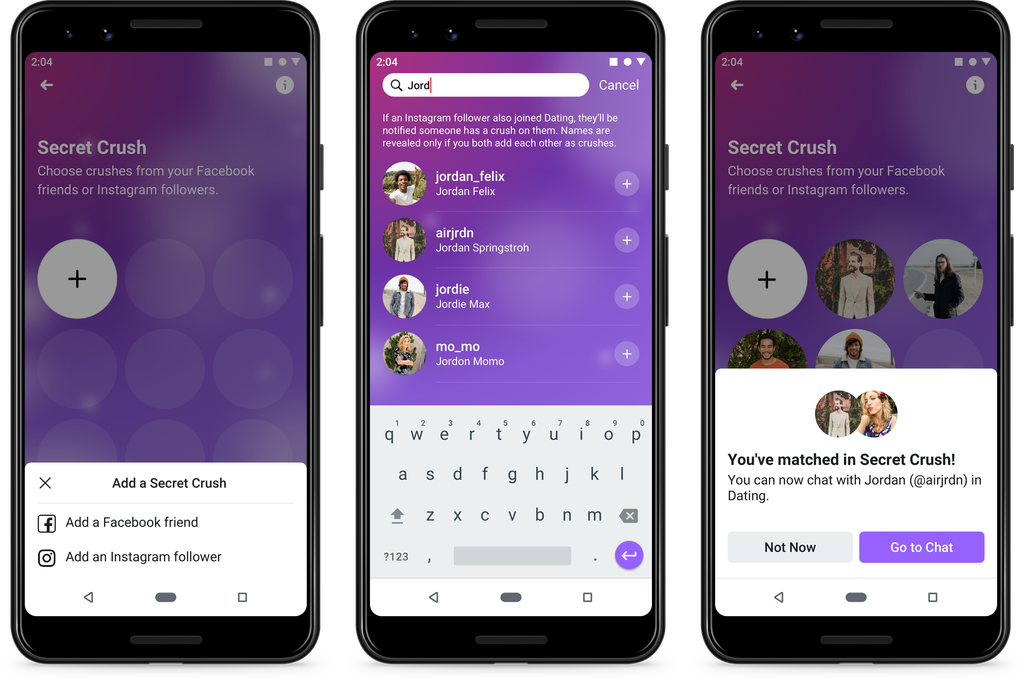 Facebook Dating offers a safety feature of in-app integration with Messenger, so users can share with a friend or family member who they are dating, when, and at what time.
This information is shared 15 minutes before your date is about to start, and your friend or family member is able to see your location for up to an hour.
You can find Facebook Dating in the 'Main Menu' tab on your mobile device. If it's not there, try updating your app or waiting a little longer for the roll out to be complete.
As of right now, Facebook dating is available in Argentina, Bolivia, Brazil, Canada, Chile, Colombia, Ecuador, Guyana, Laos, Malaysia, Mexico, Paraguay, Peru, the Philippines, Singapore, Suriname, Thailand, Uruguay, and Vietnam.
Plans to roll out the service in Europe will start in 2020.
Great news for ad buyers
Every new feature or service that Facebook adds to its platform should be a huge sigh of relief to advertisers, because new features lead to new users, more time spent on the platform, and – most importantly – more ad inventory.
Of course, right now Facebook hasn't addressed showing ads on Facebook Dating, nor can you advertise there right now.
Facebook Dating is a new feature that isn't even available to their entire user base, but eventually ads will be shown there just like with Messenger, so long as it proves to be a hit with users.
Estimates report that around 25 million people use dating apps and that major dating apps will face growth issues in 2019. This may be true for the likes of Tinder and OkayCupid, but Facebook already has over one billion users, and to create a Facebook Dating profile requires no extra app, just a few taps of the screen.
I don't think Facebook is going to have any issues with user acquisition given their size.
I'm taken
It's a shame that I could not provide you with a demonstration of how the app works as my partner did not approve (I even told her it was for work!).
While it is still a little early, I believe that Facebook Dating is going to be huge for Facebook and something I'll be keeping an eye on to see what opportunities arise from a media buying standpoint.