When Facebook sees an opportunity to grow the brand, it throws caution to the wind and goes after it.
In January 2018, Facebook created a dedicated live video gaming stream on its platform.
For the last few years, social media platform Twitch has been the major player in the live gaming streaming business, with amazing growth numbers since launch.
With these types of numbers, it's no surprise that Facebook wants to take a piece of the pie.
In this article I'm going to talk about Facebook's new Level Up program for streamers, how it works, and what it means for advertisers.
Facebook's Gaming Creator Pilot Program
In January 2018 Facebook launched its Gaming Creator Pilot Program where streamers can sign up and stream their sessions live on Facebook.
You can find all current live gaming streams by clicking here.
This is what the home page looks like: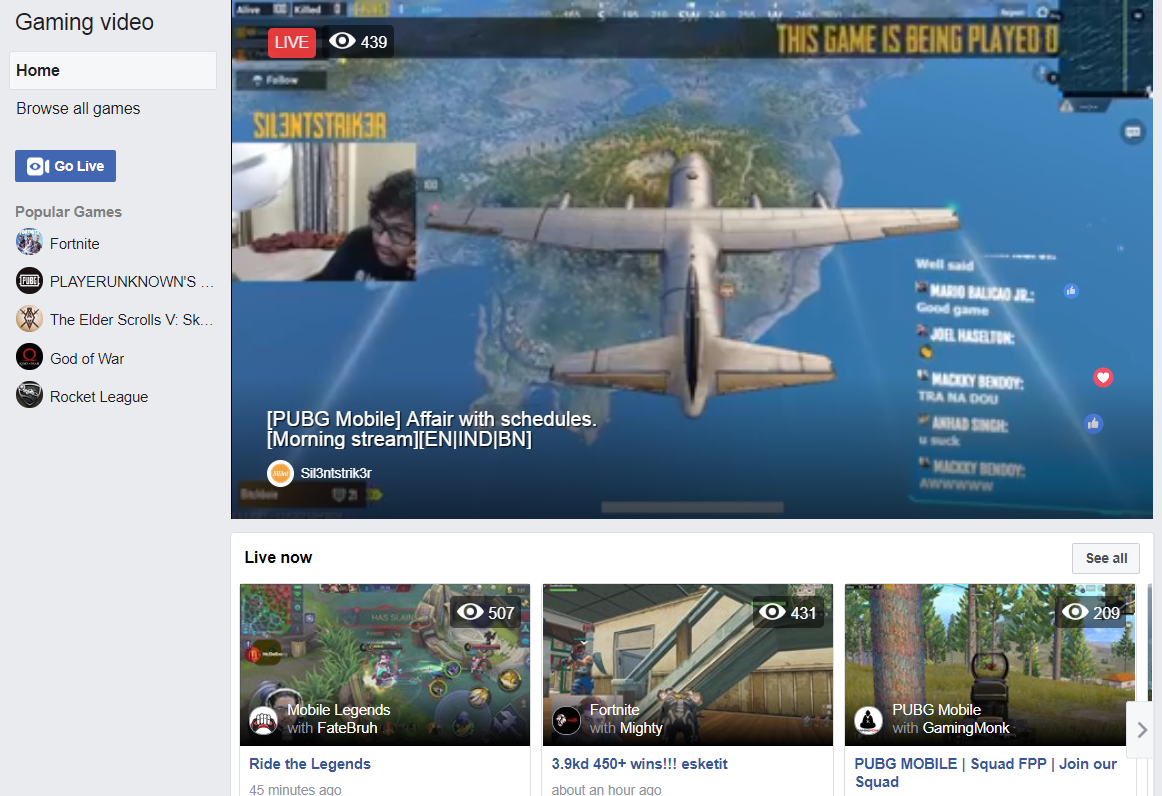 Above the fold you'll see a live stream that auto-plays, and if you scroll down you can add specific games to your list to watch streams.
You can mostly watch games from Xbox, PlayStation, and PC.
You can watch any live stream, but if you'd like to engage with the streamer you'll need to follow them first.
Facebook's gaming channel is very much like Twitch but with fewer bells and whistles, which is to be expected as the platform was launched in January 2018.
You might be wondering, how many people actually watch live gaming streams? Let me tell you: it's a lot. Some streamers already have more than one million followers on Facebook, such as StoneMountain64.
How streamers make money using Level Up
Twitch has a pretty cool monetization model where fans can support streamers by buying a monthly membership. Twitch also lets streamers run ads from third-parties during live streams and they get paid on a per CPM basis.
Facebook is soon to provide streamers a way to monetize their content through Facebook Stars (tipping), and enables viewers to subscribe to broadcasters for $5 per month.
Users will be able to support their favorite content creators by buying and sending them virtual goods while the content creators stream their content.
In return, users who are part of the Level Up program will get access to early features first. They'll also get extra Facebook support such as bug reporting and troubleshooting during their streams.
Broadcasters who join the Level Up program will also receive free support from Facebook on how to grow their brand, which will help Facebook acquire viewers from Twitch.
What does Level Up mean to advertisers?
As of this moment, the only way brands can use gaming broadcasters to serve ads is through influencer marketing.
Each streamer will have their own following based on the games he or she plays. Even the gender of the streamer will impact the audience.
For example, DOTA 2 is a multiplayer online battle area (MOBA) game which is very popular in Asia for both men and women, whereas a game like FIFA 18 will be most popular with males living in Europe.
To link up with the right influencers, you'll need to know or hire someone with experience in the gaming industry to connect with the right audience with the right message.
Streamers on Facebook already have hundreds of thousands of fans. Right now it will be a cheap place to secure deals before word gets out.
As for the years to come, I am sure Facebook will follow Twitch and provide ad inventory during live stream. I expect pre- and mid-roll ad placements for brands along with right-side columns too, but for now they are going to focus on providing streamers and watchers with the best user experience.
What do you think about Facebook Level Up?
As an ad buyer on Facebook I love nothing more than hearing about new ways that Facebook is using to get users to engage and stay on its platform.
I think this will be a great chance for fun and culture-oriented brands to reach new audiences and grow their business, assuming they can get creative with their Facebook funnel.
Many people are making the move from Twitch to Facebook because the platform has fewer trolls since each user has their full name and photo on their profile, compared to Twitch where it's much easier to make an account and leave toxic comments.
What do you think about Facebook taking on Twitch for game streaming?