Facebook is now testing in-app checkout for a small set of advertisers who are running dynamic ads, and is allowing pages to turn organic Instagram shopping posts into ads through the Ads Manager.
This is HUGE news for e-commerce businesses! In this article I'll discuss these features in more detail and what it means for advertisers.
How in-app checkout works on Facebook
Facebook has started testing a way for users to buy products directly off their app, meaning users don't need to leave the site to place an order.
This is currently a test for a small amount of advertisers on the Facebook platform. The buying journey for in-app purchases will look something like this.
First, the user is shown a DPA ad:

Once clicked, they will be taken to a product description page where they will see the price and be able to choose what size and color they want:

The user is able to scroll down and see other popular products the business sells that open up should the user want to know more.
On the same page they can see product reviews left by customers for the product, with an overall product rating for the product and further options to see more reviews or view the product directly on their site.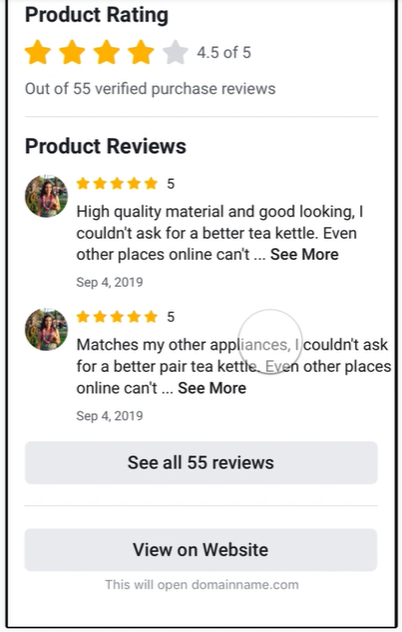 There will also be shipping and returns information letting the user know how long to expect for delivery and how long before they can return an item.
When a user clicks on the 'Checkout on Facebook' button, they will be directed to a checkout page where their address, credit card information, order total, and item details are shown.
All a user needs to do is enter a promo code if they have one. Everything else is pre-populated from their Facebook account.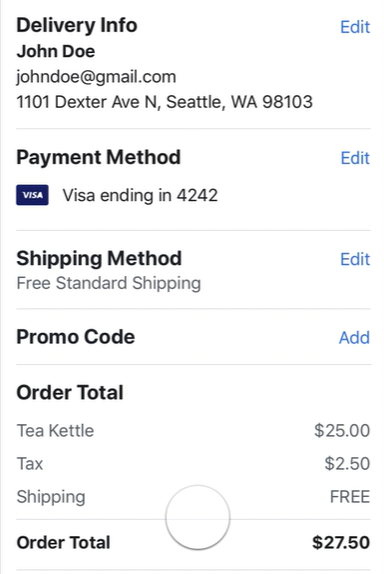 Once the order is placed, the user will receive an email to confirm their order and be shown the details of their order with the option of returning to the news feed.
Facebook's in-app checkout process is smooth, fast, and doesn't require the user to input any of their details as it's pulled directly from their account. This is huge!
The in-app checkout takes away the issue of users having to set up a new account when buying a product, which can be annoying on mobile devices.
Facebook stated that friction at online checkouts has cost businesses over $200 billion this year. Their solution to this is the in-app checkout.
A couple of downsides I see to the in-app checkout is that users cannot add several items to their cart and Facebook will only pass on limited details to the merchant. We all know that having a customer's email address is important for retention and bringing them back to the site, but with orders going through Facebook, businesses will have less data to work with.
Organic shopping posts to Instagram ads
Facebook isn't the only one testing features to encourage their users to buy from their ads. Instagram is giving a few advertisers the ability to turn their organic shopping posts into ads in the Ads Manager.
Instagram stated that more than 130 million users are tapping on product tabs every month to learn more about products, and so it plans to test these with ads to see if they have the same impact.
Instagram didn't give much information on when the test will end, but if all goes to plan, we hopefully won't be too far away from using it ourselves.
The future of e-commerce
In my previous articles covering Instagram shopping I always believed that the end goal would be to turn shopping posts into ads, and it seems we are not too far away from that.
Shopping posts provide users with a smoother shopping journey than having to click through to a business' website, and if combined with in-app checkouts it will open up a funnel angle for businesses.
Many businesses may find it cheaper and easier to scale their business by taking orders directly off Facebook and Instagram, rather than having to focus on website optimization for a range of devices.
Of course, the biggest drawback to selling directly on either platform is the lack of data you'll receive about shoppers to be able to cross-sell and up-sell in the future.