A story leaked by AllFacebook.de (German publisher) has confirmed that Facebook is creating a tool to connect brands with influencers. While Facebook has yet to announce anything definite, its current name is Branded Content Matching.
What is Branded Content Matching?
Branded Content Matching is a Facebook search engine that lets ad users search for content creators, their engagements stats, and their portfolio of work, and lets you work together.
How does the search engine work? While Facebook has yet to announce anything publicly, this is what their search engine looks likes:
When searching for creators, you'll be asked which audience you want to reach. You'll have the following options:
Top countries – The options are United States or Global. I would expect more countries to be listed once this rolls out globally.
Gender – Select whether you want to target men or women.
Age range – Select multiple age ranges.
Education – Target by level of education.
It's quite basic compared to their interest targeting feature, but this is just in testing. Even with the options above, it should not be too hard to find the right influencers (assuming the search engine works well).
Once you give your audience information, Facebook returns the creator's page name, their total number of followers, their engagement rate based on a 1-10 scale, the number of views per video, and the ability to view their portfolio of work.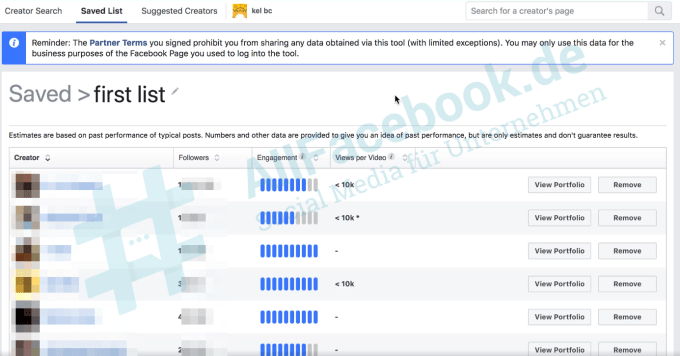 If you're a creator and would like to be part of their search engine, you can join the Facebook Creators community by clicking here.
How brands can use Branded Content Matching
At the time of writing, branded content matching is limited to a few brands for testing, but when Facebook rolls it out globally, it's going to be a great way to reach new audiences and connect with influencers.
Organic reach for brand pages have been going down for years, and depending on where you live you may have seen billboard ads from Facebook letting the world know they are cutting down on fake accounts and click bait.
If Facebook manage to get Branded Content Matching working well, I believe that influencer marketing will play a much bigger role in Facebook ad strategies. Facebook is giving creators all the resources they need to be successful, which in turn gets more Facebook users to stay on Facebook.
As a brand, you'll also be able to see how engaging the influencer is to their audience through their search engine and have a list of influencers to contact directly.
Twitter has Niche, YouTube has FameBit, and – while a little late to the party – Facebook has Branded Content Matching.
Who's your money on?
Do you have access yet?
If you're one of the lucky ones to be able to test Branded Content Matching now, leave a comment below letting us know how you're getting on and any features or benefits you've come across.
Where do you see this going in the future?