If you run campaigns using Instant articles or Facebook's In-Stream or Audience network, you may have seen this notification in your Ads Manager:
In this article, I'll explain what Facebook's new inventory filter means for you in 2019.
Choose where your ads are shown
Where your ads are shown has an impact on brand perception. There's a reason why Rolex sponsors prestigious sporting events like Wimbledon and shy away from mixed martial arts or the NFL.
It's all about how they want to be perceived.
They align their brand values with sporting events that share their values.
Running ads for your business or your clients is no different. It may not be a smart idea to serve content where sexual, political or social views are expressed that don't align with your business's or client's vision.
When using Audience Network, In-Stream placement, or Instant Articles, you never had much control over where your ads were shown until now.
Facebook's inventory filter will now provide three options to protect your Page from various forms of media on Facebook:
Limited inventory – This will offer you the most protection and exclude your ads on content that may be considered controversial.
Standard inventory – This will offer moderate protection and will be the default option when using any of the placements mentioned.
Full inventory – This offers minimal protection and will place your ads on all forms of eligible content.
Facebook released an image of what the feature will look like when it's rolled out globally: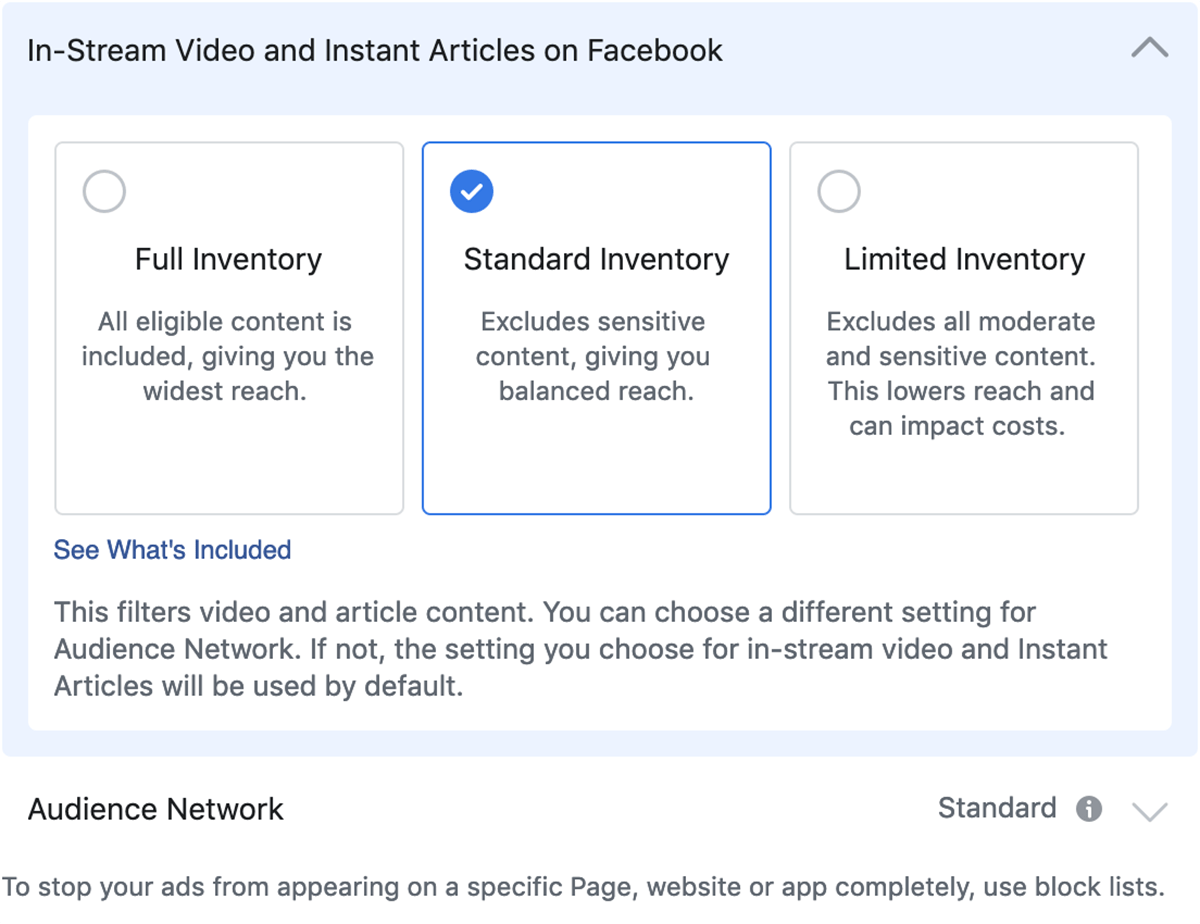 Facebook said this update is to improve their current set of brand safety tools, which include block lists and transparency controls.
How to move forward
Anytime you reduce your opportunity to serve ads, competition for inventory increases, and so does the price. For example, if you choose limited inventory which offers protection from moderate and sensitive content, there will be less placement opportunities for ads (which will increase costs), but it will also ensure that your ads aren't shown in places that could have a negative impact.
The first step is to look at your business's brand values and ask yourself how it will be perceived by others if your ads are placed within content that some of your users may find offensive.
You may yield a better ROI in the short term by using Facebook's full inventory, but could it impact your brand in the medium to long term?
Facebook states that 95% of content they remove from their platform is dedicated by their AI and that they have a team of over 30,000 people reviewing content on a daily basis.
Their added inventory feature simply provides businesses with another layer of safety and control over where their ads are placed.