Facebook advertising allows marketers to choose from a range of social media marketing ad formats such as image, video, slideshow, and more, but they can also have various size options to select from.
Ad size is an important consideration; the more effective your ad is overall, the better your return on investment. The social media platform Facebook features a sophisticated ad system–and that attracts lots of businesses, likely including your competition, so designing your facebook campaign ads to attract your target audience is essential.
In short, the size of your ads for your ad campaigns matter. Use this helpful guide on Facebook ads sizes to create your ad campaign with the proper specifications in mind.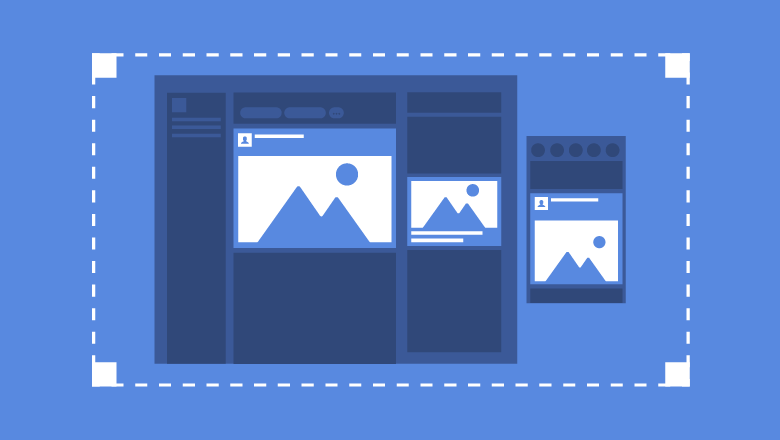 Facebook Feed Ads
Ads designed for Facebook inline feeds are the most popular. These spots are also the most sought after, and your Facebook marketing strategy should include them.
Many large and small businesses have to contend with competition for those all-important ad slots. Whether you choose an image or video ad, you'll need to adhere to Facebook's size and specification rules. Also, keep in mind that Facebook states that images that include more than 20% text will have reduced delivery. If you're concerned about the amount of text in your digital marketing, use the Facebook tool to ensure that it stays under that 20% marker. Numbers, phone numbers, text-based logos, watermarks, and other brand awareness items are included in the calculation of text.
Specs for Facebook Feed Ads
Resolution (Recommended): Highest resolution that's available
File type: png or jpg
Text: 125 characters
Image ratio with link: 1.91:1 to 1:1
Headline: 25 characters
Resolution (Recommended): 1,080 x 1,080px (minimum)
Description of link: 30 characters
Facebook Video Ads
Facebook image ads are still the far more popular option for businesses, but video ads are increasing in popularity nonetheless, especially for Facebook Stories ads.
The fact remains that viewers will spend more time watching a video ad than they spend for an ad with a static image. In addition, marketers should note that Facebook takes a "video first" approach to social media advertising and is aggressively pushing this format for your marketing plan.
Specs for Facebook Video Ads
Video Ratio: 9:16 to 16:9
Video File Size: 4 GB (Maximum)
Video Length: 1 minute (minimum) – 240 minutes (maximum)
Text: 125 characters
Sound: Optional but recommended
Thumbnail Images: If thumbnail images contain more than 20% text, they're at increased risk for delivery failure
Vertical Videos: Videos that have a height ratio that exceeds 4:5 may be masked to 4:5.
Headline with Link: 25 characters
Link Description: 30 characters
Facebook also offers 360 videos. This is an interactive feature for active users and allows them to play 360 videos by dragging their finger over the content or simply turning their device real time. Also, the Facebook ad agency should upload videos with the highest resolution possible. Facebook supports most file types but recommends H.264 compression with square pixels, a fixed frame rate, stereo AAC audio compression (128kbps+), and progressive scan.
Facebook Carousel Ads
Facebook also offers a Carousel Ad feature, allowing marketers to display multiple images of new products in a single ad.
The Carousel Ads support video content too. In fact, these ads may include a mix of videos and images. Facebook users and potential customers simply swipe through the slides to view each piece of ad content.
Currently, Facebook allows business owners to submit up to 10 images or videos for one Carousel Ad. Each item can include its own link. These ads allow marketers to tell a story about a special collection or line. It allows them to convey more details or to highlight special products.
Facebook Carousel Ads Specifications:
Number of images / videos: 2 (minimum) to 10 (maximum)
File type: png or jpg
Maximum video size file: 4GB
Video length: 240 minutes (maximum)
Maximum image file size: 30 MB
Recommended resolution: 1080 x 1080px (minimum)
Recommended ratio: 1:1
Headline: 25 characters
Text: 125 characters
Link description: 20 characters
Remember that text should be kept under 20% or the ad is subject to delivery failure.
Facebook Stories Ads
Facebook advertising services is now also allowing marketers to place ads in the Facebook Stories feed. Facebook believes that the Stories feed will eventually outperform its traditional newsfeed. Marketers are only now beginning to tap into this platform's immense potential.
Facebook Stories Ads Specifications:
Image size: 1080 x 1920 (recommended)
Minimum width / height: 600 pixels
Image file types: jpg or png
Image ratio: 1.91 to 9:16
As always, keep the text below the 20% marker or your Stories Ads will be subject to failed delivery. If you're in doubt about your text percentage, use Facebook's marketing tool to help you make an accurate calculation and avoid going over this 20% rule.
Keep this guide handy as it provides you with the necessary specifications you need to create effective Facebook ads.
You can also create additional ads for Facebook side bars, Facebook Marketplace Ads, and more.
Facebook's ad versatility gives marketers more ad creative freedom than they'll find on many other social networking platforms. By using its advertising tools effectively, businesses stand to enjoy increased website traffic–and increased conversion rates. Use Facebook's analytics tools to gauge your success.