SocialBakers conducted a report on over 140,000 branded accounts during Q2 2019 to learn on which placements Facebook advertisers are spending their ad dollars and where advertisers can find the best CTR, CPC, and CPM.
In this article I'm going to break down their findings to give you a macro picture on the Facebook and Instagram ad environment.
Newsfeed is king
Sixty percent of all ad spend goes toward the Facebook news feed, followed by the Instagram news feed and Instagram Stories, and Facebook suggested video and Facebook in-stream video, which make up around 10% combined.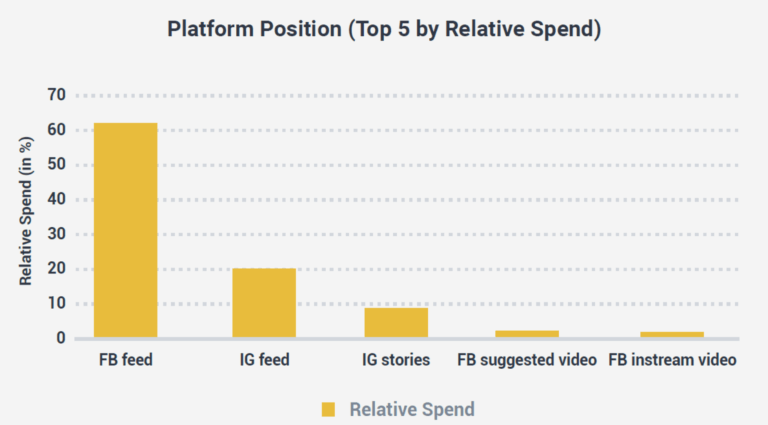 This shouldn't come as much of a surprise given that Facebook has more than double the number of users than Instagram. With more daily active users comes more ad inventory placements.
Advertisers get more real estate on the Facebook news feed than any other placement, giving advertisers more space to get their message across.
Combine that with Instagram being a lifestyle platform, and businesses that don't have a lifestyle brand or are unable to come up with the high-quality creatives needed to run successful Instagram ads are less likely to advertise there.
The reason we are not seeing a higher percentage of placements with video is because it takes considerable time and money to create video ads compared to static images, and both the Facebook and Instagram apps open showing the news feeds and further actions are required to watch Stories or suggested videos.
Which placement wins by click-through rate?
The Facebook news feed and Facebook suggested video come out on top with the highest click-through rates for placements, followed by the Instagram news feed and then Facebook in-stream video and Instagram Stories.
At first glance, the difference between the Facebook news feed and Instagram news feed is huge, with the Facebook news feed receiving 1.45% more CTR.
One thing to take into consideration when reading this data is that Instagram's organic reach is much higher for businesses and influencers, which is going to have an impact on CTR for news feed ads.
Organic reach has been dead for most businesses on Facebook due to the algorithm favoring posts from friends, family, and groups that often don't contain call to actions over ads.
Which placement has the cheapest CPC and CPM?
I found it interesting that the Instagram news feed yields a lower CPM than the Facebook news feed, given the fact that Facebook has twice as many users.
Facebook did come out on top, with CPC being much cheaper than the Instagram news feed, Stories, and Facebook in-stream video.
Where are the opportunities?
In my opinion, the biggest insights of these findings is that live videos receive double the organic reach than link, photo, status, and video updates.

In their report, SocialBakers stated that live video posts made up only 0.4% of organic posts from the 140,000 accounts they analyzed.
This is a huge opportunity for businesses to raise awareness for little to no cost. Creating a weekly or bi-weekly show where you provide your audience with value or solutions can help build an organic following, which you can then nurture into something profitable.
What should you take away from these results?
When these types of reports come out, you should always take the results with a pinch of salt.
The number of businesses (140,000) isn't a large sample size given that Facebook now has millions of businesses on the platform, and each business' creatives, social proof, targeting, and ad copy will have a huge impact on CPC/CPM and CTR.
Many advertisers set their placement targeting as automatic, which will naturally favor both news feeds as that is where most of the attention goes.
As advertisers, we buy media to get a specific result, such as a sign up or sale. We don't run campaigns with the primary goal of getting a low CPC or CPM. These metrics are refined when we want to optimize a successful ad.
The key takeaways from this report is that businesses should be spending more time on creating Facebook live videos and figuring out ways to dominate the Stories, in-stream, and suggested video placements as these placements aren't in such high competition compared to the news feed and offer a cheaper CPM/CPC on the whole.