Are you looking to get into more in-depth conversations with your audience?
Facebook now allows businesses to use the 'Send Message' call to action within Stories ads. In this article I'll discuss how the feature works and the rise of conversational commerce.
'Send Message' CTA now in Stories
Businesses advertising on Facebook and Instagram can now place the 'Send Message' CTA on Facebook, Instagram, and Messenger Stories.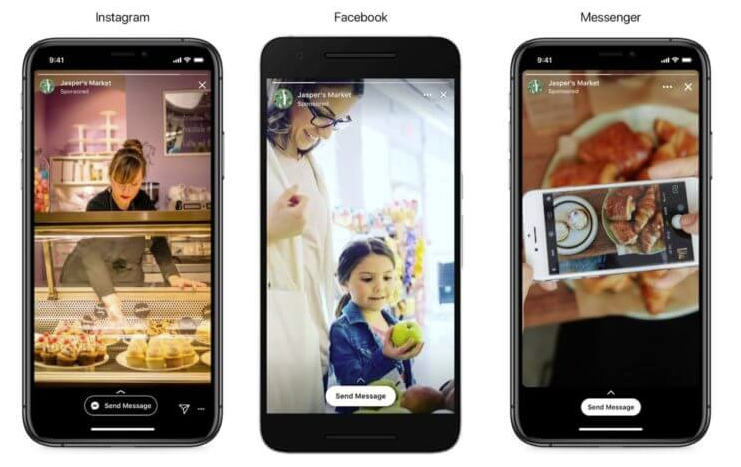 Users can swipe up to connect with a business and will be redirected to a conversion with a business without having to leave the app. Users simply need to swipe on a Stories ad that uses the 'Send Message' CTA.
Facebook added the 'Send Message' CTA to its platform in 2017 and it has now come to Stories.
The Stories placement has been a massive hit on Instagram, with over a billion daily active Stories uploaded and over 500 million users viewing Stories on Instagram. Stories is also available on Facebook, and while it's not as popular as Instagram, the amount of people using Stories on Facebook is slowly growing.
 How to use the 'Send Message' CTA for Stories
This new addition to Stories is to make it easier for e-commerce businesses to implement conversational commerce.
Conversational commerce is a term coined by Chris Messina that means to combine messaging apps with shopping to provide users with convenience, personalization, and support while users are on the go with limited time.
The smartphone is changing the way we do everything, from communicating, to paying our bills, to how we shop. It seems that the next logical step for online advertisers is to implement forms of conversational commerce.
One way to use the 'Send Message' CTA on Stories (and other placements) is to ask prospects different questions based on where they are in the funnel.
For example, using the Facebook pixel you can segment users who visited a product page multiple times. Any user who has visited a product page three or more times but hasn't placed an order may have some objection about your product that's yet to be answered.
Using conversational commerce, you can reach out and ask them a question about what is holding them back, or reach out so you can relieve any issues they have.
For users who visited your website once but didn't view a practical product or category page, using Messenger bots you can lead prospects from the top to the middle of your funnel.
Very few e-commerce businesses use Messenger Ads or conversational commerce to move prospects down their funnel. By leveraging this now, it will give you a competitive advantage against your competitors and build better relationships with new and existing customers.
You don't want to use conversational commerce at every touch point in your customer journey as that will annoy prospects. Instead, look for areas in your funnel where prospects have the biggest objections and where having a conversation with a real human or Messenger bot can turn a maybe into a shut up and take my money!
By using this feature to gather customer feedback on your product, service, or customer support, you can use conversational commerce to improve your products and relationships.
Conversational commerce is growing
Conversational commerce is popular in the SaaS industry as objections to try a service or the benefits and features it provides are typically more complex.
Usually, a SaaS is bought for a number of people, so greater consideration is needed compared to an e-commerce store selling single items like t-shirts or food.
The fact that Facebook is bringing the 'Send Message' CTA to Stories should be a signal to business owners and marketers that conversational commerce will play a role in online sales going forward.