A question you may have asked yourself from time to time is, which platform is better for ecommerce: Facebook or Instagram?
Most ecommerce stores sell products that are applicable to both platforms, and you should definitely be using both to grow your business.
With that said, a better question to ask is, how should you allocate your marketing budget between them, and what goals are easier to reach on either platform?
Facebook vs. Instagram by demographics
Facebook and Instagram have very different user bases.
Facebook: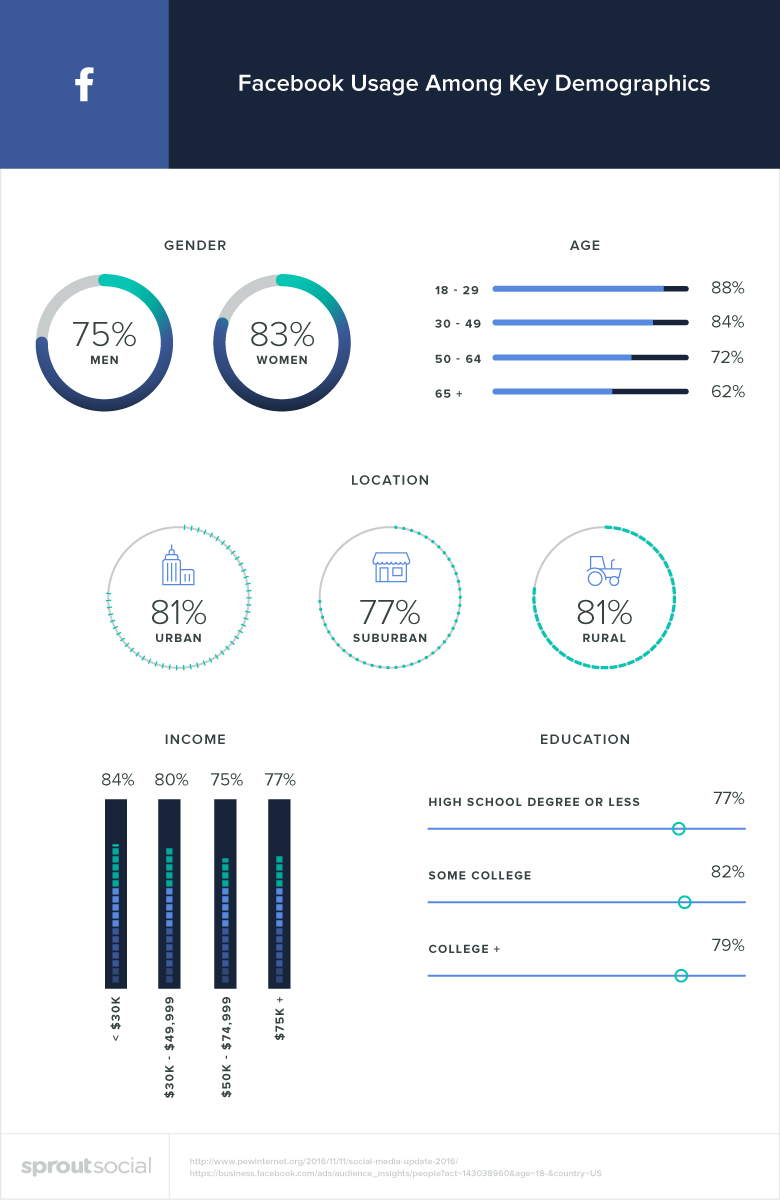 Instagram:
(Source)
Instagram has a much younger user base along with a lower income level when compared to Facebook.
Ask yourself where your buyer persona fits in between these two demographics. If you sell to a younger audience then Instagram is ideal, and Facebook is ideal for mature audiences
Chances are you have customers in both demographics, in which case you need to find out which customers bring you the most revenue and allocate spend accordingly.
Facebook vs. Instagram ad objectives
The following objectives can be run on both Facebook and Instagram:
Brand awareness
Reach
Traffic (for clicks to your website or to the app store for your app)
App installs
Engagement (for post engagement only)
Video views
Conversions (for conversions on your website or in your app)
Lead generation
DPA ads
The only objective you can run on Facebook that is not available on Instagram is Store Visits.
Using the video views objective on Instagram, you can only run a video ad that lasts up to 15 seconds.
In contrast, Facebook allows videos up to a maximum of 240 minutes. This is a pretty big deal if you're using video as part of your ecommerce strategy.
While short videos do convert amazingly well, sometimes you'll need longer videos to be able to dig deeper into your brand or product.
At the time of writing this article (Dec 2017), you cannot run the Canvas or Offer ad format on Instagram either. The Offer objective is ideal for flash sales and time-based offers, and Canvas is ideal for targeting at the top of the funnel. This is very significant for e-commerce stores.
However, Instagram does have its Shopping Ad format which is not available on Facebook and lets you create a mini catalog of products that prospects can engage with.
Facebook vs. Instagram – organic reach and engagement
When you have tens of thousands of followers or more, organic reach is a big deal.
Being able to reach large targeted audiences (your fans) for free can greatly increase your Facebook or Instagram ROI.
We all know that organic reach on Facebook is pretty bad, with the average page reaching about 2.5% of their user base on average.
Instagram, on the other hand, is doing much better. I could not find data revealing how much the average Instagram ecommerce brand reaches organically, but I know it's a lot more than Facebook.
The fact that brands like Nike update their Instagram account (three days ago) more often than their Facebook account (four weeks ago) is a sign that Instagram is winning the engagement and organic reach battle.
Instagram also has Stories, which have become a big part of how ecommerce stores market their products and get free reach.
If you have a large following, then not posting daily organic updates and Stories on Instagram is a huge leak in your Instagram funnel. By posting daily quality content you can rapidly increase your brand's name within your industry.
Facebook vs. Instagram – content type
Here's one thing that most people don't consider when deciding how to market on Facebook and Instagram.
Scroll down your Facebook feed for a few minutes and you'll see very few images or videos that make you go, "WOW, I NEED THAT!"
However, when scrolling down your Instagram feed, nearly every image or video is inspiring or telling a story.
If you don't have REALLY GOOD content to post on Instagram, you're going to struggle to gain attention. Follow any popular ecommerce brand and their feed is full of artistic, inspiring images that tell a brand story.
If you don't have strong creatives, Instagram will be an uphill battle compared to Facebook when reaching new audiences. If you do, then it can become a goldmine of customers.
Which one would I choose?
Facebook and Instagram are the best two platforms to grow any ecommerce businesses right now.
Each platform has its own unique advantages depending on the products you sell and the prospects you target.
Your objective should be to find out how you can use the strengths of each platform to reach your marketing goals.
With the introduction of the Instagram Business Manager and Instagram engagement custom audiences, you can now build funnels that incorporate both platforms and target prospects who viewed an ad on Facebook with content on Instagram and vice versa.
Facebook and Instagram have come out with dozens of updates in 2017 specifically for ecommerce. You need to be on both.