If you've visited the lookalike audience section of your Business Manager account lately, you might have come across the following image: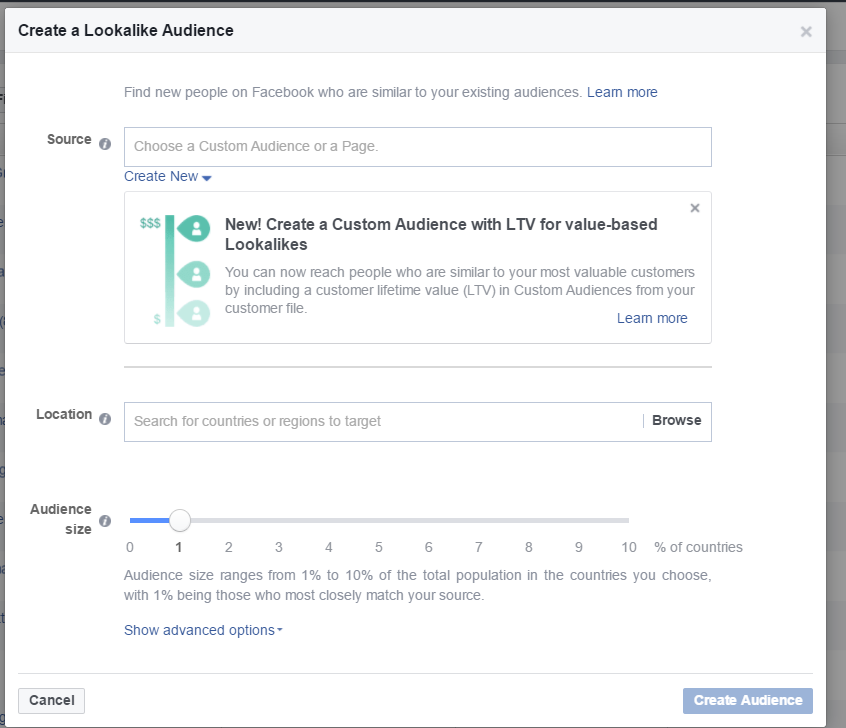 Facebook now lets you organize your customers in order of customer lifetime value (LTV) – or in other words, how much they spend at your business.
You know how they say 80% of sales come from 20% of your customers? Well, by adding the LTV value to each of your customers you can tell Facebook who your 20% is, and it will go out and target similar people.
Often, brands have a lot of deadwood in their email lists with thousands of customers who only ever made a single purchase, which can end up skewing your lookalike audiences and depleting your Facebook ad budget.
In this article I'll show you how to create an LTV lookalike audience, and how you should be using them at various parts of your funnel.
How to upload your LTV customer list
To get started, you will need to create a new audience on Facebook using a customer list. When you do this, you'll now see a new option to upload a customer file with the customer lifetime value.
Select the new option to upload an LTV and you'll be presented with the following screen:
Facebook will ask you for two datasets. They are customer identifier and customer value.
Customer identifier – This includes your customers' email addresses and other optional data such as their name, address, telephone number etc.
Customer value – This is a customer value that indicates the amount they spend with your business. The customer value you provide for each customer will be the total amount they have spent at your business. Facebook suggests you provide a range of values so they can tell high value customers and low value customer apart.
All values must be positive numbers (i.e. you cannot give a customer a value of -150).
If you want to provide the customer value by the cent, then use a comma. However, do not use a comma to break up numbers in the thousands. Here's a test example of what your customer file would look like when uploading: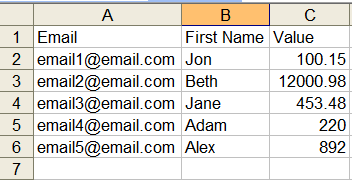 Again, the comma above represents cents only.
The value column is the amount (in USD) that each customer has spent at the store.
Once you upload your customer list, you'll be asked to select your value column.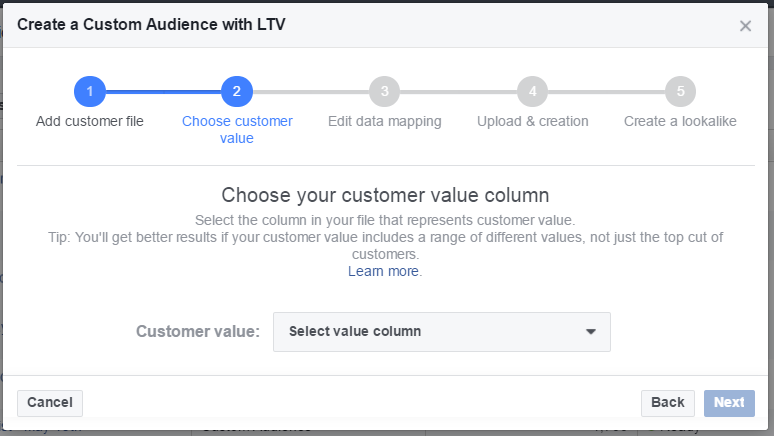 Select the correct option from the dropdown (the one marked value) on your CVS file and click 'next.'
In part three, you have the ability to upload other customer identifiers. You don't need to upload their name, address, or telephone number, but I like to include as much data as possible to help Facebook create a super targeted lookalike and custom audience.
If your file does not contain any errors, then you'll see the following message: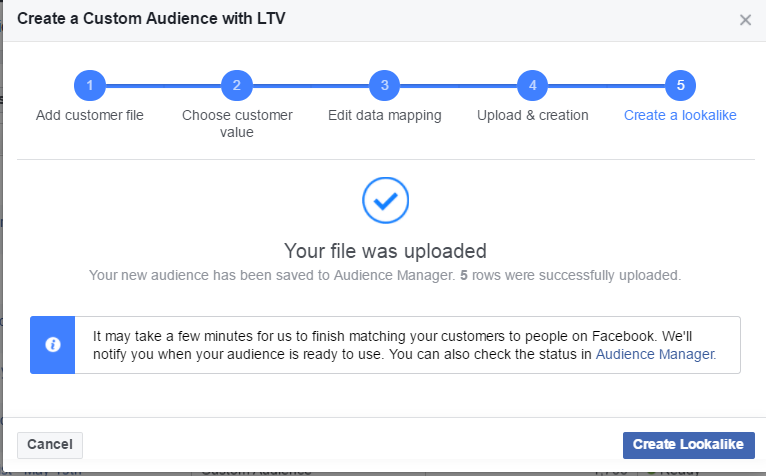 At the bottom right you'll see a button to create an LTV lookalike audience from your newly updated list. Simply click that button to create a lookalike audience like normal.
How to use LTV lookalike audiences
Facebook has said that you'll be able to serve bottom-of-the-funnel content, such as product items, to LTV lookalike audiences.
I personally feel that traditional lookalike audiences should focus only on the top of the funnel and be tested rigorously for middle and bottom-of-the-funnel content, as it will often return a negative ROI.
I'd use LTV lookalike audiences with caution for lower funnel targeting as it's a new feature and Facebook will need lots more data before it can start to optimize and improve its own algorithm.
For now, I suggest A/B testing your new LTV lookalike audiences with your current lookalike audiences, and cold interest targeting, to see if they provide a better return on ad spend.
Also, consider using it for low barrier offers such as lead magnets or low-value items that may not have been profitable with traditional lookalike audiences.
Your turn
What I'm trying to get at is that you'll need to test LTV lookalike audiences within various campaigns.
Start by duplicating a few campaigns at the middle and bottom of your funnel and select your newly created LTV audience.
It might be a huge success, provide okay-ish results, or be a total failure. There are too many variables to take into consideration to give a blanket statement about LTV and whether it will be a hit for your business.
But now you know how to create LTV lookalike audiences, so get testing and let us know how you get on.