Marketing allows brands to attain new customers, generate revenue, increase product awareness, and maximize sales. For this reason, it's important for brand owners to allocate a marketing budget to spend effectively in various advertising channels.
However, evolving customer purchase behavior and market trends can make it challenging to assign a budget for each marketing channel. In this blog, you'll learn how to manage, strategize, and reassess your marketing budget based on real-time performance metrics.
Why Is an Effective Marketing Budget Crucial for Brands?
A marketing budget allows you to spend on advertisement tactics that increase your brand visibility in the target audience. Therefore, you need to organize your resources and expertly allocate them to meet your brand goals.
You can also conduct a competitor analysis to figure out effective marketing strategies and platforms. Additionally, you can use data analytics like customer segmentation, predictive analysis, and descriptive analysis to learn consumer behavior, preferences, and interests.
With the help of this data, you can make smarter marketing choices that help you get more out of your investment. Budgeting your market spending based on data insights also boosts your brand awareness as you invest in strategies that produce valuable results.
How Do You Identify and Set Your Marketing Goals?
To set effective marketing goals, you should assess your market share, research your target audience, and differentiate between short-term tactics and long-term strategies. You can assess the performance of past marketing initiatives to refine your objectives.
However, a major part of your marketing must be based on your brand's current image in the market. Market research can offer your marketing team extensive insights into your customers, market share, and total revenue. Based on this data, you can launch campaigns that attract leads and address their specific needs to convert them into loyal buyers.
When setting marketing goals, you can review between long-term and short-term marketing plans and select a strategy that matches your objectives.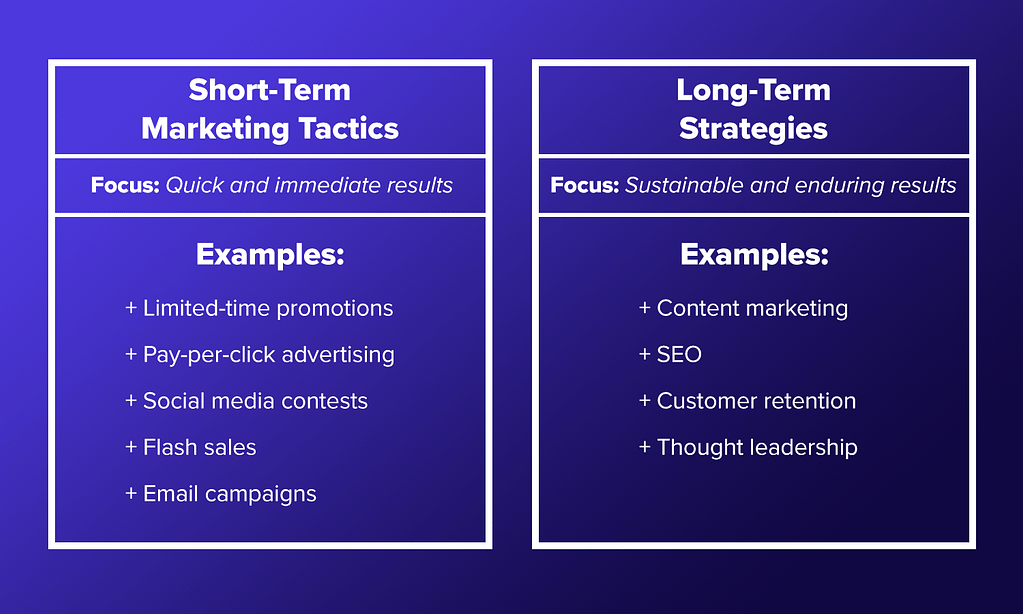 How Can You Effectively Allocate Your Marketing Budget?
According to the latest CMO survey, marketing budgets are expected to increase from 11.7% to 13.6% as companies are making efforts to acquire a competitive edge. In this competitive landscape, you need to allocate budget to productive strategies to see measurable results.
If you have a small budget, use a mix of free and paid methods. You can invest in content marketing, search engine optimization, and social media management to acquire organic growth. By allocating a significant portion of your budget towards these efforts, you can establish a strong online presence and engage with your target audience.
Otherwise, you can also consider marketing automation tools, such as email marketing, personalized advertising, and lead prioritization, for optimal return on investment (ROI). In paid marketing, you can use pay-per-click advertising to reach your target audience more effectively and quickly. By dividing your budget wisely, you can optimize the impact of your marketing efforts and achieve sustainable growth.
Based on your selected marketing strategies, use a marketing budget guide template to outline the total cost of each step. Visualize your spending in one place and monitor online and offline expenses to get the right estimate. After estimating the total cost, further divide the budget according to each team and their task.
How Can You Maximize ROI With Marketing Automation?
Marketing automation can boost your returns from lead generation and account-based marketing. It reduces mundane tasks and gives you the tools to achieve more than manual methods.
Use these key strategies to maximize your marketing efforts:
Fuse modern software seamlessly into your marketing stack for unified data flow and enhanced team collaboration.
Craft dynamic landing pages to cater to individual visitor preferences, boosting response rates.
Use chatbots and integrated content to engage visitors, emulating in-store service for higher conversions.
Optimize form fields for higher conversions while your form extension captures vital data in the background.
Reclaim lost leads with personalized content suggestions and exit-intent pop-ups, maximizing ROI.
Create group leads by characteristics and score them for tailored content to boost conversion rates.
Address unique pain points and needs with software automation based on firmographic data and behavior.
Establish benchmarks and track metrics to fine-tune marketing automation for optimal results.
How Can Startups and Small Brands Optimize Their Marketing Spend?
For startups and small brands, prudent allocation of resources is crucial to plan marketing operations and obtain a high ROI. Tap into the expertise of freelancers to reduce marketing costs without compromising quality. You need to prioritize activities that align with your brand's core objectives, and keep an eye on the CMO survey for industry insights on budget allocation.
Moreover, Evaluate the cost-benefit of initiatives like trade shows, app development, and product launches to ensure you're investing in strategies that yield the highest returns.
CMO Survey and Its Implications for Budget Allocation
The CMO survey offers useful information about the marketing industry, including trends, challenges, and opportunities. This information helps you decide how to spend the budget on valuable channels and invest in areas that meet the market's changing demands.
Evaluating Trade Shows, Apps, and Product Launches for Startups
What Are Common Mistakes in Budget Management?
Collecting inaccurate data leads to misallocating funds and missed opportunities. It also prevents you from keeping up with the ever-changing needs of your customers and the market. When budgeting, remember to include the cost of necessary tools and software.
Without marketing tools, it can be challenging to promote your services, generate leads, optimize content strategy, and boost sales. Additionally, prioritize market research over relying solely on benchmark metrics to ensure you create marketing goals accordingly.
What Tracking Tools and Tactics Should Marketing Leaders Consider?
One of the main tools to track marketing budgets is marketing budget templates and software. These tools enable startups and brands to plan, allocate, and track marketing expenses in an organized and systematic manner. They help establish clear guidelines for budget allocation across various marketing channels and campaigns.
Automation through software simplifies the tracking process, reduces errors, and provides real-time visibility into spending. Metrics, such as ROI, conversion rates, click-through rates, and customer acquisition costs, are also essential for measuring the effectiveness of marketing campaigns. You can include these metrics in the budget template for each campaign or channel to record expected outcomes.
Additionally, sales funnel analytics assess the journey from initial contact to conversion. It provides insights into where leads drop off and where they convert into customers. Integrating sales funnel data into marketing budget templates and software allows for a comprehensive view of lead generation effectiveness.
Using marketing budget templates and software, you can obtain a historical record of expenses and outcomes. With these reviews, you can identify areas where adjustments are required, such as reallocating the budget to high-performing campaigns or discontinuing underperforming ones.
How MuteSix Can Help
A marketing budget can help brands allocate their expenses and efforts toward result-driven marketing strategies. Companies can create an effective budget by collecting market data and customer data, such as preferences, shopping habits, interests, and more. Using data-driven strategies allows them to avoid common budget management pitfalls.
MuteSix accelerates growth for disruptor brands through real-time marketing that solves for customer, market and brand needs.
Leveraging data-backed, omnichannel media buying, growth marketing, and creative strategies, our team of forward-thinking experts scale brands to success faster and more efficiently than any agency can.
Ready to grow your brand? Reach out today for a marketing consultation to see if you qualify for a free omnichannel audit.
Source:
March 2023 CMO Survey Highlights and Insights Report | The CMO Survey
How to Calculate ROI to Justify a Project | HBS Online