How to Offer Customer-Led Giving for Pride Month
Brand marketers understand that co-opting gay and trans flags during Pride Month can cause further damage to the LGBTQ+ community. If you want to do more than post rainbows on social media, then try customer-led giving this Pride month.
Customer-led giving is a unique way for brands to set purchase thresholds for donations and to then allow customers to choose which charity receives the donation.
Many worthy organizations address common challenges of the LGBTQ+ community.
Consider, for example, this harrowing reality: LGBTQ+ youth are 3.5 times more likely to commit suicide than their heterosexual peers and 120% more likely to be homeless. Fearing discrimination, nearly half (46%) of LGBTQ+ employees remain closeted in the United States.
To have the biggest impact, you should thus support and uplift the non-profits that are already doing great work to combat these and other issues.
You can go above and beyond corporate donations by allowing your customers to direct the funds. In this post, Givz, a purpose-driven marketing platform for e-commerce brands, dives into customer-led giving and how to take part in it this upcoming Pride Month and beyond.
What is Customer-led Giving?
Rather than divert a portion of a brand's sales or profits to an organization of the brand's choosing, a brand instead puts the power in their customers' hands.
Customers can choose where to send the donation, and your brand will foot the bill. We're not talking about rounding up an order or adding on a donation at checkout—because that's still a way of collecting funds for one specific charity that your brand wants to sponsor.
Rather, customer-led giving works like this:
1. Your brand communicates a donation incentive (such as "Donate $10 for every order over $90" or "Donate 5% of your order value") on your website and other marketing channels.
2. After a completed order, customers see the donation page and choose which charity to support.
3. Your brand pays for this amount to the charity, without charging the customer for it.
Done right, a donation page should trigger after a successful purchase and feature a few charities for a customer to choose from. If you use a platform designed specifically for donation incentives that integrates directly with your store, this only takes a few minutes to set up.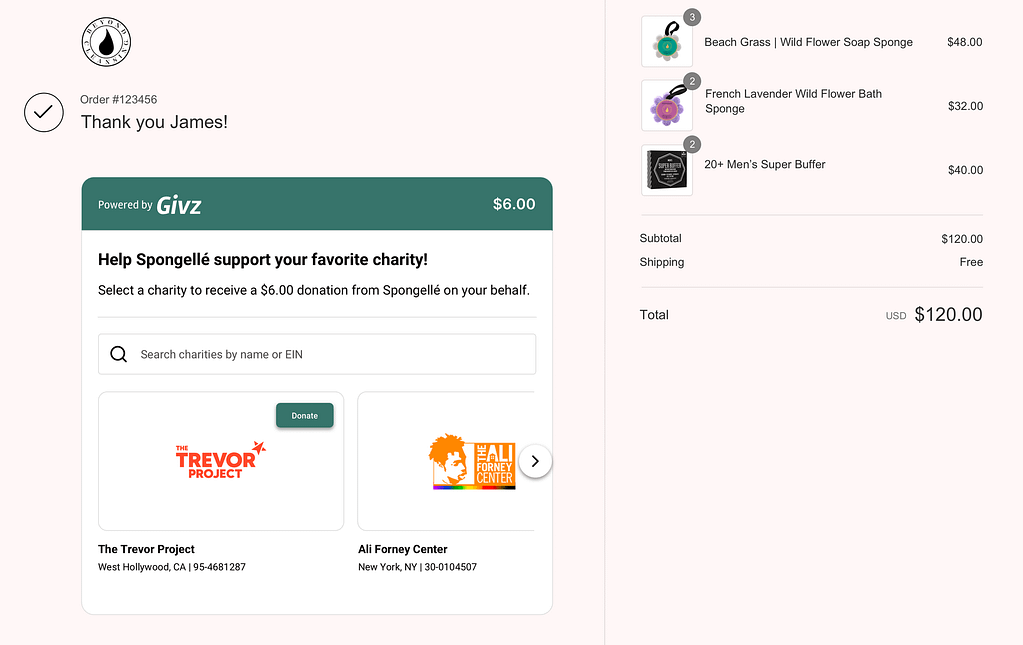 Why Does Customer-led Giving Matter?
86% of US consumers are more likely to purchase from purpose-driven companies, and 60% believe that social justice issues will be improved when more brands begin to address them. In recent years, for example, we've seen how the increase in body diversity in both brand and influencer marketing can improve teens' confidence. Similarly, the inclusion of LGBTQ+ models and influencers is boosting acceptance.
Many brands jump into Pride Month with good intentions, wanting to show their support for the LGBTQ+ community and encourage acceptance among their customers.
If a company posts "Happy Pride" with rainbow imagery, they might think they're helping out, but the LGBTQ+ community has made it clear that rainbow logos and merchandise don't make a brand an ally. Those callouts may come across as self-serving and allow the brand to profit without necessarily aiding the LGBTQ+ community.
Customer-led giving, on the other hand, allows a brand to put their money where their hashtags are and give back to the communities they want to support. Brands can either feature charities that align with their products and audience throughout the year, or continually rotate charities to promote relevant ones at different times.
Choosing to feature charities on your post-purchase donation page can reap the following benefits for e-commerce brands:
Boost Your AOV with Donation Incentives
Donation incentives can increase average order value because many conscious consumers will be motivated to add as many items necessary to their cart to hit a brand's donation threshold.
To experience this benefit, pick a donation threshold that is around 15% higher than your AOV so that customers can donate only if they hit this limit. For example, if your AOV is $80, you can set your donation threshold at $90 or $95, then offer customers the ability to donate $10 for any order over $90.
In fact, if you promote this with a website banner, social media posts, and emails, your AOV will likely rise at a similar rate or even higher than if you were offering a discount.
Show Customers That You Care About What They Care About
By donating money on behalf of your customers to the organizations they care about, you're showing them that you prioritize what matters to them. For example, a customer can choose to donate to a charity that impacts their local community, and they'll likely remember that your brand helped them do it.
Collect Data on the Causes That Matter Most to Your Customers
By offering customer-led giving, you can also collect data on the organizations your customers choose. You can analyze these by category, which can help inform your messaging, product development, and of course, more customer-led giving campaigns.
Spread Out Your Corporate Giving and Support Lesser-known Charities
Brands tend to support well-known charities. But there are also charities that you may never have heard of that could be closer to consumers' hearts.
By allowing customers to choose the organization they want to donate to, you get the added benefit of spreading out your company's giving and impact.
How to Set Up a Customer-led Giving Campaign for Pride Month
To easily start offering customer-led giving, choose a donation incentive platform that:
Integrates with your e-commerce platform
Doesn't affect your well-optimized checkout process
Triggers after a successful purchase (based on the threshold you set)
Offers flat-rate giving and percentage-based giving
Allows you to feature relevant charities on your giving page
Allows customers to choose where to donate the amount
You'll then want to decide how to structure the financial aspect of your donation incentive. If you're going the flat-rate route, which is more common, you'll want to choose a threshold higher than your AOV and a flat-rate giving amount that is 10-20% of that threshold. (Such as "Donate $15 when you spend $100.")
For inspiration, check out innovative body care brand Spongellé. They include a donation incentive in the banner of their website: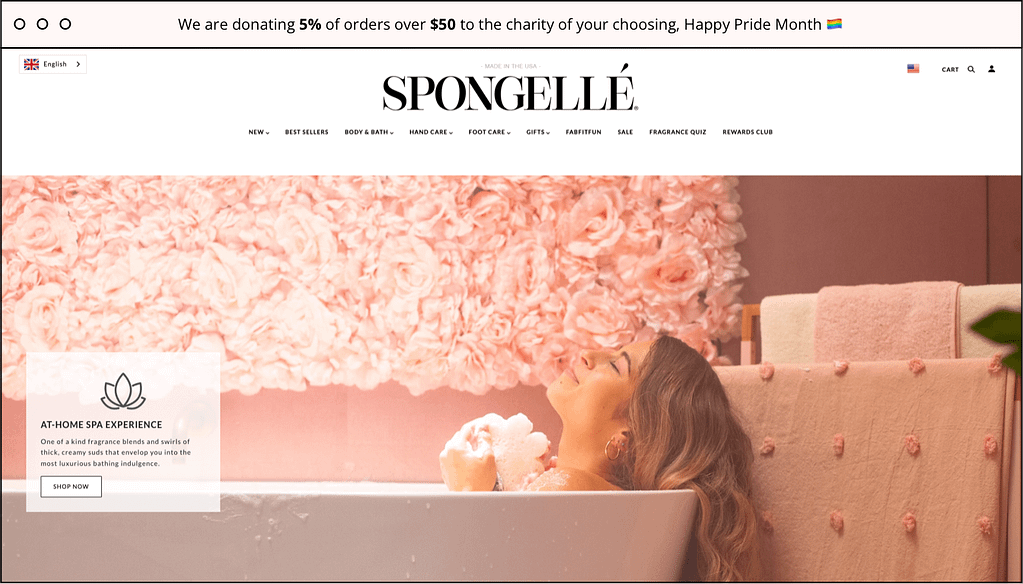 Since installing Givz, Spongelle has increased AOV and built lasting bonds with their customers by supporting the charities customers care about.
5 Great LGBTQ+ Charities to Support During Pride Month
So, what charities should your e-commerce store support?
By featuring LGBTQ+ charities during Pride Month, you increase the likelihood of customers selecting them and you also spread awareness about LGBTQ+ issues that people may not know about, such as the increase in bullying, homelessness, and more compared to their peers.
Here are some meaningful national and international options to consider adding to your donation page.
1. The Trevor Project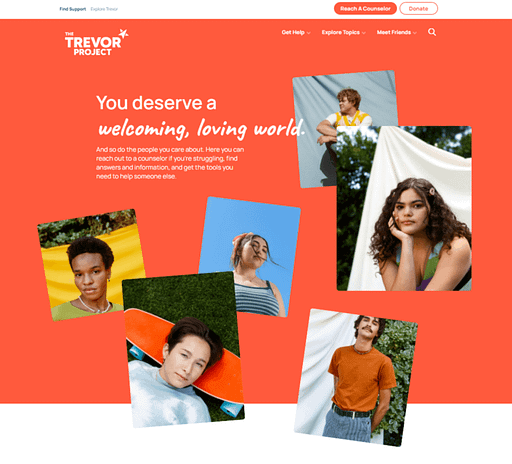 The Trevor Project addresses LGBTQ+ youth who are at a higher risk of depression and suicide than straight and cisgender youth. The organization provides 24/7 text, chat, and call access to trained counselors as well as a safe, moderated space for community members to engage online.
2. GLAAD

GLAAD works within entertainment, news, and digital media to both uplift and protect LGBTQ+ voices and stories. Their Social Media Safety Index, for example, provides recommendations for the user safety of LGBTQ+ users across Facebook, Instagram, Twitter, YouTube, and TikTok.
3. It Gets Better Project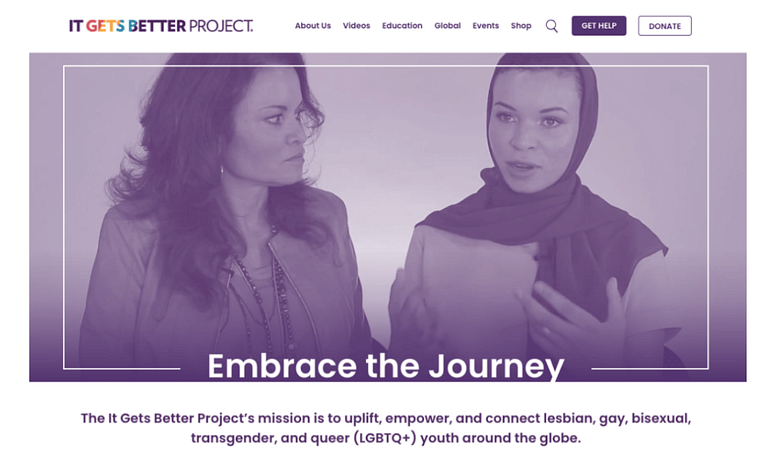 It Gets Better is a global LBGTQ+ organization that spans four continents and offers programs in six world languages. The organization focuses on providing stories of hope and proof to young people that it really does get better. That there's life on the other side of the bullying that LGBTQ+ kids might face at school. Through events, media programming, influencers, and educational resources, the org has impacted 19 countries so far.
4. Parents, Family and Friends of Lesbians and Gays (PFLAG)

With over 400 chapters across the US, PFLAG is the largest organization for allies of the LGBTQ+ community. The organization provides confidential peer support, as well as education and advocacy for the friends, families, and allies of the LGBTQ+ community. Through their work, they've helped families accept their loved ones coming out and understand how to best support them.
5. StartOut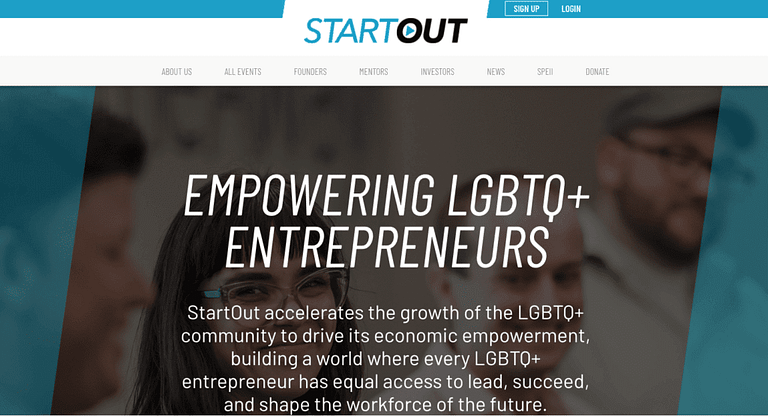 StartOut is focused on helping more LGBTQ+ innovators become successful entrepreneurs. They host networking events and useful workshops in cities across the US and provide mentorship and investment opportunities.
Check out this list of more LGBTQ+ charities you can feature and support with Givz.
Final Thoughts
The LGBTQ+ community deserves your brand's support in a way that truly benefits them. When you allow customers to give back (on your dime), you create a meaningful brand experience while positively impacting lives.
MuteSix and Givz are proud to partner up to help DTC brands create holistic campaigns that are not only authentic but impactful.
Ready to take action? Find a few LGBTQ+ organizations that match your brand values and feature them on your Givz donation page and marketing materials during Pride Month. Showcase their work and make it easy for customers to pick their favorite organizations.
About Givz
Givz is a platform for managing donation incentives that grows sales, creates social impact, and reduces discount dependency. Increase your average order value by replacing discounts with donations.