Social media and email marketing go hand in hand for e-commerce.
Facebook and Instagram are ideal platforms to find new audiences and drive people at scale to your store.
Email marketing is the ideal platform to get customers to spend more once acquired.
However, not everyone opens their email, and there are no ways of guaranteeing 100% open rates (industry open rates are around 23%).
It's important to get your subscribers to follow you on social media so you can serve them offers they'll see and to help you build stronger lookalike audiences.
Here are 5 ways you can promote your social media accounts using email marketing for e-commerce.
1. Ask them to follow you
All good emails have a single, clear call to action.
I know many brands put their social profiles in the footer of each email, which is fine, but very few people click them. Furthermore, usually the call to action of the email is promotional, branding, or transactional (order confirmation).
Add an automation to your email funnel asking subscribers to follow your social media accounts.
GOOD AMERICAN keeps it simple with their email. Each name links back to their social profiles: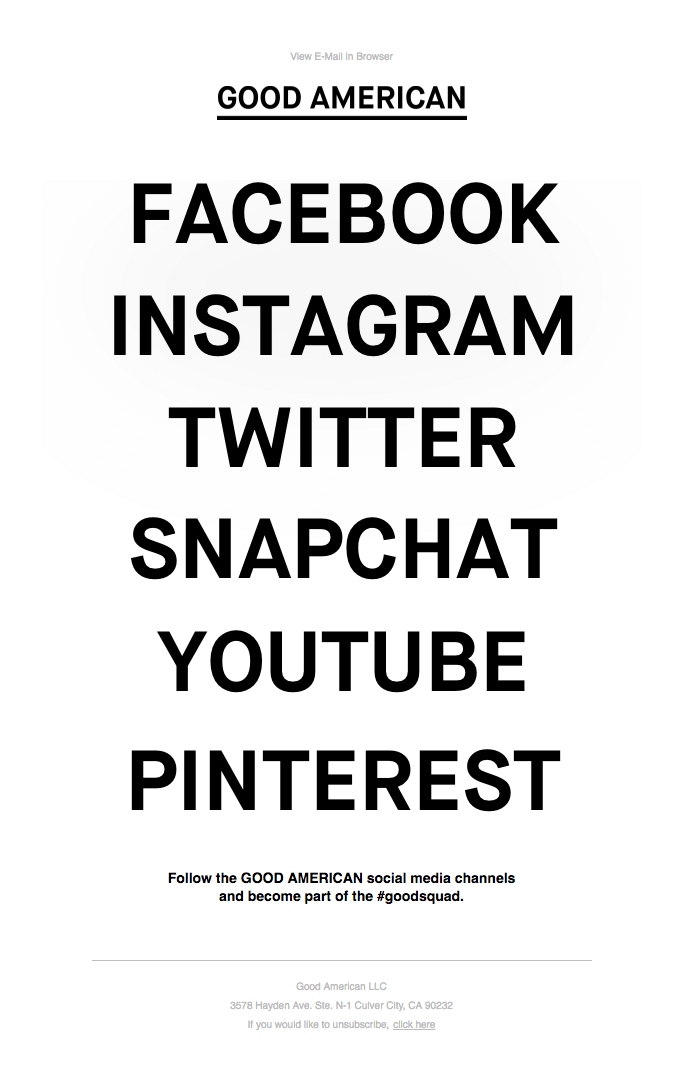 You can get as creative as you like when asking fans to follow your channels. In fact, the more engaging you can make your 'follow me' email, the better. I really love this email from The Black Tux asking subscribers to follow them on Snapchat:
2.
Promote branded hashtags
User generated content (UGC) should play an important role in your social media strategy.
Not only does it help build a community, but it humanizes your brand and makes customers feel valued when you like or comment on posts they tag you in.
This email from Paravel takes their best Instagram posts from customers, adds their account name, and asks subscribers to post themselves with their products and tag them and their hashtags too:
This is a great way to get user generated content and drive FREE awareness back to your Instagram page by asking fans to tag you.
3.
Show them what they are missing
Why do people follow brands and influencers? Because they want to be inspired, entertained, motivated, or inundated with information from their favorite brands.
Urban Outfitters emails their subscribers with their most liked Instagram posts with numerous call to actions to follow them on Instagram:
Are your social media profiles inspiring or full of amazing value? Show that value to your email list and ask them to follow you.
4. Referral via social media
If you have a referral program, take a leaf out of Uber's book and create an email automation where customers can refer their friends on social media with a single click.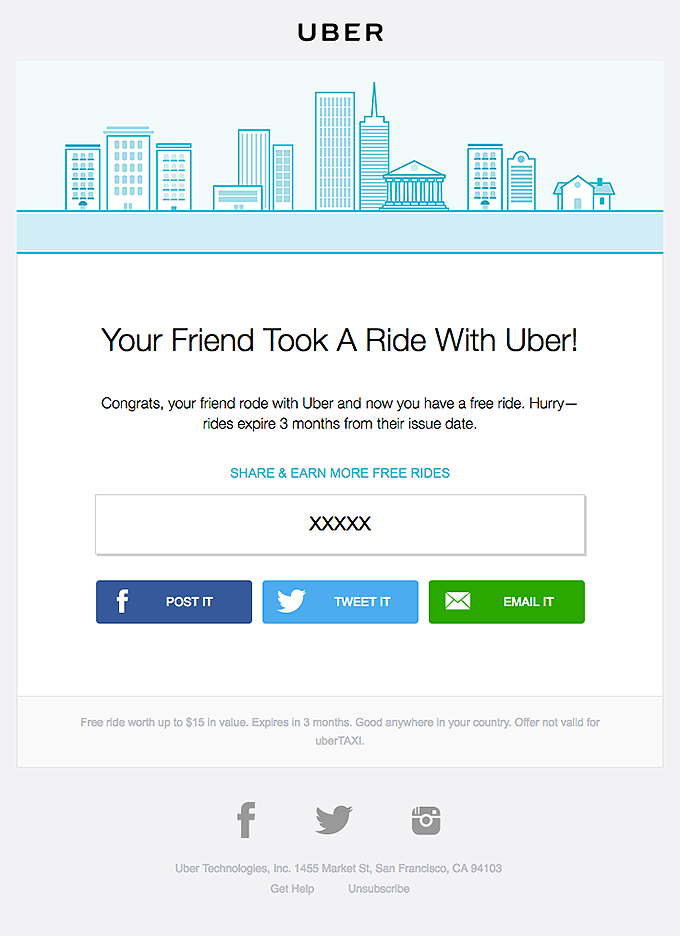 Referrals from your customers will drive the highest quality leads to your store. They provide the best social proof and will have friends who have similar or common interests.
You could say this is the lookalike audience for email marketing :D.
5. Start the story on email…
…and finish it on any social media platform.
Here's a great example by Medium, who share a blog post via email but only include a sentence and a half before asking the subscriber to click a link to finish reading: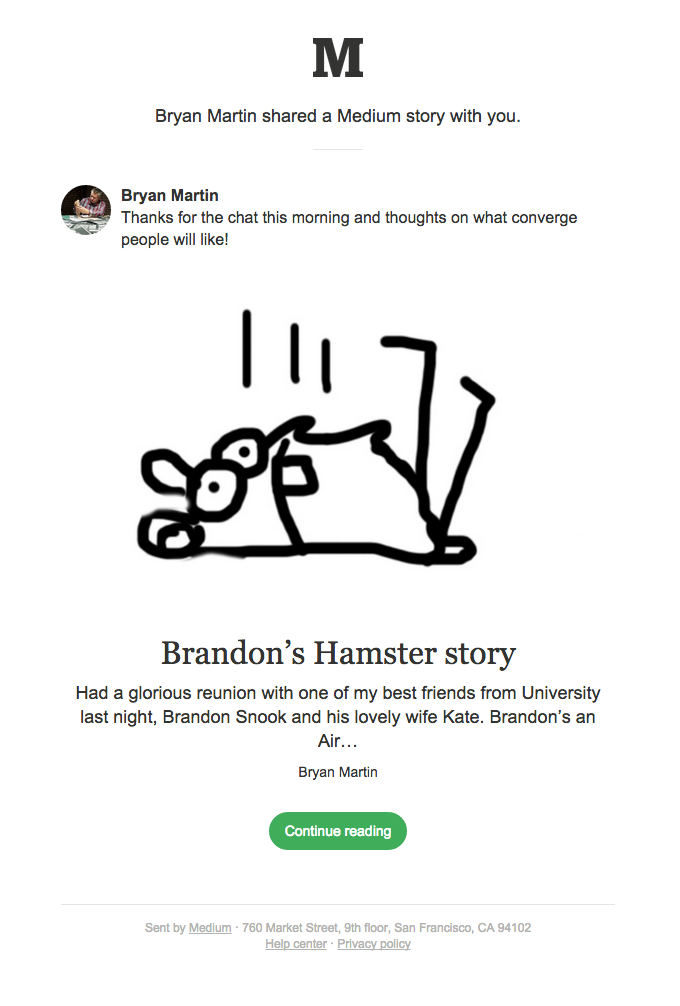 You can do the same with a voucher, product sale, or video. In the email provide subscribers with the context, and if they want to take the offer or consume the content then give them a direct call to action to a specific social media post with the offer or content.
Your turn
Placing social buttons in the footer of all emails may drive a few dozen subscribers to subscribe, but to do it at scale you need to create dedicated emails where the core action is to connect with your account as shown above.
You can get really creative with the ways you share social channels within emails. I love the idea of a 7-day product sale and the only way for subscribers to find out which product is on sale for a particular day is to follow your Instagram or Facebook account.
Or you could schedule a Facebook Live video and inform your email list to follow so they can be part of it.
The ways to promote your social channels via email are endless. What is your most effective method?