Facebook has recently updated its custom audiences with new features, allowing you to finally target Instagram users based on engagement.
If you're using Instagram as part of your paid ad strategy or have shied away because you were unable to retarget users, all that is about to change.
In this article I'll discuss the new Instagram engagement features and how to use them going forward.
Instagram engagement audiences
When you now go to create a new custom audience, then when choosing to create audiences around engagement you'll see the following options: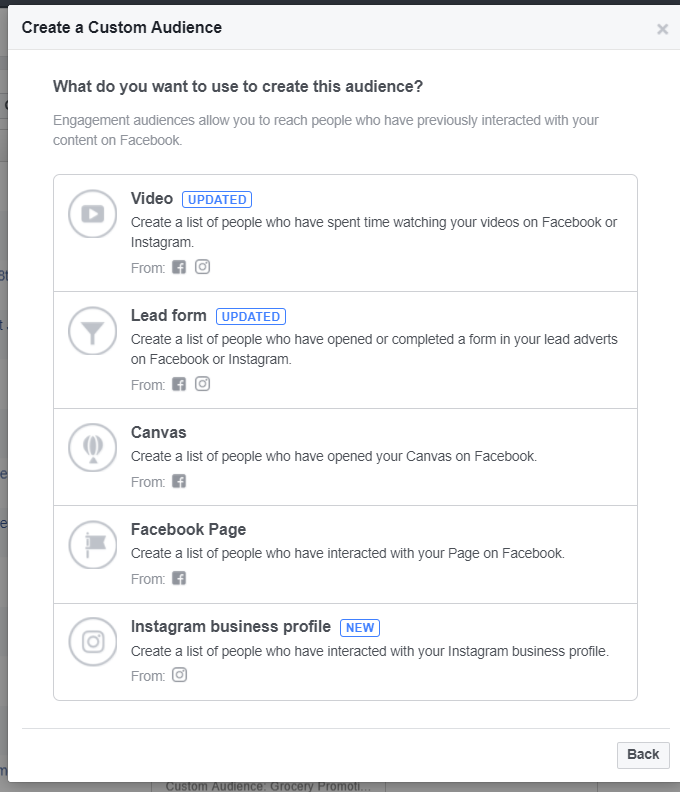 You can now create Instagram engagement audiences around:
videos,
lead forms, or
Instagram business profiles.
You can create an Instagram engagement audience for up to 365 days for videos and Instagram business profiles, and 90 days for lead forms.
If you create your Instagram engagement audience today, you can only group users from June 2017 onwards.
If you're a frequent user of lead forms, the latest update also lets you include and exclude clauses for greater segmentation.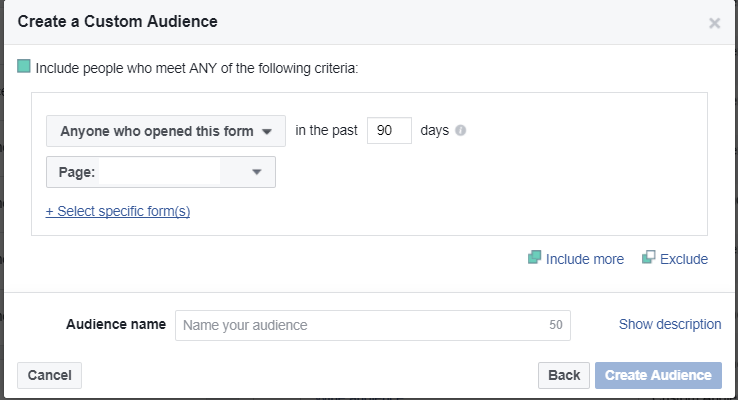 Instagram business profile engagement works in much the same way as Facebook page custom audiences, except you cannot group people who clicked your call to actions.
As you can see from the image above, you have the ability to include and exclude certain audiences, which oddly enough is not possible yet with Facebook page custom audiences.
How to create an Instagram business manager
If these new options are available to you right now (they are currently being rolled out), you might find that Facebook says there are no Instagram business profiles available.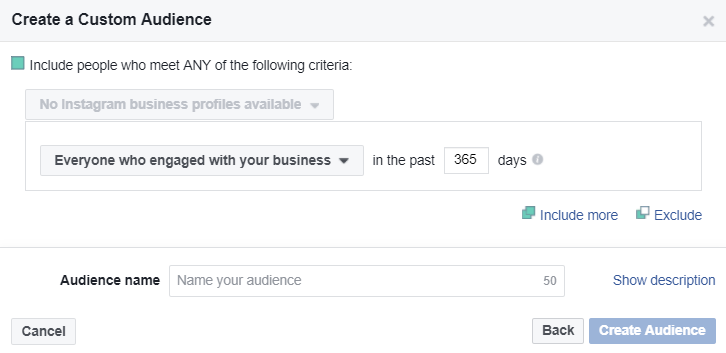 This is the message I saw when managing some client accounts for whom we run ads on Instagram, with Facebook and Instagram already connected.
If you see this message, log in to your Instagram account on a mobile device, hit the gear icon, and then select the Switch to Business Profile option. You will then have the option to connect to one Facebook page to link your Business Profile to.
Note: You will need to make your Instagram account public to create a Business Profile.
Once you have done this, then you will be able to create Instagram engagement audiences.
How to use Instagram engagement audiences
Instagram engagement audiences are best used with messaging for the top of your funnel.
Video views, lead forms, and Instagram profile engagement are all users who engaged with your business socially, but may not have visited your website.
There are two easy and effective ways you can use Instagram engagement audiences to push users further down your funnel:
Retarget using CTAs – If you're using video on Instagram to drive brand awareness for a specific product, start retargeting users with messages for the next step in your funnel.
That could be a lead form asking for their email address in exchange for a voucher or a low cost item using the Conversion objective.
If you sell high-ticket items, then once your customers view your video or engage with your profile, you can show them the next piece of content in your funnel to nurture them further.
As you can now create audiences of users on Instagram, you can create longer funnels and group audiences based on various types of engagement.
Cross-market – For the first time, you can now group Instagram users and serve them bespoke content on Facebook. For example, you may find that video views cost you less on Instagram than on Facebook, but you're paying 30% more per lead on Instagram than on Facebook.
To optimize your funnel and lower your costs, you could focus on serving more videos on Instagram and then retarget that audience on Facebook with a lead form.
You should test various Facebook objectives on your Instagram engagement audience to see if it yields better conversion rates by creating interlaced funnels between the two platforms.
Instagram is just getting started
A lot of new features have been released this year for Instagram, including Stories and Instagram engagement audiences.
As Facebook keeps on reinventing the game, advertisers will have more ways to merge Facebook and Instagram together to create a cohesive marketing strategy.
How will you be using Instagram engagement audiences?