We've all heard it before: content is king.
It doesn't matter whether you sell a product or service, every business needs content to draw prospects to their site.
For service-related businesses this is pretty easy; for example, a realtor can create dozens of blog posts and infographics around how to buy or rent a home.
But what about e-commerce businesses? You too can create content, and in this article I'll provide you with examples on how to create a content campaign correctly for e-commerce stores.
Understand the role content plays in your funnel
The goal of content is to grab attention; it's not to turn a prospect into a customer.
Your objective is to put your content in front of the right audience so they stop scrolling through the Facebook or Instagram newsfeed and consume your message.
After consuming your message they can then move onto the next message in your funnel or see an offer (discussed later).
Content is best suited at the top of your funnel for two reasons:
Introduction – The best way to introduce your business to a new prospect is through content. Using a video, blog post, or page post engagement provides you with more space to introduce your brand, show what your brand stands for, or provide an in-depth look at one of your core products.
Scale – To quintuple your e-commerce store's revenue, you need more customers. Not only does content have the ability to go viral and originally reach hundreds of thousands of people (see below), but using objectives such as video views or page post engagements is much cheaper to attract new website visitors than many other objectives.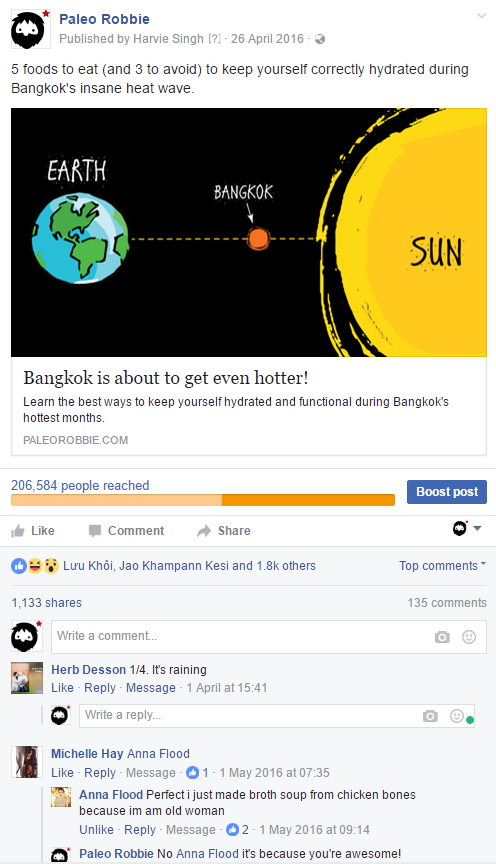 Ways that e-commerce businesses can use content
Content can be:
video
images
infographics
voice (podcasts)
quizzes
reports
blogs
My definition of content is something that gives the reader value without them having to spend money.
Here's a good example of content at the top of the funnel from Empire Flippers. They ask prospects to take a quiz to see how much their own website is worth: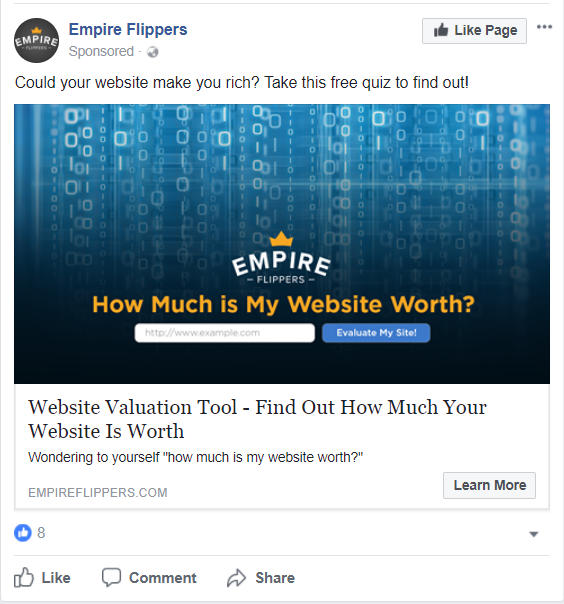 You simply fill in the quiz and then they email you with an estimate of how much you could sell your site for. Then later, through email and Facebook remarketing, they ask if you'd like to list your site on their platform.
Even Facebook are at it by showing ads that tell prospects how they can get into video and use it as content using the Audience Network:
Okay, Facebook and Empire Flippers aren't exactly in the e-commerce niche, but they both are great examples of how you can use quizzes and blog posts as a way to draw people into your funnel.
Now for three e-commerce-related content ads.
The first is M.Gemi who sell handmade shoes from Italy. Instead of throwing out a voucher ad or any type of direct response message, they run an ad introducing the brand to new audiences:
There is no mention of price or a specific model of shoe. The ad goal is to leave a lasting impression of the brand in the prospect's mind to retarget later.
The second ad is from my buddy who runs ads for e-commerce food delivery store Paleo Robbie. The ad educates cold prospects about the difference between corn-fed and pasture-fed beef
The third ad is Goodwell + Co who raise curiosity about their new toothbrush. The post doesn't mention price and their call to action is "Learn more" and not "Shop now."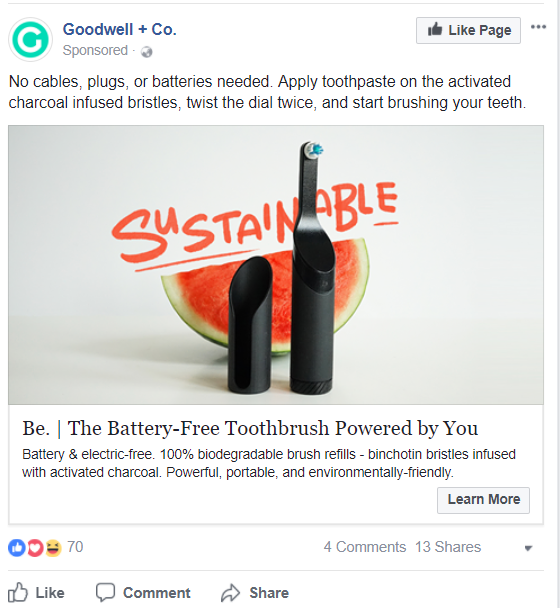 All of these ad examples are used at the top of a Facebook sales funnel and there is no mention of offers or deals within any of the ads.
Each ad is either giving free value to the prospects or providing them with information related to their needs (assuming each brand is targeting the right audience).
Do you sell watches? If so, then create content on how to pick the right watch and how to match them with clothing.
Do you sell electronics? If so, then create video content showing the product in action or in unboxing videos. The amount of ways you can create content for e-commerce campaigns is endless.
Just ask yourself how you can provide the prospect with value on a subject in your niche or how they can learn more about your product without turning it into a sales pitch.
Connect content with the right offer or message
Every e-commerce content campaign needs, at the very minimum, a second step.
Whether prospects have watched your video, consumed your canvas, engaged with your post, or clicked through to read your blog, you must create a website or engagement custom audience to retarget them.
If you're selling a high-ticket item you may need to serve them more content or get their email address, so maybe your second step is adding another layer of content.
If your offer has been proven to convert or is low priced, your second step can be an offer.
Your offer needs to match the content.
For example, if you created a blog post on the best tennis rackets for beginners, you can retarget that audience with an offer for a tennis racket.
But maybe you also sell badminton and squash rackets.
In that case you'll need a piece of content around badminton and squash rackets, and retarget each audience with the right offer.
Don't show prospects one piece of content and then dozens of different offers. The offer must closely match your content to get the best results. I like retargeting at this stage of the funnel with related DPA ads to ensure they see the right content.
If you're an e-commerce store that has many customer segments or categories, then for best results you'll need to create an e-commerce content funnel for each persona or category.
Don't misunderstand the purpose of content for e-commerce
You don't measure the success of your e-commerce content campaign by the amount of sales you make.
You measure it by finding out how much attention you were able to hold from each prospect. Metrics I like to use for e-commerce content campaigns are:
the percentage of videos viewed
the time spent on canvas
the time spent on the page (when sending traffic to your website)
the number of options or actions taken
How are you using content at the top of the funnel for your e-commerce campaigns?