As more businesses jump on to Facebook to get the word out about their brand, ad competition is rising and ad inventory space is diminishing.
Reports claim that Facebook is about to run out on how many ads it can show on its newsfeed and needs to provide advertisers more options, and with their In-Feed Messenger ads they have done just that.
In this article, I'll reveal how In-Feed Messenger ads work and how you can use them to grow your business.
How In-Feed Messenger ads work
In-Feed Messenger ads should not be confused with Messenger ads.
Messenger ads: This is when a user clicks your newsfeed ad and opens a messenger chat with your page.
In-Feed Messenger ads: These ads are shown within the user's home screen in Messenger or are sent directly using sponsored messages.
The home placement will serve your ad within the user's Messenger feed and you can target anyone.
Sponsored messages allow you to directly message people who have interacted with your page via message. You can use sponsored messages to:
re-target users who have talked to your chat bots, and
target anyone who has messaged your Facebook page.
You cannot target cold audiences or email lists with sponsored messages. There are currently two ways to reach users via this method:
Page engagement: Create an audience around people who have interacted with your page via custom audiences.
App events: Target people who have made specific actions on your app.
When running sponsored and home Messenger ads, Facebook charges you for impressions using their auction bidding model.
Home and sponsored Messenger ads can be run through both the Ads Manager and Power Editor.
Finally, running Messenger ads using the sponsored placement, you cannot select custom audiences; Facebook will automatically serve content to anyone who has contacted your page.
How to use In-Feed Messenger ads
Being able to reach users in the Messenger placement is huge. Facebook Messenger has over 1.2 billion users.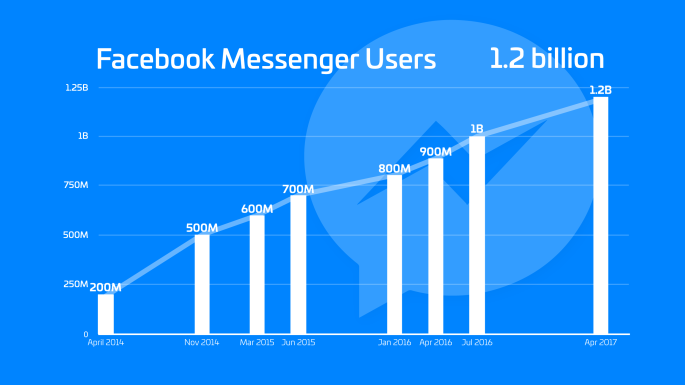 There are almost no distractions in Messenger compared to their newsfeed, which is loaded with videos and images.
If your copy is half decent, you should expect to see higher click-through rates compared to other placements such as the newsfeed.
It's a powerful placement, but as a wise man once said: "With great power comes great responsibility."
If you remember when Facebook first started serving ads within their newsfeed, users were annoyed but eventually got used to it.
The Messenger placement is an even more sacred place for users than their desktop newsfeed. It's the place where they send private messages to individuals that cannot be seen by others.
When they start seeing ads pop up during conversations, the first reaction may not be a positive one.
For this reason you need to lead with value and personalize the message. Placing irrelevant ads within the In-Feed Messenger will do more harm to your brand than good.
As you can only target users who have engaged with your Facebook page, you'll primarily be serving these ads to people at the top of your funnel.
Test a mixture of messages such as serving blog or video content, your best offers, or even something funny like a meme or funny video to re-target users later using the video views custom audience.
When you serve content, keep in mind that you're interfering with people having private conversations with their friends.
Start playing with In-Feed ads now
Like all new inventory placements on Facebook, there will be plenty of free space, meaning low advertising costs.
Start testing ads within the In-Feed Messenger placement before your competitors have a chance, and take advantage of this new ad placement.
How will you be using In-Feed Messenger ads?