The cost per acquisition (CPA) and the number of new customers/users are often the most talked about metrics when running ads on Facebook.
While it's important to have a continual in-flow of new customers for growth, all that work is done in vain if the customers don't place subsequent orders.
Most e-commerce stores will struggle to stay in business if customers don't re-order, with studies showing that the more orders a customer places, the more likely they are to re-order:

A customer who places a second order is 45% more likely to re-order than a customer who has only placed a single order (27%).
In this article I'm going to discuss some simple email marketing tips to increase the likelihood of a new customer re-ordering.
1. Time-delayed cross-sell
The most common way to get customers to re-order is through cross-selling them an item that matches what they bought previously.
Dollar Shave Club does a great job cross-selling to anyone who bought their razors by offering the option to buy their travel bag.


The timing of your cross-sell email is important. You don't want to recommend other items to your new customer if they have yet to receive their first order.
If you're not a well-known brand, shoppers may want to experience your product before they decide whether to buy anything else.
If you fit in this bracket, find out what your average order frequency is and delay your cross-sell email to the same time frame.
If you're a well-known player in your niche or are offering supplementary items to the product the customer bought, then an instant cross-sell is fine.
Dollar Shave Club sends a 'TOSS MORE IN' email where customers can add more items to their past order.


By using an email tool like Klaviyo you'll be able upload your customer list to Facebook in real time and serve the same offers in ads as in your emails.
2. Focus on the customer experience
If you saw a product you really needed on Amazon for $50 and after some research found the same product on an unknown website for $45, which site would you buy the item from?
Most will choose Amazon because they know the customer experience will be smooth, and if there are any issues with delivery or the product then Amazon will make it right.
The customer experience (CX) is becoming more important, with a Walker study stating that by 2020 the CX will be more important than the price of a product.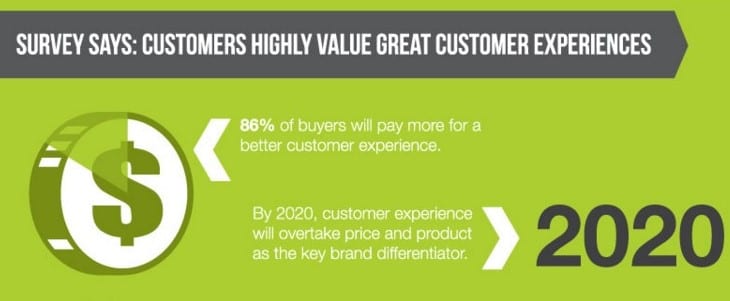 Increasing re-order rates from customers isn't all about cross-selling or direct selling. If you can provide your customers with a seamless customer experience, then they will be more likely to go to you again.
Amazon's amazing service is part of its USP and the reason why many shoppers start their customer journey on the website over Google.
Review your customer experience to see where bottlenecks arise and what you can do to make the experience smoother.
3. Start a customer loyalty program
Giving customers a reason to continue shopping with you in the form of a loyalty program can do wonders for customer retention.
If your store is hosted on Shopify or any of the other big players, then you can use apps like Annex Cloud to create loyalty programs that require minimal coding.
Starbucks saw an increase in revenue by $2.65 billion, which it put down to its loyalty program. Starbucks currently has 16 million members which account for 40% of the revenue from the stores.
If your average order frequency is under 25 days, then a loyalty program is huge for customer retention, but less so if customers are only ordering 2-3 times per year.
A loyalty program that includes special deals on customers' birthdays and rewards creates a deeper connection between the customer and your brand.
Your turn
The way consumers shop today has changed compared to 15 years ago. Price is no longer the most important factor.
Consumers want to shop with businesses they believe in. This is why influencer marketing has taken off – consumers need that personal connection.
When buying off eBay 10 years ago, a 7-10-day delivery window was fine. But today, if a customer cannot receive their items the next day, they may buy the same product elsewhere for more in order to get it faster.
In 2020, increasing re-order rates has less to do with cross-selling and more to do with the experience and connection they have with your business.