Are you spending thousands of dollars per day sending paid traffic to your site but only see a 1-2% conversion rate or less?
If so, then you may want to think about using e-commerce messenger bots to direct users through each step of the customer journey and bump up those numbers.
In this article I'm going to show you two examples that you could copy of how e-commerce businesses are using messenger bots to drive sales.
Why Messenger bots?
As consumers, we have never had so many outlets to buy a product or service online. These increased options have made us impatient.
If we cannot find an answer or the exact product we are looking for, we'll go back to Google and start again rather than call up the website or send them an email and wait for a reply.
A HubSpot study found that 82% of consumers want an immediate response to a sales or marketing question: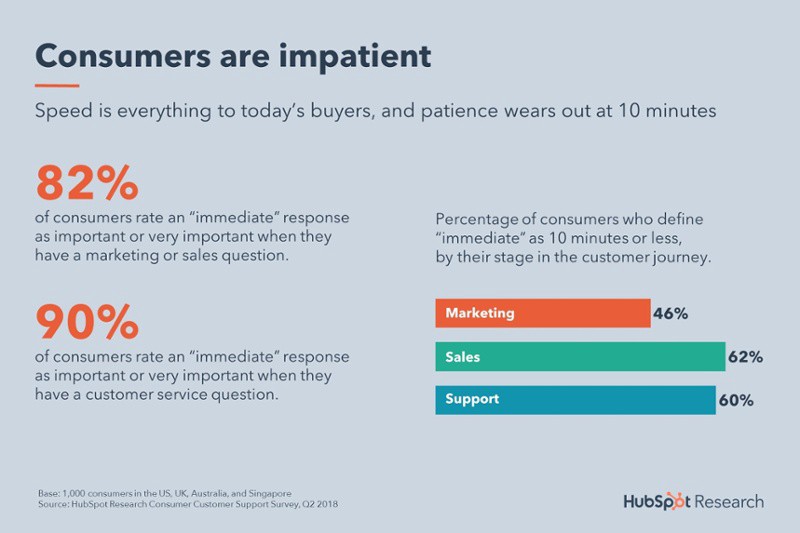 A well-thought-out e-commerce messenger bot will keep even the most impatient shoppers on your website and browsing if you're able to help them.
Here are two great e-commerce messenger bots that do a perfect of job of directing users through the sales journey.
Seattle Ballooning
One of the best e-commerce messenger bots I have seen is from Seattle Ballooning. As their name gives away, they offer hot air balloon rides in Seattle.
Upon landing on their website, they have a messenger bot that welcomes me and asks me what I am planning.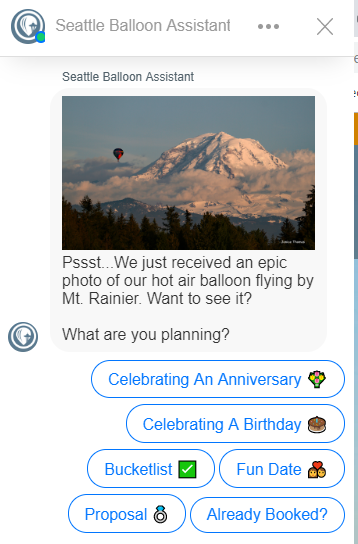 After choosing a pre-set option, they then take me to the next stage of the customer journey, with options to book a date, get a gift certificate, read their reviews, ask questions, or see photos.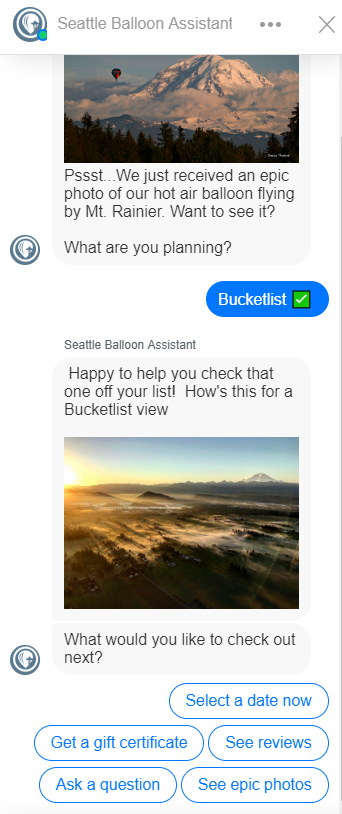 I really like this because every prospect isn't the same. Some may be starting out on their journey and may want to read reviews or see photos of the experience, whereas others may have visited the site a few times and are near the end of their journey and ready to book or buy a gift for someone they know.
I chose the option to see epic photos and was presented with five choices to watch videos and images.
I chose to view their balloon fleet and was shown a photo of a balloon with further options to see more photos, read their reviews, make a booking, or watch a flight path video, just in case I was still not ready to take action.
Still wanting to know more, I then chose to read some of their five-star reviews.
I was given links to their Yelp, Google, Facebook, and Trip Advisor reviews and asked the same questions at the start.
I was then ready to book!
I opted to select a date and was then asked if I would like a shared or private flight followed by the dates I was able to book, with a link going to their booking page.
In less than a minute, this e-commerce messenger bot led me through the funnel, from awareness, to consideration, to purchase. They showed me photos, dozens of reviews across multiple platforms, videos of what I'd be experiencing, and pricing options.
Instead of the prospect having to search for photos on the website or going to Google to read reviews, this bot provides the prospect with everything they need to make their decision without having to manually figure it out.
Lego bot
Lego uses an e-commerce messenger bot that helps customers find the right product or connect with customer service.
Lego first asks which country the user is from so they know which products the user can buy.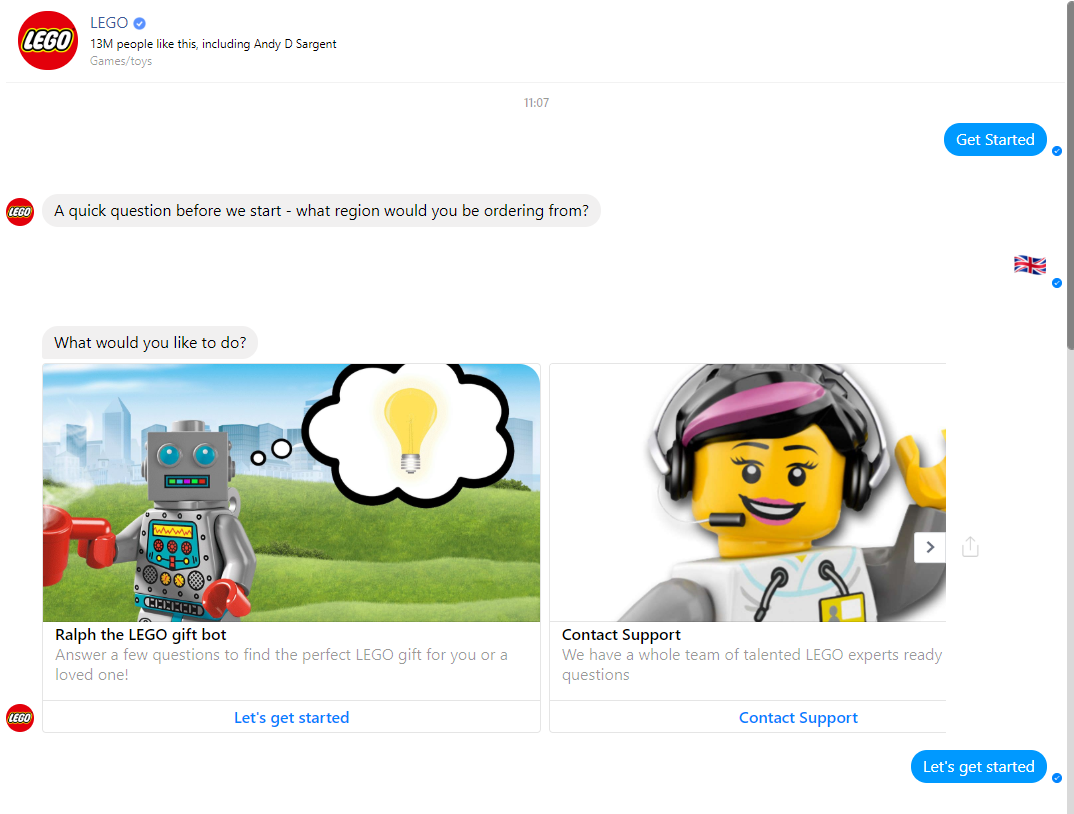 They send a cool picture of Ralph Bot and ask what age group the user is looking for and the price range, as most people will be buying Lego for someone else.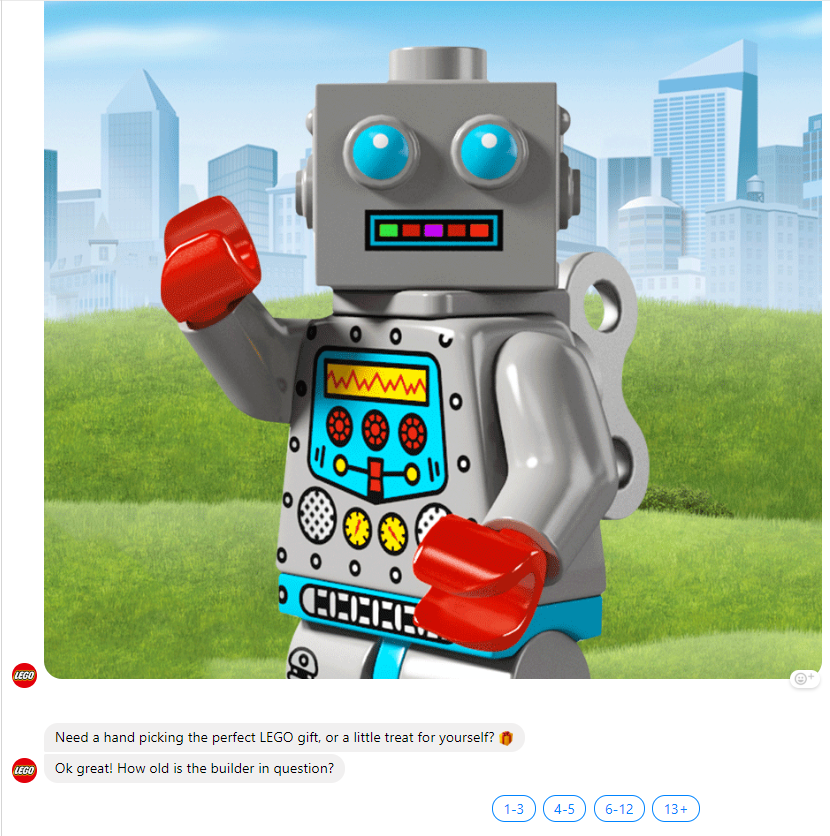 Once the user answers these questions, Lego then asks what type of interests the user has. Lego has a huge catalogue of products at various price points and uses this question to identify the shopper's needs.
Then, there is the option to ask them a direct question, view products within the age and price range, or start the search again.
I chose to see some ideas and was shown a carousel of products to buy or the option to learn more.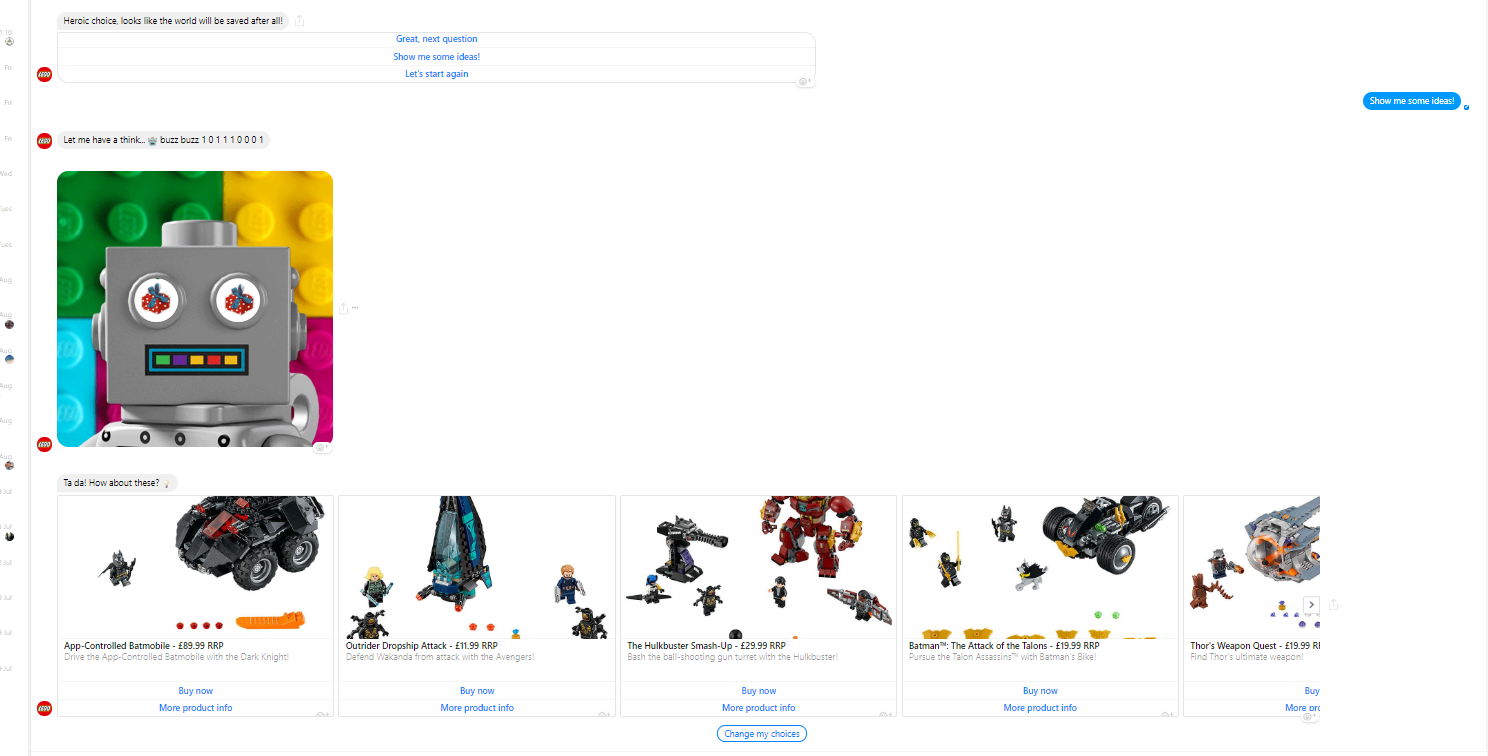 After clicking a product, I was taken to Lego's e-commerce store where I could complete the checkout and get the product delivered.
This is another great example of taking someone from the start of their customer journey to the end.
Lego toys are often bought as gifts for children, and the person buying the products may not even know where to start. This bot provides the user with everything they need to make a decision, regardless of their knowledge of Lego products.
Your turn
These are two very simple but extremely valuable e-commerce messenger bots that can turn otherwise lurking prospects into customers.
Don't assume that every visitor knows how to use your site or knows exactly what they want. The less well known your business is, the more objections visitors will have, which you'll need to overcome.
Sometimes, having an e-commerce messenger bot to help answer questions, provide ideas, and link customers to the right part of your site is what is required to turn maybes into shut up and take my money.
Think about your customer journey and the stages a user goes through before they order and set up your bot accordingly.