In 2016, Instagram hit 500 million active uses and has become the only social media network to really 'challenge' Facebook. I say challenge using quotation marks because Instagram is owned by Facebook (so it's not like Facebook is scared).
Since the takeover, an ever growing number of brands have jumped on Instagram to leverage its user base of engaged spenders, which has lead to Instagram creating new Instagram business tools for brands.
Why new tools?
The old Instagram platform wasn't too great at revealing metrics or data on a brand's Instagram account. To get quality insights before, brands often had purchase third-party tools which were rather hit and miss.
Instagram said:
" With so many companies using Instagram, and many people on the platform interacting with them, there was a desire from our business community to do more. So we listened. And, after hundreds of interviews with businesses, three key needs became clear—stand out, get insights and find new customers ". Instagram Business Blog.
Brands were gaining a lot of traction on Instagram but due to the lack of tools, they struggled to keep their users happy. Some brands were receiving so many comments that it was easier for prospects to email them than receive a reply to a comment because it was too difficult to monitor.
However, all that's about to change with the new Instagram business tools.
Here's what happening.
Business profile
Instagram business profile is a free feature for all accounts that want to be recognized as a business. This is useful since there's thousands of individuals and home-run businesses that use Instagram, this feature will list you as an actual business.
A business profile allows brands to list their telephone number, email, directions and a contact button which can be accessed with a single tap of the screen. For example, if a user decides they want to visit you store (assuming you have one), they click the directions button and a map will be shown on their device your business's location.
If the user has location services active they'll also be suggested directions on how to get there.
Every Instagram business page will have the ability to view its page insights and promote content.
Insights
The insights feature will show impressions, reach and engagement on all posts revealing which are the most effective. You'll also be able to gain data on your followers such as their behavior and demographics attributes, ideal if you plan to setup ads targeting a cold audience.
The insights tool will also list your top posts in order of interactions, another useful when feature as it will quickly tell you what content is working, and what isn't.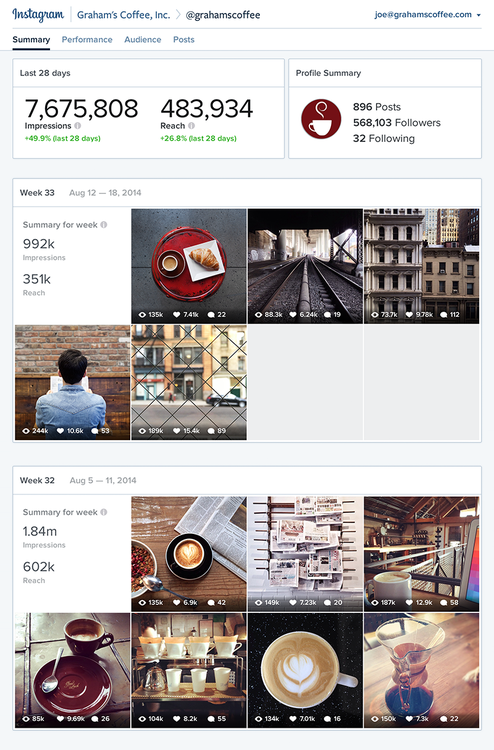 You'll can learn what time of day your fans are logging into Instagram to adjust your posting schedule.
Promoting posts
Just like you have the option to boost a Facebook post that performed better than others, you'll now have the same ability on Instagram: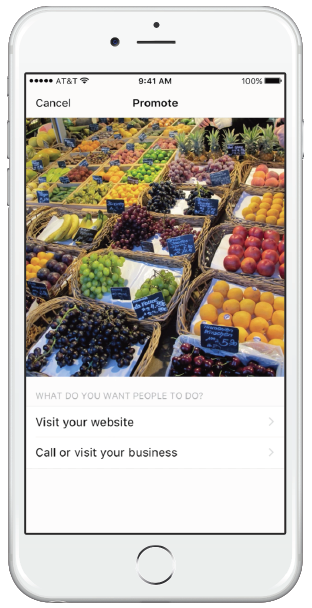 With a business profile you can boost posts straight from your mobile device without needing to access the Ads Manager or Power Editor. When promoting your post, you'll be able to:
Select the objective that best ties in with your goal
Insert a call-to-action to drive more users to your website
Set the lifetime or daily budget along with scheduling
Select the audience you wish to target with your ad
All promoted ads can be monitored from the business profile to see their total number of impressions, reach, engagement, clicks and more.
Instagram business profile will start off with two objectives, website clicks and local awareness.
While there's more flexibility with this feature you won't have as many targeting options than if you used the Power Editor.  However, you'll be able to define custom and saved audiences during setup which is huge.
Ad staging
Ad staging allows agencies and brands to create, review, edit and collaborate on Instagram campaigns in a centralized location.  Ad staging will give marketers the ability to access real-time campaign results to understand how their audience is responding to sponsored posts, which audience to target and the best time of day to post:
What the new changes mean for your business
With these new features you can refine your Instagram marketing strategy, or if you've yet to jump on the Instagram bandwagon, now is the perfect time to test the waters. With its ever growing user base and new profile features for businesses, this social media platform will be extremely lucrative for B2C brands.
Instagram plans to roll out its new tools to the US, Australia and New Zealand in the next few months, and hopes to go live globally before the end of the year.
How will you be using it?