Instagram has made another push towards dominating the ecommerce ad space by announcing the testing of taggable products that lead directly to a brand's website.
Do you manage an ecommerce business?
Are you looking to leverage Instagram to drive more sales?
If so, then you'll certainly want to know more about taggable products and how they work.
How taggable products on Instagram work
Instagram taggable products are a little similar to the Facebook Canvas in that most of the content is hosted within Instagram and not your website.
A taggable product post is broken into three parts. They are:
Image – This is the actual image you upload to your Instagram account, which can be seen by all your fans. What's unique about this image is that once a user taps, pop-ups appear listing the name and price of the items within your post.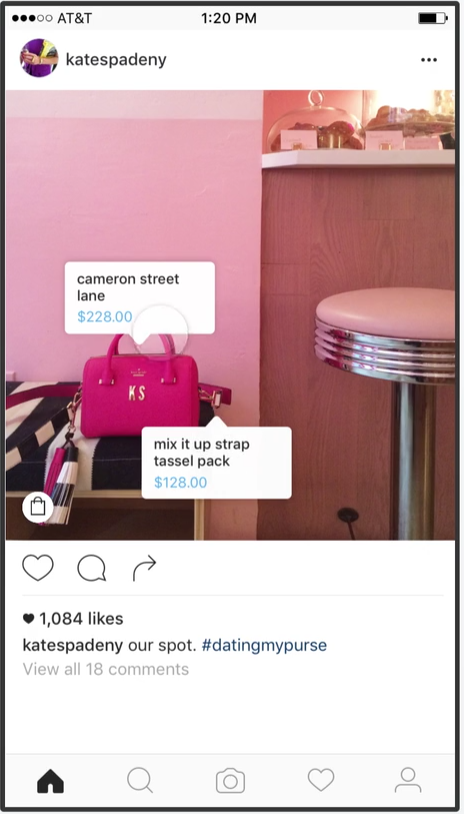 Here, the user is presented with two actions: they can click on a product they are interested in or carry on scrolling through their Instagram feed. If they decide to click on a product, they are then taken to the second part of the post which is the product description.
Product description – In the example above, if the user decided to click on the Camer Street Lane handbag, they are served another post showing images of the product and a detailed description.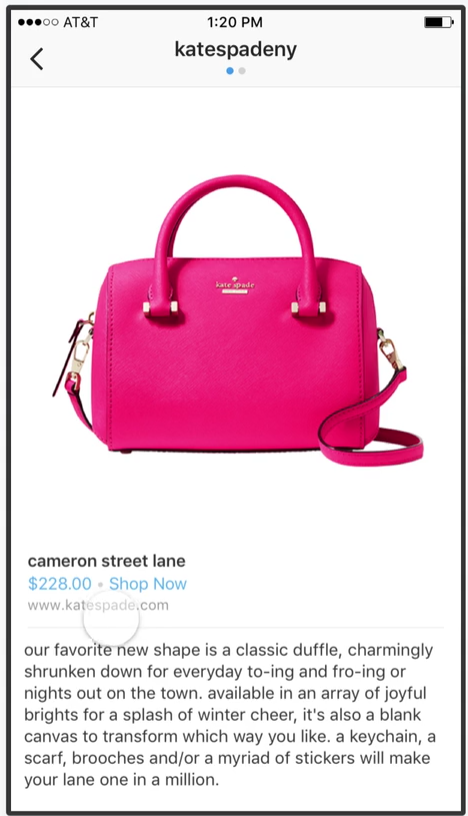 At this point they are still on the Instagram platform and not the brand's website, and the product description loads instantly. The user now has the option to click the image to be sent to the brand's website, scroll through other products listed in the post, or go back to their Instagram feed.
Product page – If the user clicks on the image or price listed in the product description, they are then sent to the product page for the item they were viewing.
Customer journey of Instagram shoppers
In this blog post, Instagram told the world that the way people shop online is changing. Consumers are looking for products during their commute to work, while waiting for friends at the bar, and even before they go to bed at night.
However, while they are searching for products, less than 21% of Instagram users make a purchase within 24 hours. Instagram's internal research found that users tend to shop around online, looking for the best price and seeking more information about a product before committing.
MineWhat found that the average online consumer visits three websites before buying, with 51% of those users wanting to learn more about a product.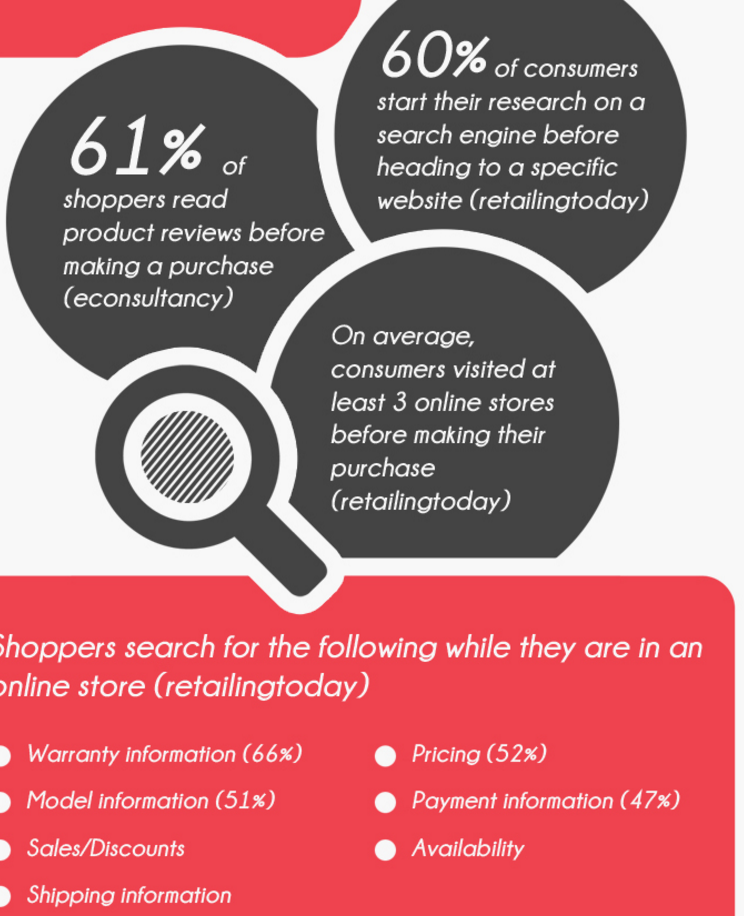 (Source)
With Taggable products, Instagram is trying to understand your customer buying journey and help create a funnel that ultimately leads to more conversions.
How can I create taggable product posts?
At this moment in time, taggable product posts are in testing and are limited to a number of well-known brands. You won't be able to create your own taggable Instagram products yet, but I expect them to roll out this feature in the coming months if all goes to plan.
If you want to see these units in action, you can follow any of the following brands on Instagram:
Abercrombie & Fitch, BaubleBar, Chubbies, Coach, Hollister, J.Crew, JackThreads, kate spade new york, Levi's Brand, Lulus, Macy's, Michael Kors, MVMT Watches, Target, Tory Burch, Warby Parker, and Shopbop.
Instagram – the future of ecommerce
The announcement of taggable product ads is a great sign of what's to come in the future for ecommerce brands using Instagram.
As Instagram continues to grow (now the second largest social media site in the Western world), it is going to be a lucrative marketing channel for online and offline ecommerce stores.
What do you think about taggable products on Instagram?