Annex Cloud is a Shopify Plus app that helps larger businesses effectively engage with their customers at scale.
At its heart, Annex Cloud is a customer marketing platform featuring customer loyalty, referral marketing, and user generated content solutions. The aim of the platform is to help retailers increase customer lifetime value, drive more referrals and higher acquisition rates, and increase the quantity and quality of user reviews and visual commerce content.
In this article I'll dig deeper into the app's features and benefits.
Features and benefits of Annex Cloud
Annex Cloud offers three main products:
Customer Loyalty – Acquiring new customers can be as much as 5 times more expensive than retaining existing customers. As the barriers to opening an online store have dropped, online retail has exploded and customers have more choices than ever. As a result, there has been an overall drop in repeat purchase rates, customer lifetime value, and genuine brand loyalty.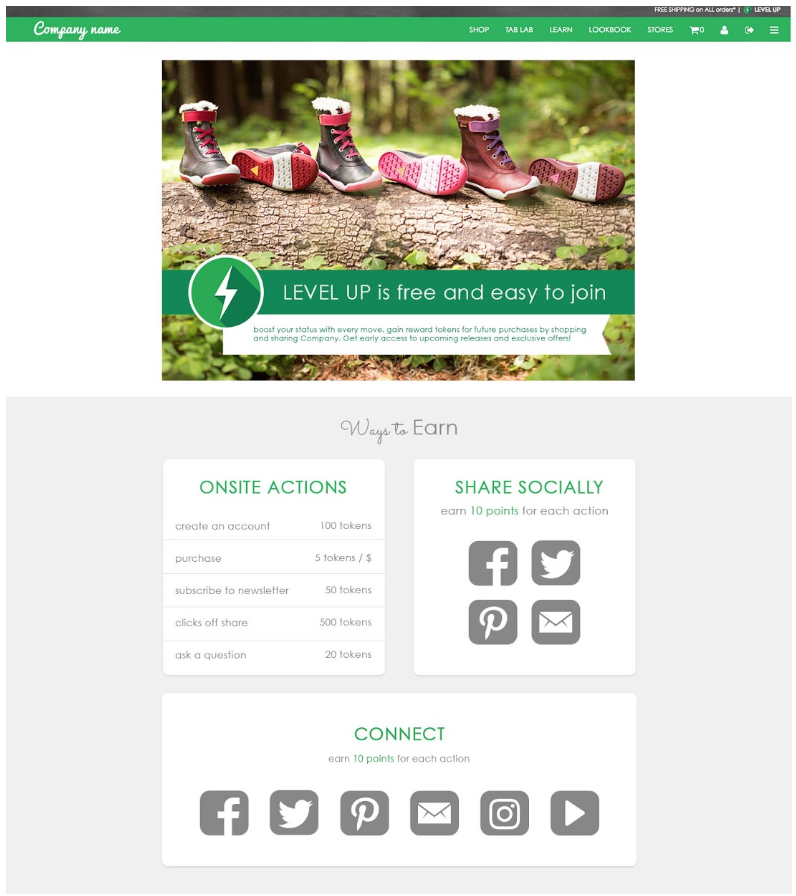 Annex Cloud's customer loyalty software is a fully configurable platform that delivers online, omni-channel, social and behavioral, and paid membership loyalty capability. It is positioned to help brands tackle a saturated and distracted market and build genuine loyalty.
The hallmark of the loyalty platform is the product flexibility. Brands can tailor the actions they reward for, the rewards they offer, and the channels they use. This approach combined with an expert team of loyalty strategists helps brands engage with customers, guide them through behaviors they want them to take, and build more genuine loyalty.
Referral Marketing – Word of mouth marketing is well known to be one the best ways to acquire new customers. And, whether it's online, in-person, through an email conversation or over social media, customers are regularly talking about the products and brands they buy. Referral marketing provides a channel to track and proactively encourage these types of conversations.
Annex Cloud's referral marketing solution offers the flexibility to pick the channel that's right for your brand. Email, social media, text-based, and in-person referrals are all possible with Annex Cloud.
And, with Annex Cloud's unified platform creating incentives for referrals is simple with a native loyalty program integration. Combining a referral call to action with loyalty point incentives increases both referral rates and loyalty program sign-ups.
In-depth reporting is a cornerstone of any good referral marketing program. With Annex Cloud's reporting dashboards, customers can track the ROI and revenue impact of their referral program, monitor activity by channel, drill down into specific referral campaigns, and gain a deeper understanding of customers and the brand's biggest influencers.
User Generated Content – Annex Cloud's User Generated Content Solution is equipped with Visual Commerce, Ratings & Reviews, and Questions & Answers.
Visual Commerce:  With the average website conversion rate at around 2%, most shoppers leave without purchasing. Many leave because they don't have a strong idea of what a product looks like in real life.
Annex Cloud's Visual Commerce features prompt your customers to share product photos through automated emails, call to actions on your website, and using specific hashtags on social media.
Annex Cloud compiles all the content in a single place for you to moderate and obtain permission to use them on your product pages or in omni-channel marketing. Using their Smart Image Ranking Algorithm, it will automatically optimize your best images based on views, shares, and website conversions.
Visual Commerce also links with Shoppable Instagram and comes with its own analytics dashboard.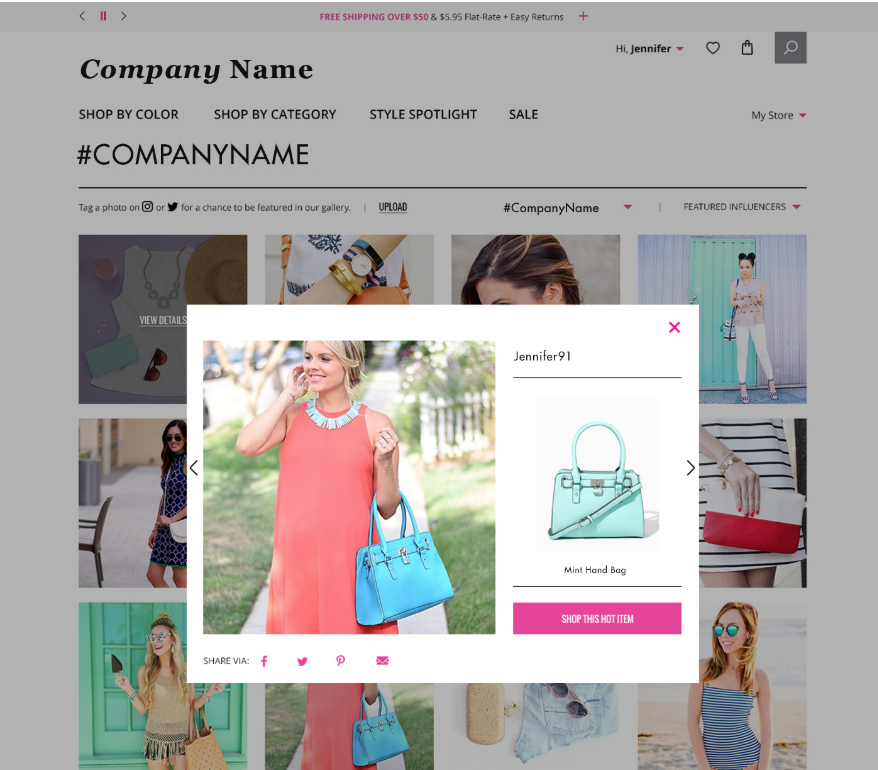 Ratings & Reviews: The average online shopper takes online reviews into account when deciding where to shop. They not only check the reviews on your website but also check independent review sites to see what others are saying about your business.
After customers make a purchase from your store, Annex Cloud will email them to ask them to leave a review directly within the email or to click-through to a landing page. Before a review goes live, you'll have the chance to review and moderate the content to ensure trolls or offensive content doesn't make it online.
Once online, the review can be posted on your website, sourced to online search results, and syndicated to other domains such as retailers and manufacturers who stock your products.
Annex Cloud's ratings and reviews platform can solicit reviews from customers no matter where they purchased. And, they can optimize the timeframe in which a request is sent using their proprietary Smart Engagement Algorithm technology. The Smart Engagement Algorithm technology factors things like the product type and historical response data to send a review request at the best post-purchase time.
Its insight tool will help you uncover keywords that may be useful for SEO, provide alerts for products that are receiving poor reviews to address concerns, and improve your product strategy.
Questions & Answers: For businesses that receive tens of thousands of visitors per day, answering customer questions can become a near impossible task. One of the primary reasons for high cart abandonment rates online is due to customers not having enough information to make a decision.
Annex Cloud's Questions and Answers software aims to solve that by letting your team, customers, or product experts answer their questions.
You'll have full moderation of the questions and answers, and can accept and reject content as you see fit. Each time a question is answered, the user asking the question will be notified creating an opportunity to draw them back to your site and convert them.
Who is Annex Cloud for?
Annex Cloud is the complete solution to scale customer loyalty, referral marketing, and user-generated content.
The power of the app really comes into action for businesses that have well established core marketing strategies and are looking for ways to grow their customer base, collect more user generated content, and increase customer retention.
The Annex Cloud platform is uniquely positioned to help businesses of all sizes. This is because it offers a combination of industry leading technology, fully managed services, and strategic support. For larger organizations, Annex Cloud delivers a strong product with all of the flexibility and capability necessary to support an enterprise marketing strategy. For smaller businesses or organizations with leaner marketing teams, the fully managed services  and strategic support plays a big role. From launch management to strategic planning, implementation support, and ongoing enhancements, the Annex Cloud team delivers white glove service every step of the way.
Each solution has an Insights Dashboard which shows you the impact Annex Cloud's services have on your business in terms of dollars and ROI. Each solution is also fully equipped with a customer data platform that collates customer data and delivers insights and advanced segmentation opportunities.
If you have a new startup and are still figuring out the best marketing channels to use or how to optimize your offers, I'd hold off on getting Annex Cloud until those areas of your business have been fixed.
This is because the Annex Cloud app supercharges businesses that are already selling well. If you've not gotten to that level yet, then you won't get all the benefits.
There is no fixed pricing and the amount you pay depends on the size of your business. You'll have to request a free demo to learn more about pricing.
I really love Annex Cloud as it automates a lot of processes at scale, which ultimately helps your business grow faster than if you did it manually.