Shopify is to e-commerce what WordPress is for bloggers.
With dozens of Shopify plugins to choose from to optimize your store, I'll be reviewing various Shopify apps over the coming months, with the first one being Fomo.
What is Fomo – Boost Sales with Social Proof?
Fomo is a social proof app that shows pop-up alerts to website visitors about what others are doing or have done in your store.

Fomo pop-ups reveal key customer behaviors such as:
Items users are viewing
Items user added to their cart
Reviews left for products
New newsletter signups
Updates or new items you add to your store
When an offer is about to end
The idea behind the app is to increase social proof with store visitors to increase sales.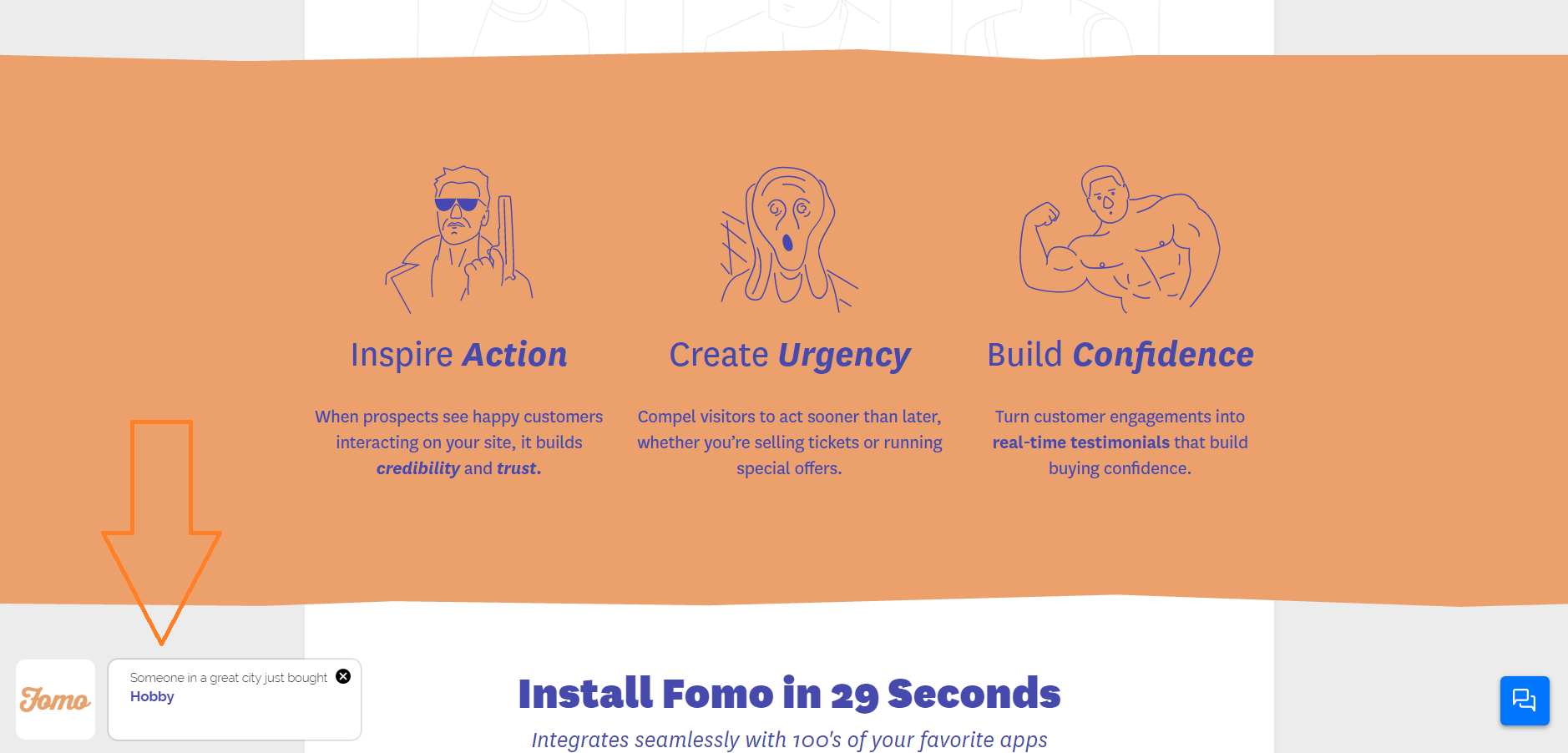 When prospects see activity from real customers, it builds consumer confidence with your brand which leads to more prospects taking action.
Keep in mind that only 2% of website traffic convert on their first visit to a website. The Fomo app aims to bump these numbers through real-time updates.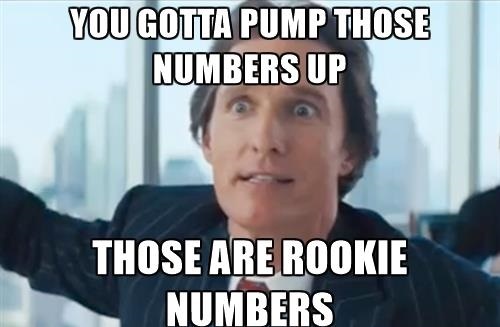 How important is social proof for e-commerce?
Platforms such as Shopify, Wix, and Squarespace have made it easy for just about anyone to make a website and start selling products online within hours. With so much choice for consumers, social proof plays a huge part in driving more sales.
A Bright Local study found that 88% of consumers trust online reviews just as much as a personal recommendation, and 72% say that positive customer reviews will make them trust a business more.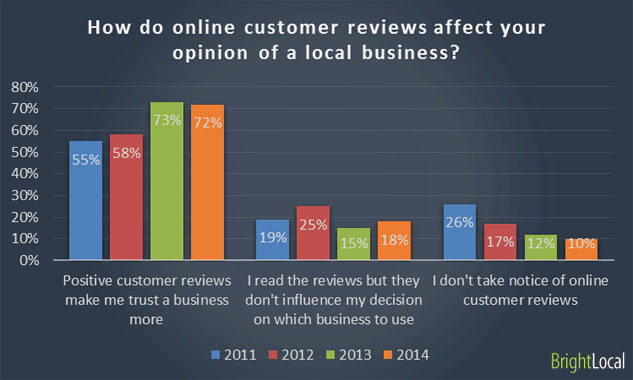 Being able to send triggered real-time product reviews left by real customers can push prospects off the fence into happy customers.
Is there really a fear of missing out?
MyLife revealed that 56% of social media users fear that if they don't check social media every day, they may miss out on important news, events, or offers.
Just Google 'Fear of missing out for marketing' and you'll come across dozens of blogs posts that reveal tips on how to leverage fear to drive action.
Fomo is real.
The Fomo Shopify app helps drive action and sparks the Fomo trigger in your prospects by letting them know with real-time updates that an offer is about to end, a voucher code has just been added, or when you only have a few items left in stock.
These are tried and tested marketing techniques that have been placed inside an app.
How to install Fomo on Shopify
To install Fomo, simply visit the Shopify App store and enter 'Fomo' in the search box.
Select Fomo and then click the install button.
Note: You will be asked to enter your credit card information if you don't already have one on file. Fomo comes with a full 7-day free trial and you will be billed after the 7 days if you decide to keep using it.
Within the app, you can manually select which notifications are shown, delay time between notifications, and choose where they appear on a page.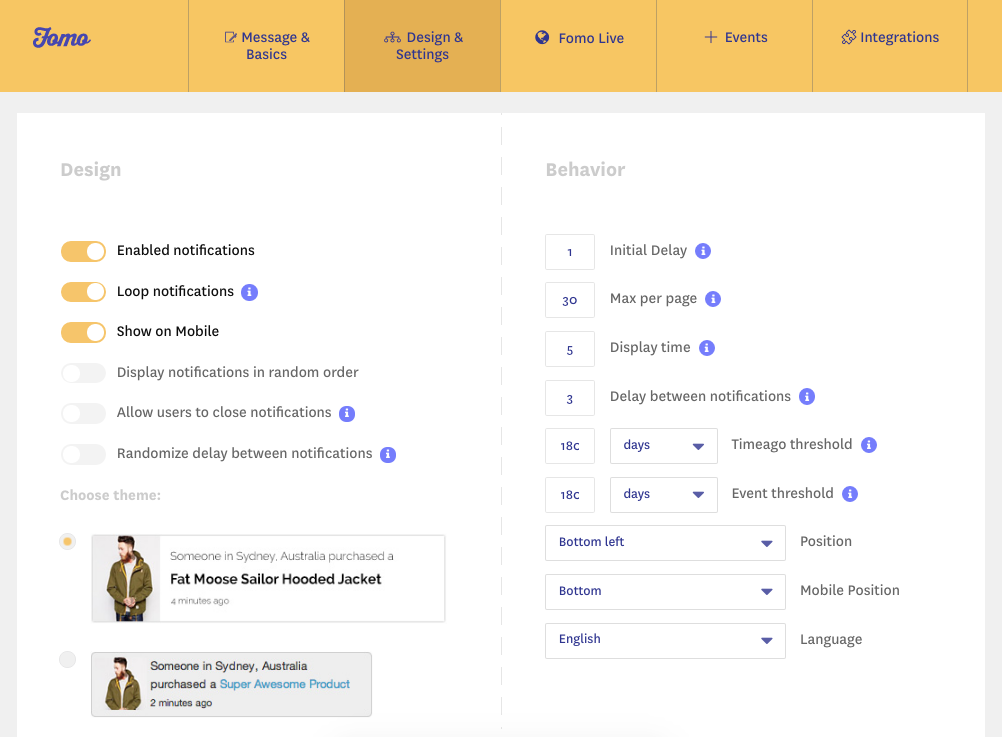 What I like most about Fomo is the built-in analytics dashboard that provides useful feedback on how your notifications are performing, how often they are clicked, total conversions, and how much extra sales your store made from them.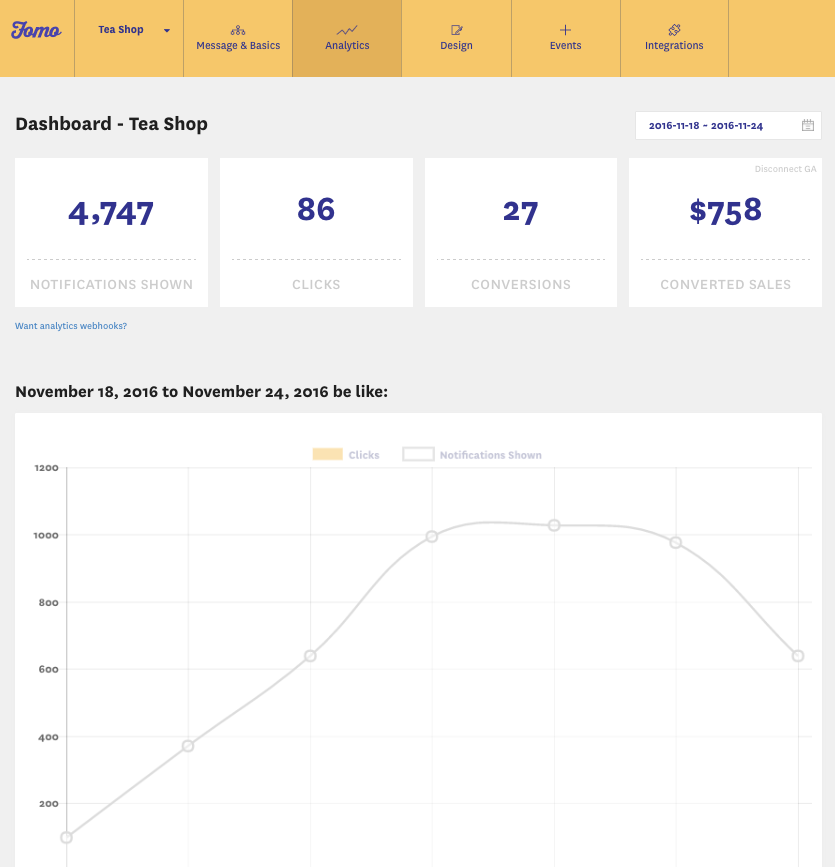 Fomo's key features and pricing
By using the Fomo app:
you can choose to show notifications of all orders, some orders, or orders within a certain time frame (making it ideal for stores of all sizes);
you can place notifications on any corner of your store;
it only requires one line of code and doesn't slow down or impact your website load speed;
it allows for full customization to your brand colors; and
you can hide alerts on specific pages (the checkout page, for example).
Fomo starts at $19 per month, but to unlock extra integrations, themes, and designs, it can go to as much as $49 per month.
Who is Fomo for?
Fomo is suitable for all e-commerce stores given its ability to limit how many notifications are shown to any one customer.
If your e-commerce store is generating several hundreds of views per day, then trialing out Fomo is a no brainier. During their free trial period you'll know whether the app is capable of generating your business more sales.
For smaller e-commerce brands that are receiving only double digital traffic numbers, I'd focus more on driving targeted traffic to your store through Facebook and Google ads than spending too much time with Fomo.
Fomo is a tool used to further optimize your website traffic into taking action, but if you don't receive enough traffic, you should focus on traffic not apps.