If you're managing an online subscription service or are looking to increase your customers' average lifetime value through repeat purchasing, buckle yourself in nicely for the next few minutes as I go ahead and review the Shopify app, ReCharge.
ReCharge is currently the #1 Shopify subscription solution for e-commerce, and in this article I'll talk about how it works and the benefits it provides.
How does ReCharge work?
ReCharge aims to get your customers to spend more money at your store during their lifetime as a customer. They do this by letting customers subscribe to receiving products on a frequent basis.
For example, if you head to Boxed Water and check out one of their water products, you'll have the option to make a one-time purchase or subscribe to the product and receive it at regular intervals.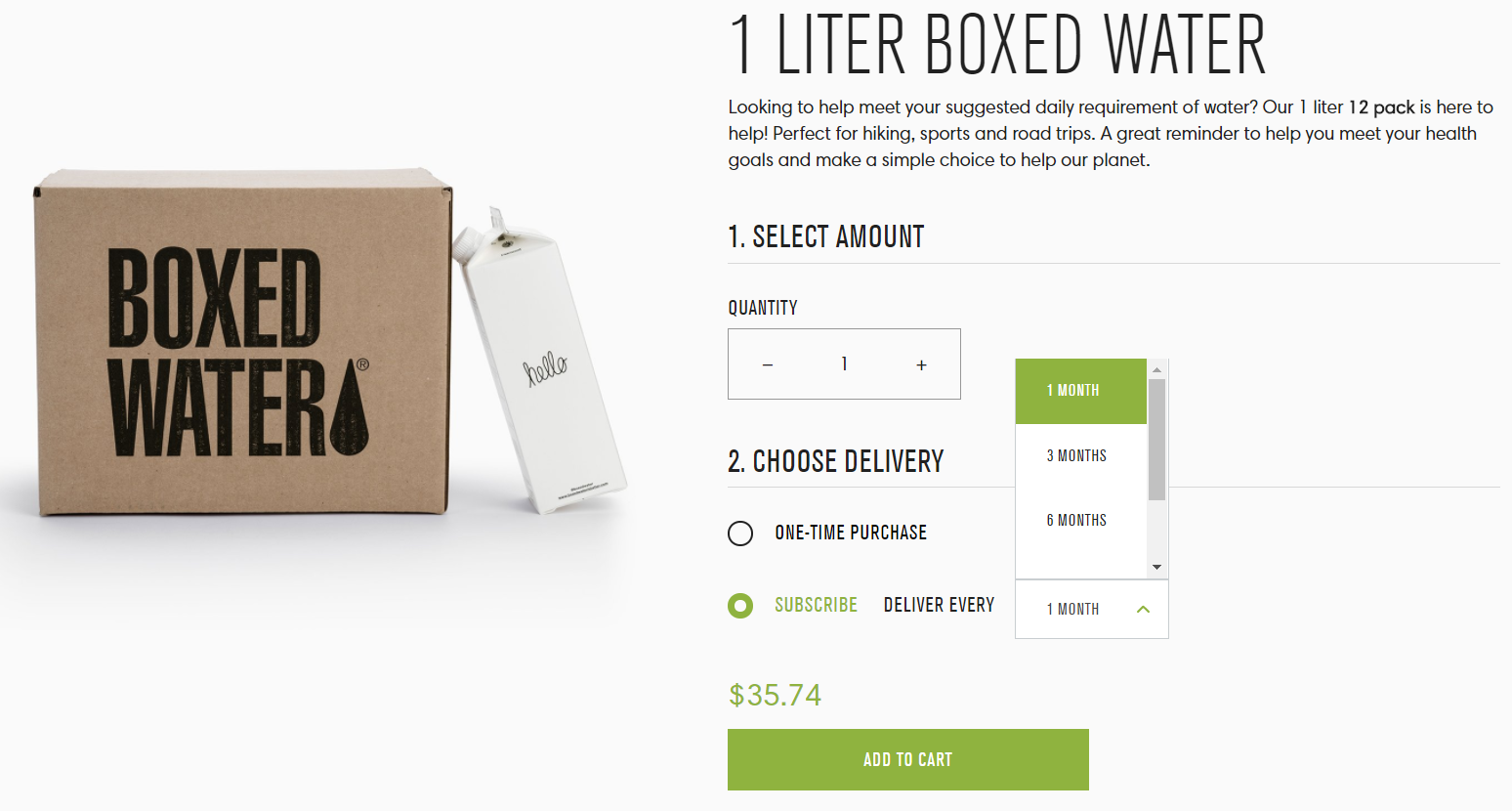 The frequency in which they receive a product is totally up to you and is fully flexible. You can even tempt them by providing discounts if they opt in to subscribe to your product.


Customers who opt in for recurring payments experience the same fluid checkout experience as they would if they selected a one-time purchase. ReCharge allows customers to make one-time and subscription purchases in a single checkout.
All orders on the backend of your Shopify site will be exactly the same. After each successful subscription charge, a new order will be created on Shopify.
In a nutshell, ReCharge makes it easy to set up recurring payments for you and your customers.
Some of their key features are:
gift subscriptions (allows customers to gift items on subscription),
cart abandonment integration,
supports credit card and PayPal,
billing can be done on any day of the month,
no coding is required to set up, and
one-click upsells.
You can get a full list of their features here.
The customer experience
The entire checkout experience from a customer's perspective will not change if they opt in to subscribe, which is a huge plus as many recurring payment apps require customers to enter more data or make two separate orders for one-time purchases and recurring subscriptions.
If a customer decides that they no longer want to subscribe to your product or service, then after logging in to your store, they can edit, pause, or cancel their subscription without needing to contact you.
While they are still subscribed, they will be informed of upcoming deliveries. If they are out of town, they can choose to skip delivery or even rearrange it for another date through their account, again without having to send an email or call your support team.
By using ReCharge, customers can change their subscription frequency and shipping details for individual products. If they decide to order more items on subscription, they can do so without the need to enter their credit card information again.
Unlike other recurring payment apps on Shopify, ReCharge has really thought about the customer journey, making it super easy for customers to manage their subscriptions.
It's also important to mention that everything has been optimized for mobile devices, allowing customers to make adjustments as and when needed without needing to use a desktop device.
Are there better options to ReCharge?
A quick Shopify search in the app store turns up 28 recurring billing options.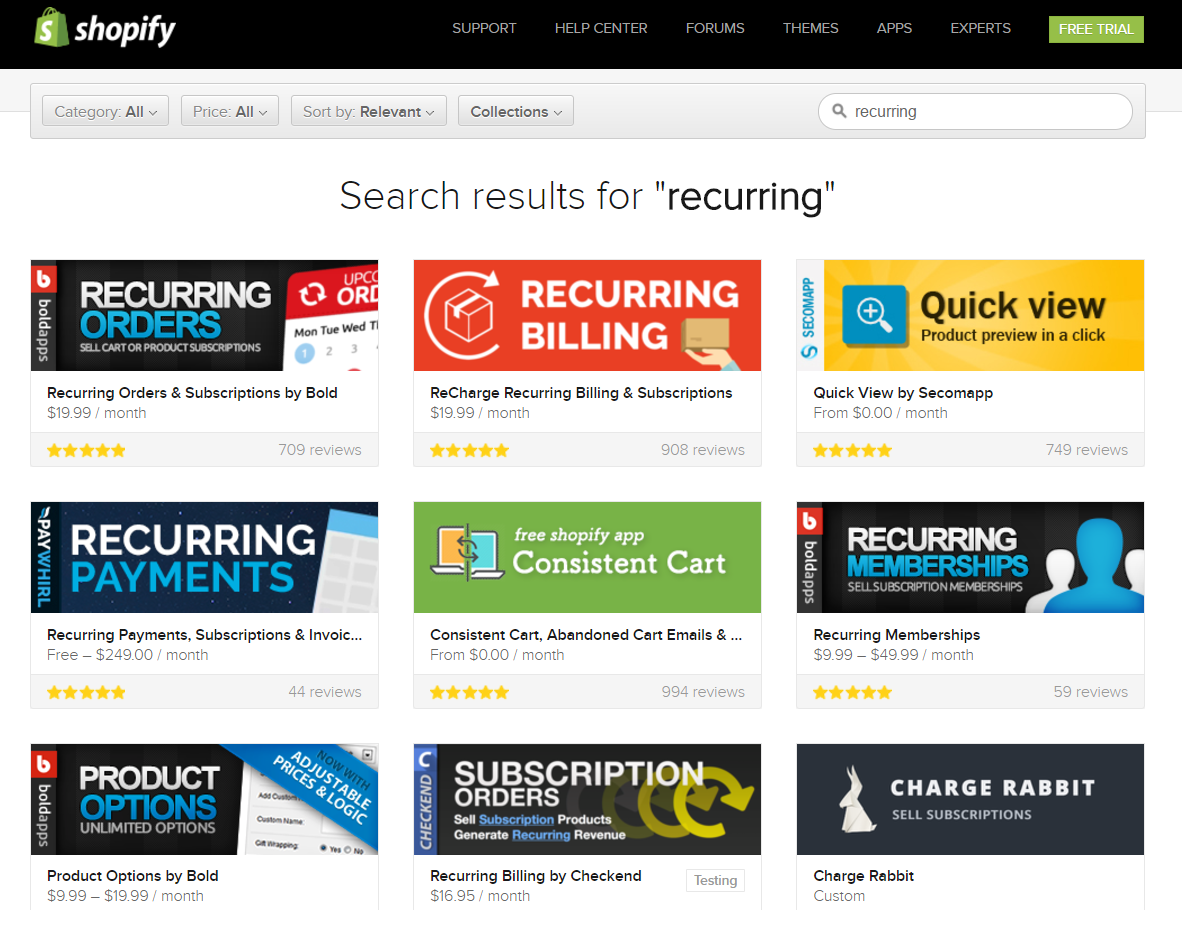 Many of them have glowing reviews, but what sets ReCharge apart is its ability to scale. Some apps are useful for testing out subscription models for your business, but when it is time to scale, many of them fall short.
ReCharge has successfully powered Hubble Contacts, which has over 20,000 subscribers. The last thing you want to do is set up your store with a subscription service only to find out it cannot scale.
Moving subscriptions from one app to another would be a nightmare.
If you're a growing startup currently on a limited budget or an e-commerce business with hundreds of products, the ReCharge team will even integrate their SaaS tool on your store for free to get started.
I got in touch with ReCharge to ask what exclusive features they have that cannot be found on any other recurring bill app. They said the following:
Our exclusive features include:
Only company that does not charge on one-time items in the same cart
Only company to offer Sweet Tooth Rewards integration
Only company to offer One Click Upsell integration
We offer the most customizable customer portal
Only company that offers a migrations specialist
Only company that offers priority account management for enterprise level customers
Are you missing out on revenue?
Do you offer consumable products that customers need to reorder on a regular basis? Or do you provide a service that customers use over and over again?
You might be leaving money on the table if you're not giving your customers the option to subscribe to receive your products on a regular basis.
ReCharge comes with a free 90-day trial, after which there is a monthly fee of $19.99 plus a 1% payment processing fee for any recurring orders placed, which can be discounted if you have over 500 recurring payments per month.
I personally think ReCharge is a great app not only to increase LTV, but to brainstorm new consumable products/services that customers would order on a regular basis.