Has Christmas come early for marketers?
It's not every day that brands are given hundreds (or thousands) of dollars in free ad spend, but that's exactly what Snapchat is doing to lure new advertisers to try out their ad inventory.
In this article, I'll explain what Snapchat is doing, how to claim your free ad spend, and how to use its inventory to grow your business.
Free Snapchat ad spend – what's the catch?
It's been just over a year (March 2nd, 2017) since Snapchat went public and investors could buy shares.
During that period Snapchat hasn't done so well and is down 33% at the time of writing (Facebook is up 31% during the same period).
The point I'm trying to make is there is no catch. Snapchat isn't acquiring advertisers at a fast enough rate to be profitable, and so is now attempting to steal business from competitors (Instagram) by giving advertisers free ad spend to try out the platform.
To apply for your free credit, you need to fill out this form and provide actual proof that you have spent money running ads on other platforms (Facebook or Instagram).
You'll also need to send them the creatives you'd like to use for your campaign.
Please note that by filling in the form it does not guarantee you will receive free ad spend.
If successful, the amount you will receive is done on a case-by-case basis.
How to set up your creatives
All ads shown on Snapchat are in portrait mode and video only.
Here's the specifications required when sending in your creative: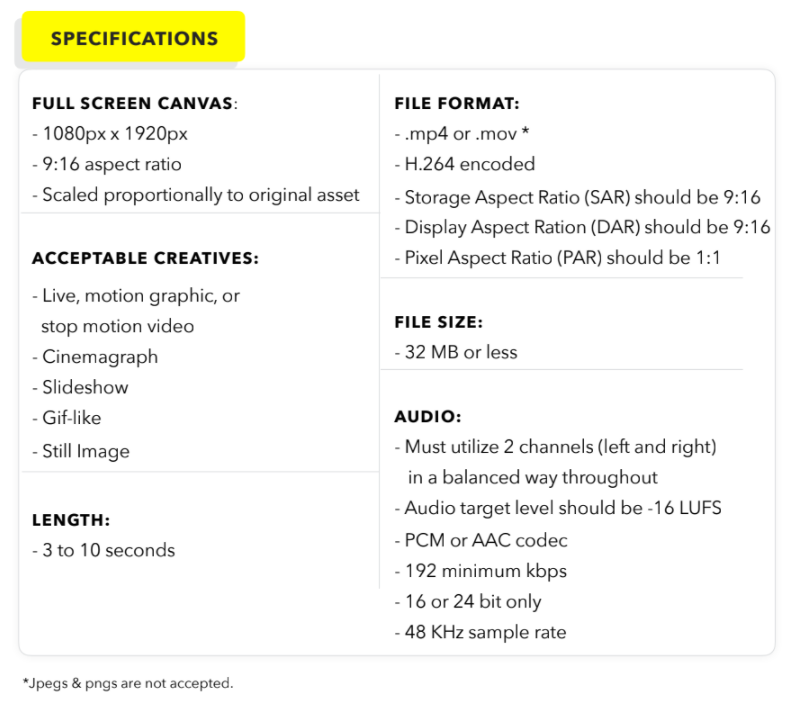 Snapchat is very similar to Instagram in that it's a place where people share their lifestyle in short 10-second videos. Over 60% of Snapchat users in the US are between the ages of 13 and 34, with users who are 25 and under logging in around 20 times per day.
As you can see, 60% of college students said they would consider buying from a brand on Snapchat if the offer was right.
If I were to apply for free Snapchat ad credits, I would focus on creating only two types of content:
Awareness – I would create a short video to introduce my brand to Snapchat users. As the bulk of users are teens and young adults who are most likely studying, I'd focus on creating a branding video that would resonate with this user base.
To do this, start by looking at your industry and see if you can find an angle that will resonate with the younger population. Are there current trends going on right now in your market that you could incorporate into your video to grab their attention?
Conversions – Asking Snapchat users to buy your product on their first interaction is going to be tough. To increase your chances, look at your product inventory and choose a low-ticket item that will fit with the 13-34 age group.
Since most of your impressions will come from people under the age of 25, run a video around a low-ticket item and combine it with a limited-time offer.
Is Snapchat the right platform for you?
Snapchat isn't experiencing the same growth as Facebook or Instagram, but that's no reason not to try it.
Snapchat currently has more than 187 million daily active users, with the bulk of them living in the U.S.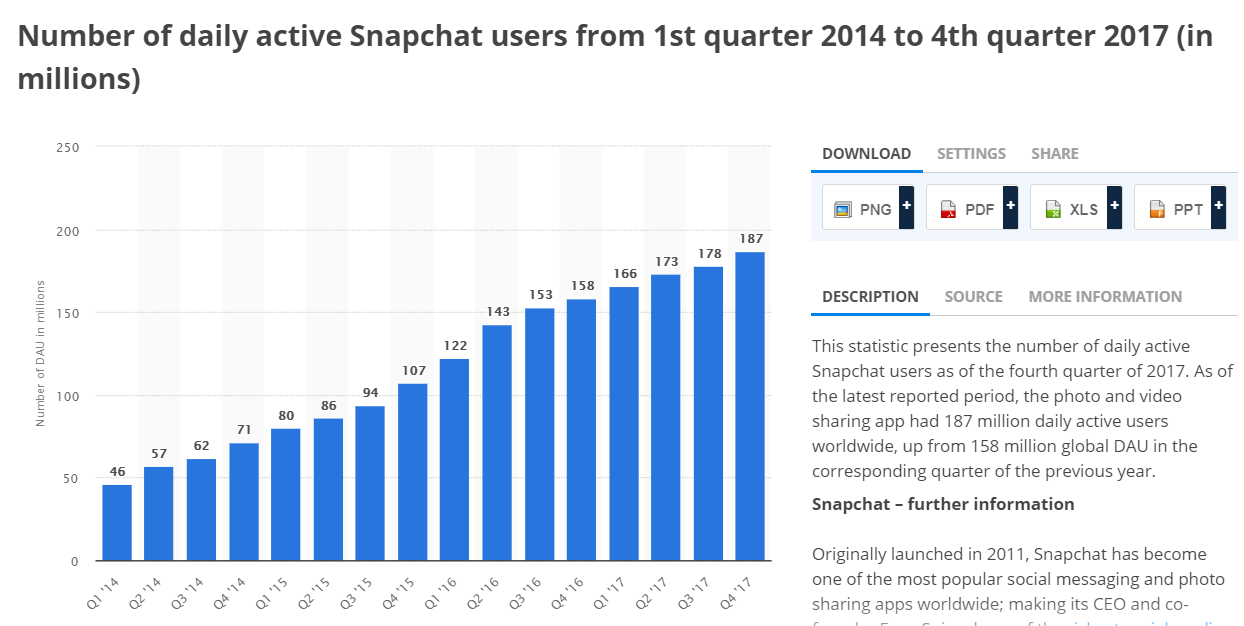 Ad inventory on Snapchat is much cheaper than Instagram because brands are not using it.
You have nothing to lose by applying for the free credit.
If your campaigns are successful, Snapchat could turn into a very profitable platform – which everybody else isn't using – to raise awareness of your brand and grow sales.