In the digital marketing space, email is a powerful marketing channel that has a huge impact on your bottom line.
In this article, we will focus on the different types of email content you should be sending out. You see, it's essential you align the time and frequency of your emails with your customer journey for maximum impact. When you are properly segmenting your list based on where they are in the customer journey you can tailor your marketing message to your target audience. This will help you decrease unsubscribes while you increase deliverability, email opens, click-throughs, and ultimately conversion rates.
So continue reading to discover the most important types of emails you should include in your email strategy with real-life examples from ecommerce businesses.
Onboarding Email Campaign (welcome email)
When a new subscriber signs up to your subscriber list via a website or service, the first thing they should receive is a welcome or onboarding email.
A welcome email can be a single email letting the prospect know more about the business, like this example from Fracture:

Or it can be an onboarding type of email with a CTA asking shoppers to purchase a product, which is what Lululemon does with their welcome series:
The onboarding series is a pivotal marketing tool as it sets the tone for future interactions between your business and the subscriber.
Depending on the complexity of your product and customer journey, you may want to build out your onboarding strategy to include two, three, or more emails.
This is something you'll need to test. In our experience, high-ticket items will require further nurturing.
Retention 
Once an email subscriber has completed your onboarding phase (and hopefully converted to a customer), the next step is to get the subscriber to re-order with follow-up emails and become loyal customers for years to come.
The goal of a retention email marketing campaign is to use email to increase the lifetime value (LTV) and average order frequency (AOF) of your customers.
The most basic type of retention emails are newsletters sent to your email list regularly. Here's one example from WiiVV who introduce their newest product to customers:
Email newsletters are great when introducing new products or offers, but are manually sent and require constant management. They are powerful promotional emails, but since they lack personalization, tend to receive lower open rates than automated emails.
You can also use automated emails to increase retention based on customer behavior, such as:
Abandon Cart – If a customer has added items to their cart but didn't complete their order,  you should use abandoned cart emails in your marketing efforts, like this one from Food 52: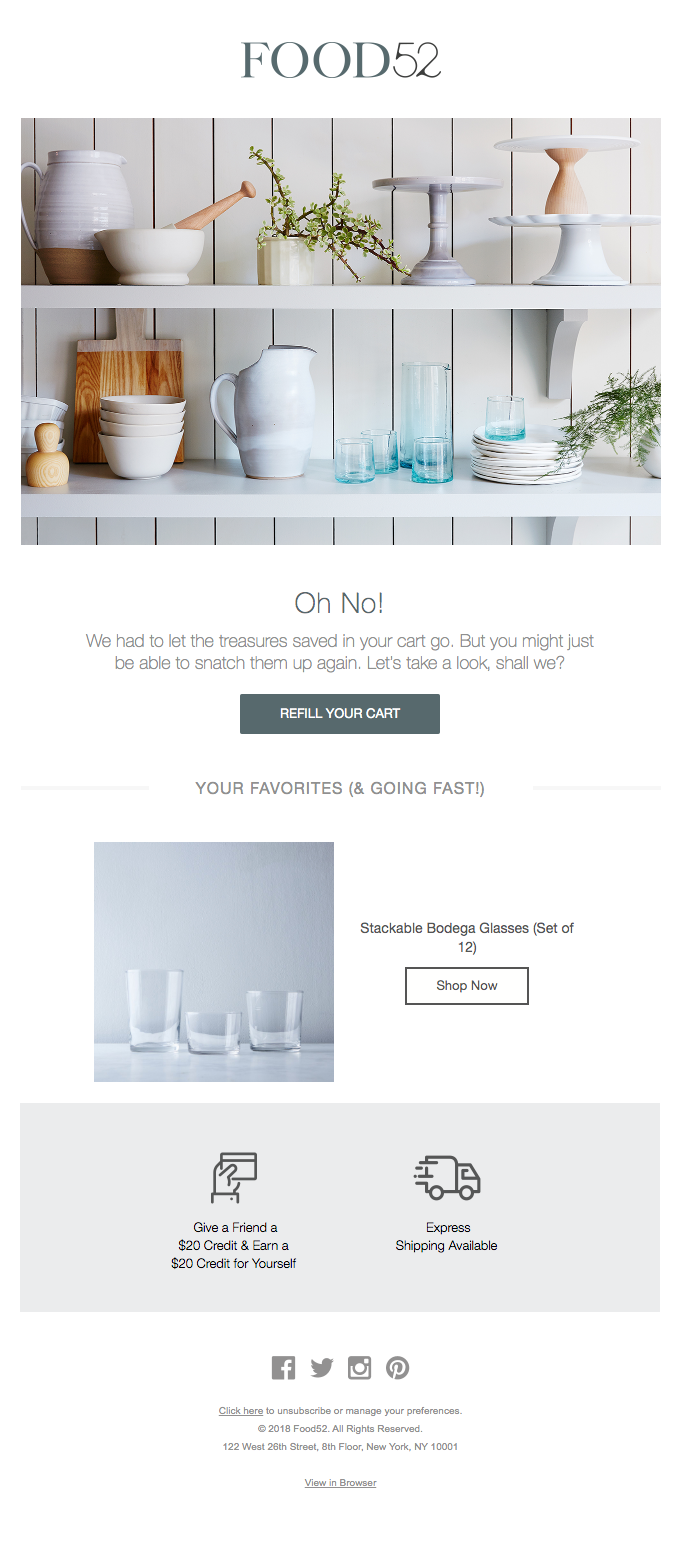 Upselling – If a customer has bought a specific product, then sometime after their order you may want to upsell them a more expensive, better product. This is the best email type you can send out in this situation and is exactly what Harry's did when they released their newest razor.
Anniversary – This could be customer birthdays, their time spent as your customer, or even your own company holidays. They are great opportunities to connect with customers and build rapport.
Here's an email from Playstation that is sent once their members have had their account for a year:

There are dozens of types of retention emails and email templates you can use to increase your subscribers' LTV and AOF. Above are four examples that should be part of every email marketing strategy for e-commerce businesses.
Win-back/feedback
Whereas onboarding emails are placed at the top of your funnel, retention emails are placed in the middle and are the biggest factor in increasing revenue.
Win-back and feedback emails are typically placed at the end of the funnel to either encourage subscribers to come back to your store or provide feedback on your service so you can improve your funnel.
Here's a win-back marketing email from Blue Apron which explicitly asks customers to come back to try their service, with a cool $30 off their next order:
Tailor Brands combined their win-back and feedback email into one by asking for feedback in return for 50% off their next order:
Before creating your win-back and feedback email automations, find out the AOF of your subscribers so you can time these emails to go out at the right time.
For example, if your average customer orders every six weeks, then you may want to send your win-back series 10-12 weeks after a customer hasn't placed an order. If you send it too soon, then they may not be ready to order, and if you send it many months after their last order, they may have totally forgotten about you.
Your email marketing strategy should flow
An effective email marketing strategy is no different from any other type of marketing funnel. There's a top, middle, and bottom.
How the top, middle, and bottom of your strategy looks depends on your product and audience.
Above is a foundation that every ecommerce business should use when creating their online marketing email strategy. As you grow, you should continually be building out your funnel using automations for successful email marketing.