Harness the power of Klaviyo's advanced e-commerce features to increase your email marketing profits by 46%.
Congratulations! You've validated your product, you got some customers through the virtual door, and you've solved some of the mysteries that come with growing an e-commerce brand.
The next step in your business is to maintain that healthy ROI, continued controlled growth, and find new ways to scale.
Email is a channel that can generate one of the highest ROIs out there. You simply don't have to spend more to make more.
But instead of getting your email strategy to become the unicorn case study, you see spikes in unsubscribes and hit a ceiling with revenue growth.
Having some unsubscribes is normal, but if you're seeing consistent spikes in your unsubscribe rates and low engagement then it's time to pivot your email marketing strategy.
Today, the channels available to drive revenue are vast. There's certainly no shortage in the options you can tackle to drive the customer journey towards making a purchase on your site.
And Mailchimp was a good start to getting to where you are in your business, but now you're looking to optimize for stable growth.
So what's the difference between an email service provider (ESP) that offers basic targeting and list management and one that is engagement centered and sees an average increase of 46% in total store revenue resulting in lower unsubscribe rates?
While Mailchimp powers a lot of decent batch and blast emails with some triggered features, Klaviyo is meant for growing your sales and revenue.
With Klaviyo's highly segmented features, users see better average open rates, click-through rates, and higher average revenue per recipient. Not to mention, on average lower unsubscribes.
And it all starts with utilizing Klaviyo's dynamic features in your automated Welcome Series.
Typically, a subscriber joins your list and you send one quick automated 'Hello, Welcome!' email and then drop your HOT subscribers faster than a picture falling off a wall into whatever batch sequence you have.
But if you want to do email well, you need to serve more targeted and relevant emails to new subscribers so you can reduce unsubscribes and increase revenue.
Because the real revenue lives in smart triggered emails.
Hook up your automated Welcome Series with Klaviyo's triggered flows and robust segmentation, and you've created the number one revenue-generating email strategy for your e-commerce business.
Here's how you can take your Welcome Series to the next level to drive the highest revenue and reduce your unsubscribe rates.
Prevent Discount Sharing with Klaviyo's Unique Coupon Codes for Shopify
The best way to utilize discounts is to reward new subscribers by giving them the discount code as soon as they join your list.
If you don't include the coupon code in your Welcome Series, you'll see a drop off in sales.
Klaviyo's dynamic unique coupon code feature allows you to create one-time-use coupon codes inside Klaviyo so each customer receives a personalized code that is auto-generated once the email is sent.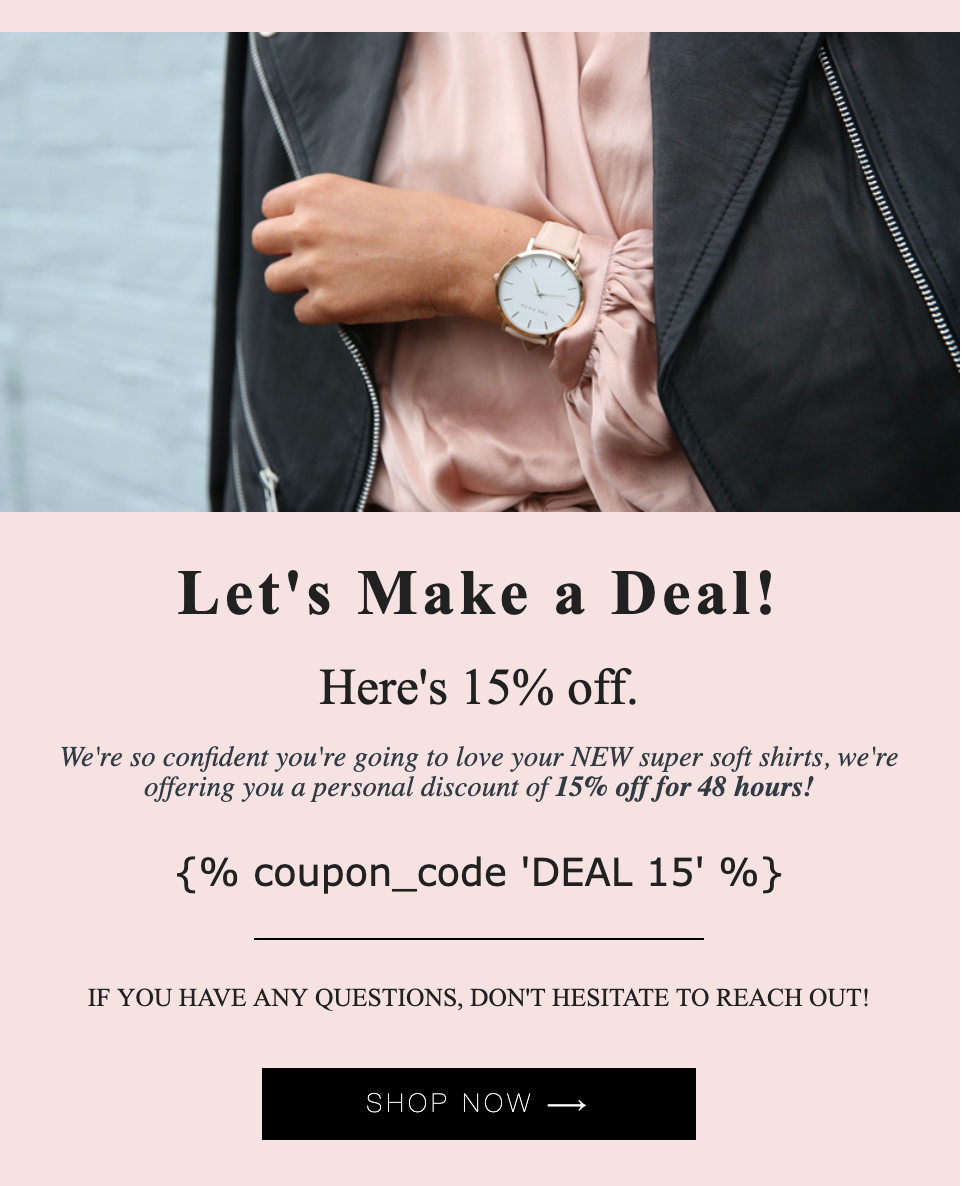 This means, no more generic one-size-fits-all coupon codes that end up on coupon collection sites that someone, who never signed up to your list, can benefit from.
The best part is this feature integrates with Shopify and automatically generates the unique codes in Shopify.
Reduce Unsubscribe Rates with Advanced Segmentation
There is a time and place for batch and blasting your emails, like sending brand awareness campaigns in between purchases.
But it is through segmentation where you can improve your engagement rates and reduce your unsubscribe rates.
You essentially can group your audience into similar demographics and behaviors then send tailored emails that fit where they are in the customer journey.


Klaviyo's deeper segmentation features allow you to segment your customers based on what collection they've bought from, what their lifetime value is, or what specific variant they bought.
Klaviyo really hits it out of the park with segmentation capabilities in their AI-powered Predictive Analytics. Klaviyo essentially applies data and machine learning to predict whether your customer is most likely to purchase again or whether your customer will churn.
Based on this information, you can set up triggered emails that send once a customer is about to churn.
Increase Revenue with Trigger Flows and Layered Filters
When someone subscribes from your list, you can create another trigger filter based on what product category a subscriber viewed. For example, if your new subscriber looked at a male-focused product like polos, then you can send your new subscriber through a male focused Welcome Series.
In short, if there is an email you would like a specific recipient to receive, you can add an additional filter to a single email within a flow.
This use of advanced personalization guides the customer journey in exactly the place where he or she left off and increases click-to-conversion rate and revenue per send.
Are You Ready to Increase Your Profits Without Lifting a Finger?
This is easy to figure out.
If you're making sales from your e-commerce store and looking for expanded features, capabilities, and integrations with your current email platform, you are ready to reduce unsubscribes, increase your click rates, and profit more.

One of the single biggest challenges most e-commerce businesses have when looking to scale with their ESP is the strategy side. Most business owners don't know how to leverage their email.
As an e-commerce agency, we've been able to increase list sizes by 50%, generate 6X lift in conversion rates, and decrease cart abandoned rate by 20% for our clients.
You can make that happen without lifting a finger with MuteSix!
If you want to switch to Klaviyo and profit more, then ask about our Klaviyo Migration package.
Click the button below to submit your application and our team will schedule a time to chat ASAP.
{{cta('4858e1d4-e737-4e26-977d-339af277b222')}}