Since Instagram introduced Stories to its platform, the attention of its users has shifted from the Instagram news feed to Stories.
From November 2017, more than 300 million daily active users tuned in to watch Stories on Instagram, with half of all businesses on the platform posting one or more Stories per month.
In this article I'm going to tell you WHY you need to run Instagram stories, how to create Stories ads, and explain some best practice tips.
Why you need to run Stories
As an ad buyer, you want to place ads where people spend the most time. While the metrics show that you're paying for impressions or clicks, the truth is you're paying for attention.
And right now the bulk of attention on Instagram is within Stories.
You'll notice that influencers for ad brands post 1-2 news feed updates per day but are uploading dozens of stories per day because they make a bigger impact.
The Stories ad placement has already been used to great success by Zee.Dog, who increased sales by 2.9x during Black Friday 2017.
There's a lot of open ad inventory right now within Stories as everyone is flocking there, so you need to make the most of it.
Instagram Stories is best used to increase brand recall or retarget specific audiences with a strong call to action.
How to create an Instagram Story
Running ads on Instagram Stories is easy. Before I show you how to create an ad, these are the requirements for your content.
Aspect ratio – 4:5, 2:3, and 9:16 formats are preferred (all vertical). Keep in mind that your Stories will be watched on a mobile device with the user holding the phone upright and not landscape.
Length – The Story should last for no more than 15 seconds.
Sound – While it's true that most people watch video on Facebook without sound, do include sound in your Story and accompany it with a text script too. People tend to watch Stories with the sound on.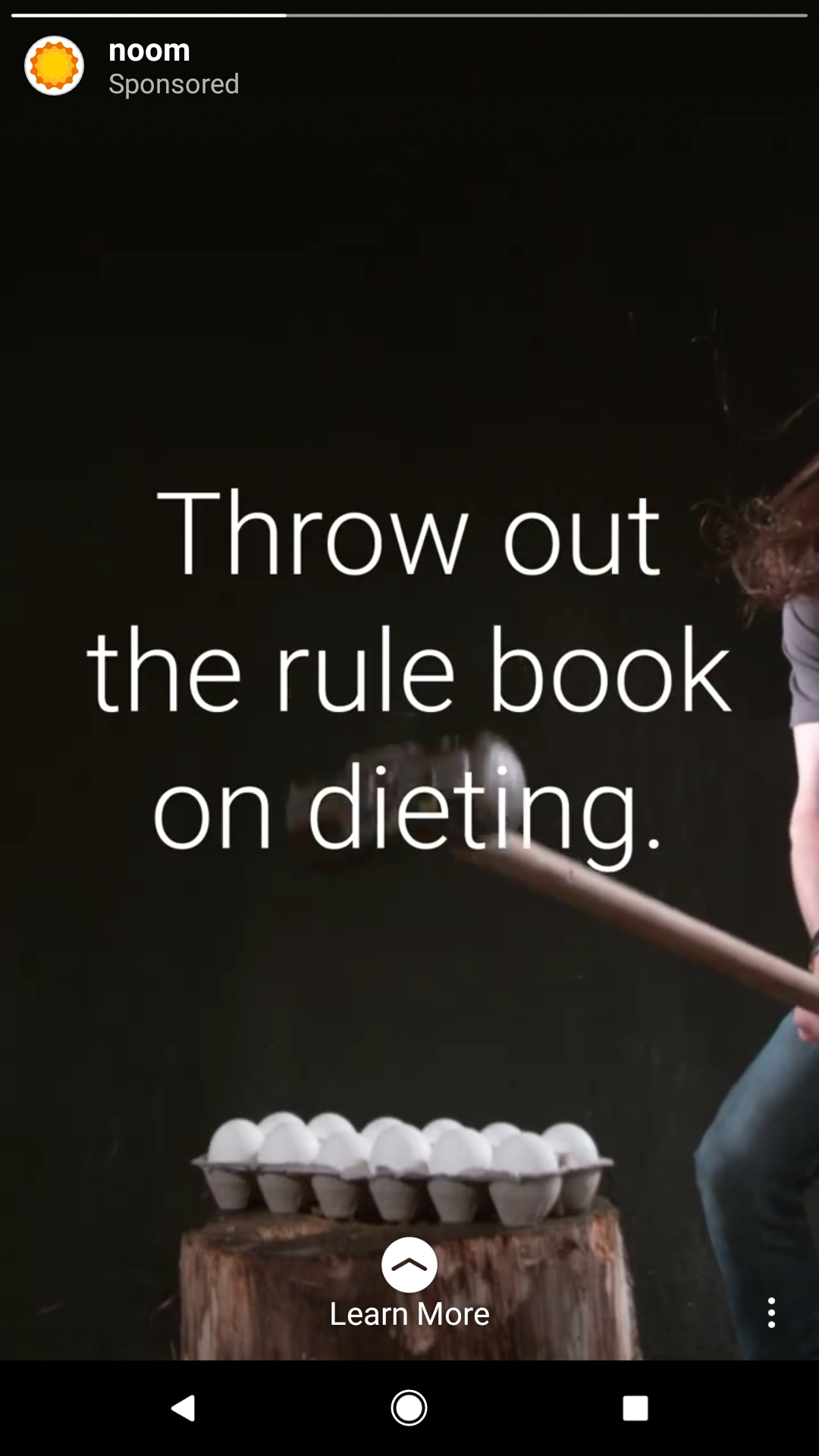 You can create an Instagram Stories ad using the Ads Manager, Facebook Creative Hub, or Instagram's own API.
As of right now, you can only run ads in the Stories placement using the following campaign objectives
Reach
Video Views
Conversions
App Installs
Lead Generation
Traffic
The Stories placement uses the same targeting and metric tools as other placements, and the same retargeting abilities.
5 hacks to improve your Stories
Are you thinking about running your first Stories ad? Well, you should be. Here are 5 hacks to creating a powerful creative that will crush.
Less is more – Studies have found that the best performing Stories were typically shorter and mentioned the brand earlier on in the video. If you're using multiple stories within a single Stories ad, the same rule applies: stories that are shorter in length typically perform better.
Condense your message into 8 seconds or less.
Users don't want to see ads, they want to see Stories from their followers. They can look up at the Stories bar to see how long your Stories ad is going to be, so keep them short and mention the product or band right away.
Product demo – Ads that showed a product being demoed or in use typically performed better than other types of Stories that used a different story board.
Simple and relevant – The best performing Instagram Stories ads were relevant, simple, and the message was easy to understand.
Your Stories should start by grabbing the users' attention; otherwise they are going to swipe left. Don't show a complex message – keep it simple. A good way to know if your video is simple is to watch it without the sound and ask yourself if you understand the message. If not, work on it some more.
Create unique ads for Stories – You'll have a higher chance of success with Stories if you create ads specifically for Stories. Repurposing video content shown on the news feed may not work as well.
Get started
Stories are a great way to grab users' attention and direct them toward your brand.
Ad inventory is high and competition is low…for now.
Not sure what type of Stories to create? Then check out the Facebook Creative Hub to see what others are doing with Instagram Stories.