I've been saying in various blog posts over the years that it will only be a matter of time before customers can buy products on Instagram directly through their checkout.
And it's finally happened… in beta testing.
Instagram has started to test out checkout features on its platform. In this article, I'm going to talk about how it works and when you can expect it to become available.
How Instagram Checkout works
Over the past few years, Instagram has made several updates to its platform from Story Ads to Shoppable posts.
It has now begun testing the ability to use their own checkout and make payments on the app. As of right now, this feature is limited to a few of the following businesses:
Adidas, Anastasia Beverly Hills, Balmain, Burberry, ColourPop, Dior, Huda Beauty, H&M, Kith, KKW Beauty, Kylie Cosmetics, MAC Cosmetics, Michael Kors, Mr. Porter, NARS, Net-a-Porter, Nike, NYX Cosmetics, Oscar de la Renta, Outdoor Voices, Ouai Hair, Prada, Revolve, Uniqlo, Warby Parker, and Zara.
Users will be able to pay for items using:
Visa, MasterCard, American Express, Discover, and PayPal.
Instagram states:
"For brands, access to checkout will be limited during this closed beta. When we expand, businesses will be able to integrate directly or work with partners including Shopify, BigCommerce, ChannelAdvisor, CommerceHub and more in the future. Payments will be processed in partnership with PayPal."
To complete the checkout you'll have to use Shoppable posts. Here's an example from retail business H&M:
After tapping a product item, you are sent to the product page. Instead of the "Visit Website" call to action, you'll now see it says "Checkout on Instagram":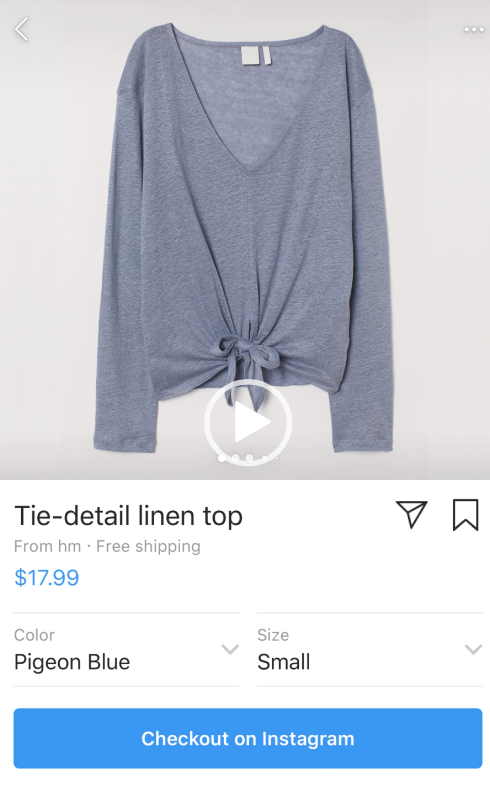 Once clicked, you'll go to the checkout page that has pre-populated payment and delivery information that a user will need to fill out on their Instagram profile.
Once an order has been placed, the user will receive updates, such as when the item was bought and delivered, through the Instagram app:
The pros and cons of Instagram's checkout
The biggest benefit Instagram's checkout offers is a seamless user experience. You no longer have to worry about fast load times or if your website is optimized for every mobile device.
Retail business Adidas said that online sales for the first three months of 2019 jumped by 40% year on year, which they largely believe is as a result of this new feature.
Instagram's checkout also allows customers to manage their orders, track their status, and send returns. It won't be long now before Instagram will be able to mimic various areas of your website to make the user experience even better.
This sounds like great news, but is it?
If businesses end up relying too heavily on Instagram's checkout for sales, they could fall into the same position that many Amazon retailers are at right now.
Amazon retailers rely solely on Amazon for sales; their customers aren't their own, but Amazon's.
They are also playing by Amazon's rules, and many depend on Amazon for survival.
Could the same thing happen to businesses that use Instagram's checkout? Payment details are stored on Instagram and so you'll receive less customer data to make informed decisions later on. Facebook will only share data with businesses to fulfill an order, and customers will need to opt-in to share their email address with the businesses they are buying from.
As of right now, there's no chance of upselling or cross-selling on the platform, which may lead to a lower average order value than if a user visited your website. Although, I'm pretty sure in the coming years that Instagram will have this feature too.
What do you think about Instagram's checkout?
While we are about a year or more away from this feature being rolled out to everyone (remember, this is still a beta test), I think it's a great addition to Instagram and for businesses that want to sell more on social media platforms.
I think the secret will be to find a balance between Instagram's checkout and your e-commerce store. Becoming reliant on Instagram's checkout may at first turn out to be great with the extra sales, but it may also cost you a lot more in terms of control of your business later on.
What are your thoughts on Instagram's checkout? Are you a marketer with access, or have you bought items on Instagram yet? Leave a comment below letting us know your thoughts.