With more than 300 million users actively consuming Instagram Stories and 70% watching with the sound on, it has never been a more profitable or easy time to run ad inventory within Stories.
In this article, I'll explain the latest feature, full screen support for ads, in Stories which allows advertisers to run news feed style ads within Stories.
It's even easier to run Stories ads
In the past, in order to make the most out of the Stories placement on Instagram, you had to create a unique piece of content using the right aspect ratios. You were unable to use square images or landscape video content because it wouldn't fit the Stories ad unit without stretching or cutting parts of the creative out.
But, that's all changing thanks to Instagram's pixel-matching technology, which can automatically select the most appropriate background color to fill in any unused space within your ad.
Instagram does not zoom in or out of your creative to make it fit perfectly in Stories, which would end up making your ad harder to view or too pixelated.
How it works
Let's say you're running a product ad that you would like to show on the Instagram news feed and Stories placement. You'd create your advert using either an image or video (15 seconds or less) and craft a text headline, and then Instagram would automatically resize your content to fit within Stories, like so: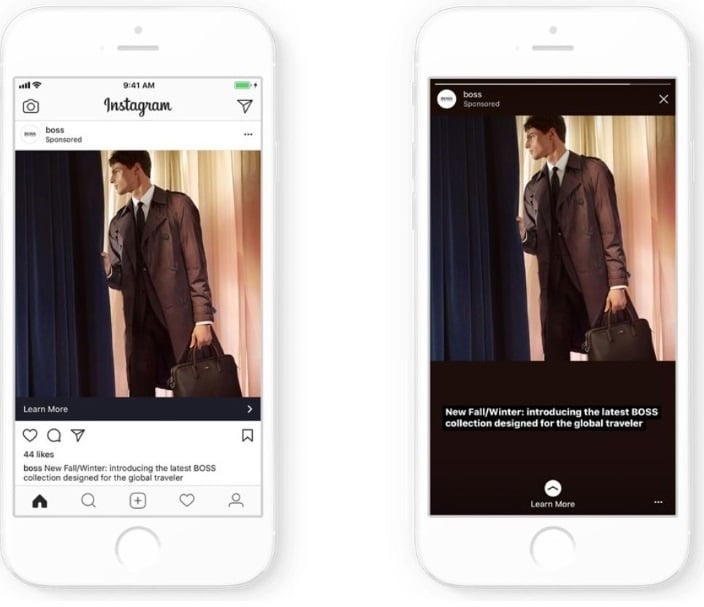 (Source)
If you use the reach, video views, conversion, app installs, lead generation, or traffic objective, you'll also be able to use the Stories placement to serve your ad.
You'll be able to add a link to your Stories ads that users will be redirected to if they swipe up.
This feature is now available to all advertisers.
How to get started with Stories ads
In a nutshell, you can now create Stories ads on the fly without having to think too heavily about your creatives.
Since it's a new inventory unit, here are some ways I'd start testing this placement right away with generic content (creatives that you use on the news feed):
Isolate Stories placement – Serve ads only on the Stories placement when you start to see how your audience engages with this inventory unit. Often I'll see marketers make the mistake of combining the Instagram news feed and Stories into a single campaign, and combining Facebook's CTR/CPC/relevance score of both placements into one, making it difficult to know if the Stories placement is working for you or not.
Target low-hanging fruit – Retarget website visitors who have visited product pages with product ads or offers. They will be the easiest audience to convert based on their website behavior.
Go ahead and run ads targeting new audiences, but keep a close eye on the campaign performance. Since your ads are not designed specifically for the Stories placement and will most likely contain black bars below the image/video (see above), it may receive less engagement than a dedicated piece of content that you create for Stories.
Ask users to swipe up – If the goal of your advert is to send prospects to your website, then in your text ask them to swipe up to learn more or to redeem your offer.
Consider including an upward-pointing arrow in your text or video to emphasize the call to action they need to make. If you're doing this, you'll want to isolate the ad to only show on Stories, as the copy will not make sense if it is shown on the Instagram news feed.
Your turn
If you've tried Instagram in the past and didn't succeed, or you are looking for ways to scale your ad spend, Stories are super-hot right now and are receiving tons of user engagement.
You can now run ads within Stories on the fly, so get started today and let us know how you get on and of any problems you're facing.