Beyond the Holidays: Turning Q4 Customers Into Q1 Shoppers
Each Q4, brands, marketers, and agencies devote all their time, energy, and marketing dollars to creating a strong holiday campaign that will acquire new customers and boost revenue.
While significant to your brand's bottom line, the holiday season is exhausting at best to keep up with. After so much time spent ideating, strategizing, and A/B testing, in just a few short weeks, the campaigns wind down, and if you're not careful, so do the sales.
Without proper retargeting, these hard-earned new customers will sadly be one-time shoppers and your brand will miss out on massive revenue potential. To fully grasp the importance of retargeting, consider the following:
Acquiring new customers costs 5-7 times more (especially during the holiday season)
Previous customers are 50% more likely to buy from you again and spend an average 30% more than new customers
Improving your customer retention rate by even 5% can boost your revenue upwards of 25%, if not more
The million dollar question is thus not how to acquire new customers, but how to convert them into repeat customers.
There are a few key strategies to implement that help retain more holiday customers longer, while improving conversions and revenue throughout the new year. Justuno recommends that brands do the following to boost their retargeting efforts:
1. Double-Down on Data Collection
2. Review Your Offerings
3. Provide Proactive Customer Service
4. Leverage Loyalty Programs
5. Create Meaningful Re-Engagement
Here, we dive deeper into each of our top-five tricks of the trade to ensure your holiday marketing efforts have legs into Q1 and beyond.
Tip 1: Double-Down on Data Collection
Just how much do you really know about your customers? Name and email are always a good place to start, but do you know other key attributes like their product preferences, location, gender, or age? Do you have unique buckets for different types of customers and targeting rules set up to deliver the most relevant messaging to them?
Data on your customers is the backbone of any retargeting strategy. Sure, you can blast an email with new products to all of your customers, but you simply won't see the same results as you would with an email curating items to specific segments based on past shopping behaviors.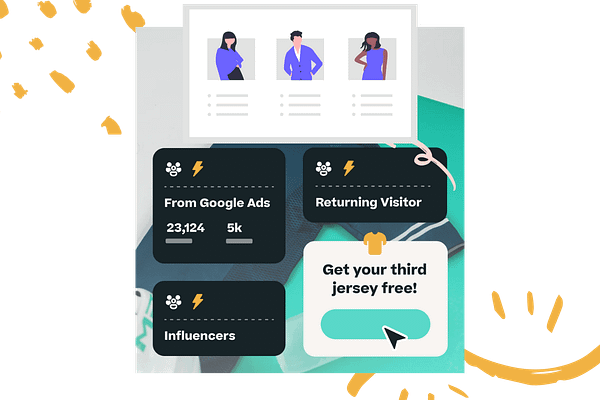 The same applies to Q4 shoppers, but with one added advantage: You know they're seasonal shoppers! Collecting and leveraging data is crucial, and the holidays give you an entirely new segment off the bat. From there, it's all about collecting more information to properly bring them back in the new year or, better yet, during the next high-spending shopping season.
Pro Tip: Keep these shoppers in a separate bucket with a plan to target them for seasonal messaging again next year!
A critical consideration of the data collection piece is the impending demise of third-party cookies in 2023 and the rise of privacy regulations, making first-party data, that which is collected directly from a company's marketing efforts both on-site and off, the only guarantee a marketer has for retargeting. In order to adequately prepare for the future of data, you'll need to collect as much first-party data as you can about customers to make informed marketing decisions. The page they opted in on, which products they browsed and added to their cart, what was ultimately purchased, and the original traffic source are just a few of the many data points you should be collecting this season.
One of the smartest ways you can start learning more about your customers is quite simple: Ask them! To do this, feature a small survey pop-up on your site during the holidays. This way you can better understand how you're being discovered, what your visitors are shopping for, and other key details to help with retargeting efforts.
Soon after the holidays, use this data to trigger follow-up email flows asking for additional feedback or product reviews on your site, preferably in exchange for a discount or gift with purchase to increase your response rate.
Additionally, while you can expect to get their email at checkout, make sure to ask for their phone number, too! With that, you can provide shipping updates via SMS for a near-guaranteed lead capture conversion plus direct 1:1 line of communication for them later on to ensure they come back for more.
Tip 2: Review Your Offerings
Once you have a firm grasp on the data you're collecting and how to use it, it's best to revisit what you're offering customers after the holidays. The discounts served up during the holiday season aren't sustainable to run year round, but you'll still need to send out compelling, relevant incentives to draw those first-time shoppers back in.
Consider more compelling perks that you can offer outside of free shipping. Run giveaways, personalized recommendations based on what they bought before, or exclusive gifts / products that can't be purchased by just any shopper.
Additionally, it's good to review the creative for your ads, emails, and pop-ups. If you've been repurposing the same creative assets on and off-site, create new ones and mix it up. Since Q1 is a slower time of the year, this is a great opportunity to spruce up your brand messaging and try new hooks to ensure your marketing isn't stale. Review your pop-ups to see what performed best and use this time to A/B test variables like color, text, imagery, placement, etc.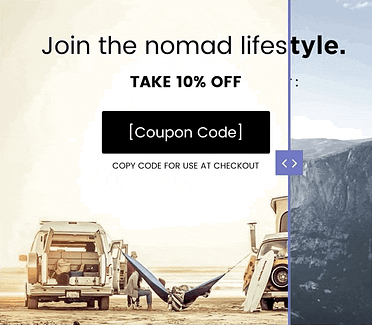 Lastly, really extrapolate what you know about your customers. What are they most interested in and how can you tap into that? Are there a few particular products that sell out over and over? What can you leverage to create FOMO and instill a new sense of excitement once the holiday hype is over? These are all important questions to consider as you power through the holidays and move full speed ahead into Q1.
Tip 3: Provide Proactive Customer Service
Customer satisfaction is crucial for getting a holiday shopper back on your site and adding to cart again. If they had a bad experience with your brand, it's unlikely they'll want to return. On the flip side, 78% of consumers will do business with a company again even after a mishap if the customer service follow-up was impressive enough.
So, during the holidays especially, be as transparent as possible about shipping times or delays, as well as product availability, and provide clear links to your FAQ or other helpful resources.
Additionally, you can stand out from the crowd with special touches like personalized "thank you" notes included with each order. This adds a memorable touch to your brand and will ensure holiday shoppers or gift recipients have an even more positive association with your brand.
Pro Tip: If a handwritten "thank you" note is too time-consuming, then consider printing them and adding your handwritten signature!
Personalized messages are particularly valuable in 2021/2022 as online shopping continues to dominate retail shopping and reduce the human interaction customers enjoy in-store. This is also a small way for newer e-commerce businesses to make a lasting impression. The "Shop Small" movement is still very much in the minds of shoppers and it's the little things that drive positive word of mouth, which, at the end of the day, is one of the most effective forms of marketing.
Then, there are the inevitable returns that occur after the holiday season: 96% of shoppers say that ease of returns is important to them when choosing where to shop. So do all that you can to be transparent and make the returns process as seamless as possible, even if you can't offer free returns. After all, while you may have lost that current sale, you'll build trust, making it much more likely they'll return to you in the future.
Tip 4: Leverage Loyalty Programs
As we move further away from brick-and-mortar shopping and closer to an e-commerce-first world, loyalty programs are integral in keeping your customers happy the same way turning in a punch card does.
There are many innovative ways brands can leverage loyalty programs, especially after the holiday season. Of note, offer one-time point bonuses for holiday shopping so they're already closer to unlocking the next level's discount, gift, or product. Or, invite them to an exclusive Member's Club, where they can get additional perks or first dibs on new products launching in the new year.
During the holidays, promote your loyalty program on your website and push those sign-ups into an automatic email flow welcoming select shoppers to the program along with touting the benefits. This also provides an opportunity to identify your high-intent customers and gather additional data on them for better retargeting after the holiday season.
For those shoppers who opted into SMS, this can be a prime opportunity to remind them about the points they have to redeem, inform them of a loyalty-related product launch like a VIP limited release, or inform them of an upcoming offer they can unlock. Loyalty programs and SMS work wonders together, achieving an average click-through rate of 14.6%, according to Postscript, the leading SMS / MMS marketing platform for Shopify brands.
Tip 5: Create Meaningful Re-Engagement
Holiday shoppers will have likely purchased from several different brands over the holidays and start to get inundated with emails after Christmas, so it's critical to break through the noise. How? Meaningful, relevant, and personalized messaging. This applies to your email, SMS, and on-site marketing.
Email Strategies
Welcome Emails have some of the highest open rates of any email flow and are a great opportunity to properly introduce yourself to your customers. With welcome emails, it's important to give something extra, and we don't mean more sales pitches. Instead, thank them for their recent purchase, offer tips on how to use and care for it, and even throw in a free discount for their second order. While you're at it, invite them to follow your social media accounts, but be sure to give them a reason to, such as exclusive giveaways or contests.
Content Emails are ideal for customers who are starting to engage with your brand a little more. These emails help keep holiday shoppers engaged by sending them a selection of relevant content they're likely to be interested in. For example, use these emails to share blog posts, videos, podcasts, or visually engaging content that's aligned with your brand and the recipients' interests. But, keep in mind, these engagement emails are meant to nurture the relationship, not necessarily drive conversions!
SMS Strategies
Conversational marketing is on the rise. Similar to the above Welcome Email tip, focus on starting a two-way conversation with your customer instead of a one-sided sales pitch. Send them tips, support, and above all, foster a sense of community.
When it comes to creating repeat customers, brand trust is crucial. More and more brands are drawing the curtain to let their customers take a peek at what's happening behind the scenes at their company. SMS is a pivotal channel for humanizing your brand so that it's more than just one of many one-and-done holiday gifting solutions.
On-Site Strategies
Target returning shoppers on your website with intelligent product recommendations based on what they previously browsed, bought, or even left in their cart during past visits. Further, if they only opted into emails before, target them with an SMS lead capture now that you've had a chance to demonstrate more value to them.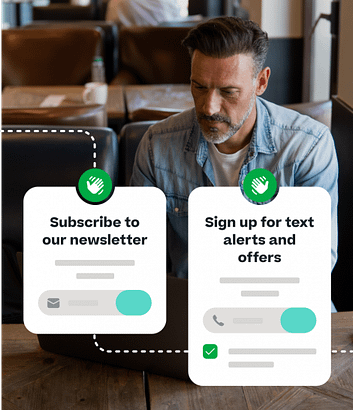 Combine on-site and off-site campaigns with UTM-based targeting rules to mirror whatever messaging you used to drive them to your site, including discount codes, timers, etc. This will build a more seamless, personalized experience and improve overall campaign results.
Wrapping It All Up: Five Ways to Convert Those 5%
Just like acquiring them, converting holiday shoppers into repeat customers isn't easy. Let's face it: Some shoppers are simply taking advantage of holiday promotions to buy a one-time gift and will never be seen again.
However, to weed these customers out and ensure they're the minority, not the majority, it's vital to implement the right retargeting strategies, including the five mentioned above.
If you find your brand over-relying on Q4 sales or are looking to make Q1 profitable, keep the momentum of the holiday hustle going strong by being smart about how you market to these hard-earned customers.
Remember, if you can retain just 5% of your holiday shoppers, you can unlock tremendous growth throughout the rest of the year and beyond. With the right retargeting strategies in play, you're likely to hit the bullseye for that handful of customers you want most.
About Justuno
Justuno is the premier onsite conversion optimization platform with personalized messaging, AI-powered product recommendations, and advanced visitor intelligence technology to help businesses turn visitors into customers. With over 11 years of experience serving more than 20,000 customers, Justuno empowers brands and agencies alike to create better website experiences through personalized touchpoints, comprehensive analytics, robust traffic segmentation, and more.