Are you struggling to write compelling copy for your Facebook ads?
In this article I'll provide you with five useful hacks to write better Facebook ad copy in minutes.
Who needs a copywriter anyway?
1. Personalize the message
In an earlier blog post we discussed how important it is to serve the right message to people at various levels of your funnel.
Each Facebook ad must be personalized to your audience; otherwise, you won't get their attention. The Facebook newsfeed is a never-ending pool of content. To get your ads noticed you need to personalize the message.
BK Magazine do this by mentioning how hot it is in Bangkok (March is one of the hottest times of the year) and sending users to a blog post about cold desserts.

Everyone in Bangkok can resonate with that message because they know how hot it is. The message is relevant.
 2. Be clear and concise
When targeting the upper end of your funnel, your message needs to be direct and give prospects as much information about your brand or product as possible without waffling.
If you leave users guessing about what you offer or who you are, they aren't going to click your ad to learn more – they'll just keep on scrolling.
Here's an ad from iCounselling that sums up their service in two clear, direct, and jargon-free sentences: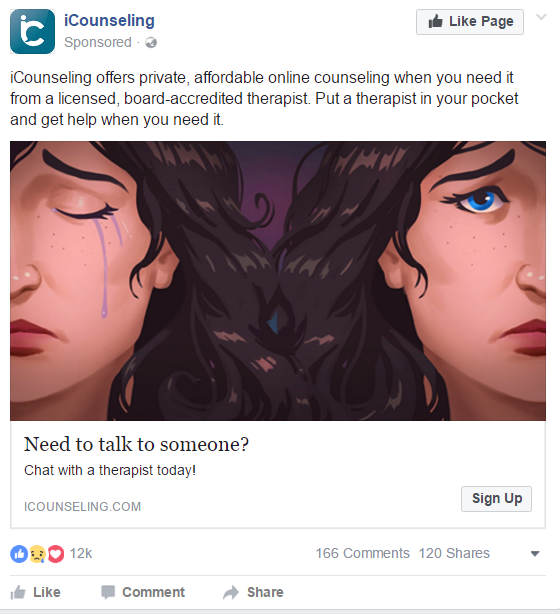 The same can be said for this ad from Empire Flippers: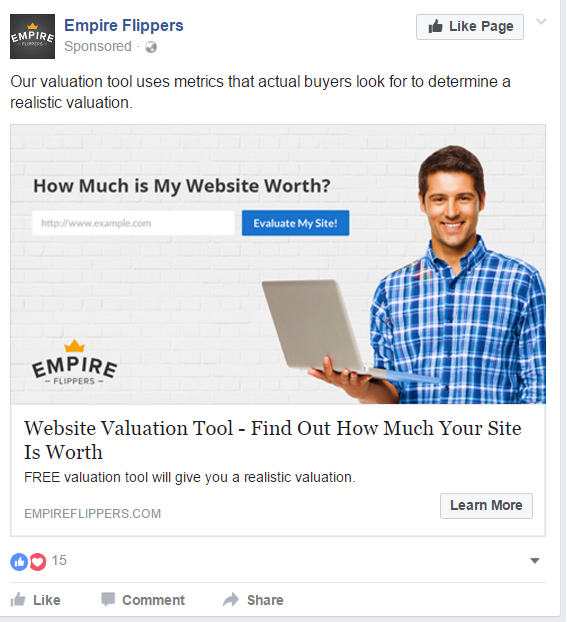 As users get deeper in your funnel, your messages can become more abstract and focus on a single pain point or product feature. Messaging at the upper level needs to be more explanative and less about the benefits or features of your product.
 3. Do you even emoji?
Did you know that you can use emojis in your Facebook ads?
You can find hundreds of Facebook symbols that you can insert into your ad copy.
Emojis are way underutilized and can have a huge impact on getting more eyes and clicks on your ads.
Here's an example from food brand Paleo Robbie, who use a knife and fork emoji to further emphasize their product and offer to add that pop to their ads: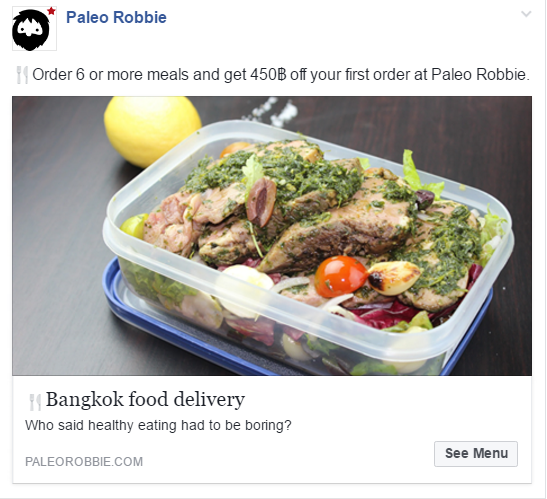 Use emojis with caution. While having four or five different icons in a single ad will make your ad stick out on the Facebook newsfeed, having too many icons may dilute your message as people may view it as click bait or childish.
AdEspresso found that by adding a red flag emoji to one of their ads, it increased their click-through rate by 241%.
(Source)
4. Utilize social proof
One of the biggest barriers brands face is converting leads into customers.
The prospect doesn't know your business well enough and is undecided about whether they should spend their hard-earned money with your business or somewhere else. These are prospects who are in the middle of your sales funnel.
You can gain their trust with user testimonials or reviews.
Punjab Grill Bangkok mention that they are ranked in the top three restaurants on Trip Advisor, an online review directory that everyone knows, giving their restaurant instant credibility.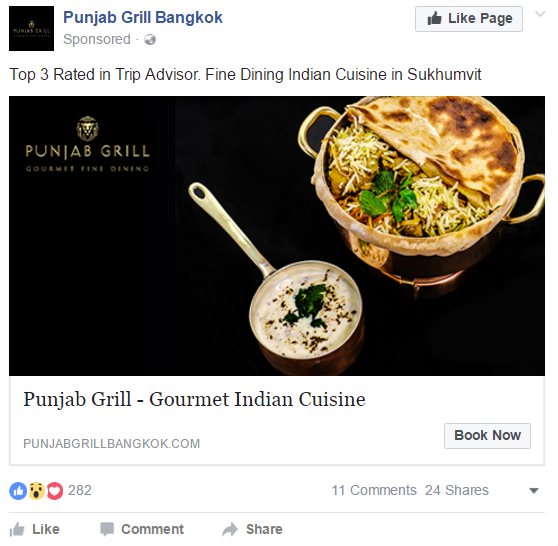 88% of consumers trust an online review just as much as a personal recommendation. Never underestimate the power of social proof in your ad message.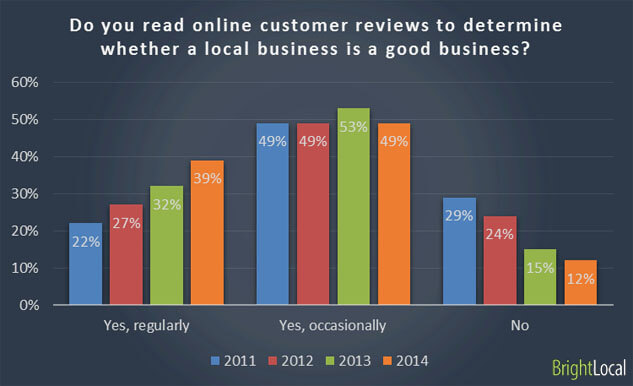 Can you leverage customer reviews or review websites to add greater impact to your next ad message?
5. Instant gratification
We live in the age of instant gratification.
E-commerce brands are starting to offer same-day delivery; we close a web page if it takes more than four seconds to load; and many of us receive a micro endorphin rush when our mobile device receives a message.
Quantifying what the user will gain before interacting with your ad is huge. In the case of Hootsuite, for example, they tell us we will learn 14 Facebook tricks that we didn't know about if we read their blog post.
Which Facebook marketer doesn't want to know 14 tricks they didn't already know?
The learning outcome has been stated at the start of the message, and the reader knows exactly what to expect if they click the ad.
Summary
You don't need to spend hours crafting Facebook ad copy. Instead, use buzz words or hire a copywriter.
However, you do need to understand where your audience is in the sales funnel and what type of messaging they need. For example, if your goal is to build trust with prospects, you may want to avoid using emojis and instead focus on creating a message that harnesses social proof or provides instant gratification (learning outcome).
When targeting people at the top of your funnel, an emoji with a clear and concise message may drive more people to your website.
How are you crafting your Facebook ad copy?