Who would you like to skyrocket their e-commerce revenue?
Great!
In this article I'm going to show you how to merge your Messenger Bot with your email list to get more opens and clicks, which ultimately lead to more revenue.
Why Messenger bots?
I love Messenger bots for many reasons:
Higher open rates – Messenger open rates are in the high 90% and have a click-through rate of over 20% on average, compared to email marketing which has open rates of around 25% and click-through rates under 5%.


The Facebook Messenger app ranked at #4 for the most time spent on an app in 2018. Messages from a bot go directly into a user's Messenger inbox.
A new medium to reach customers – There's nothing wrong with email marketing. I love it and will always use it.
However, not everybody uses email regularly, compared to Messenger apps which we may log in to as much as 5-10 times per day.
It's good practice to expand to new channels where you can connect with customers. Messenger bots are great for e-commerce businesses as you can send customers special offers and follow-ups that they may not see with email.
Less competition – Very few businesses use Messenger bots, giving your store a USP. Being able to reach your audience on Messenger without having to battle with competitors gives you the upper hand.
How to create a Messenger bot
First, you need to decide which Messenger bot service you want to use. There are dozens out there, but the following services are my favorite:
Once you've picked the one that best suits your needs, you'll need to get users to join your Messenger bot.
A great way to get thousands of bot subscribers is to send your email list a message asking them to join your Messenger bot to be kept up to date with what's happening at your store.
You can even bribe them by asking them to join and giving them a voucher once they have joined.
In the example below, food service Paleo Robbie asks its email list which service they would like to receive updates about. Once clicked, they are given a small discount off their next order and told how to unsubscribe if they do not wish to receive any more alerts.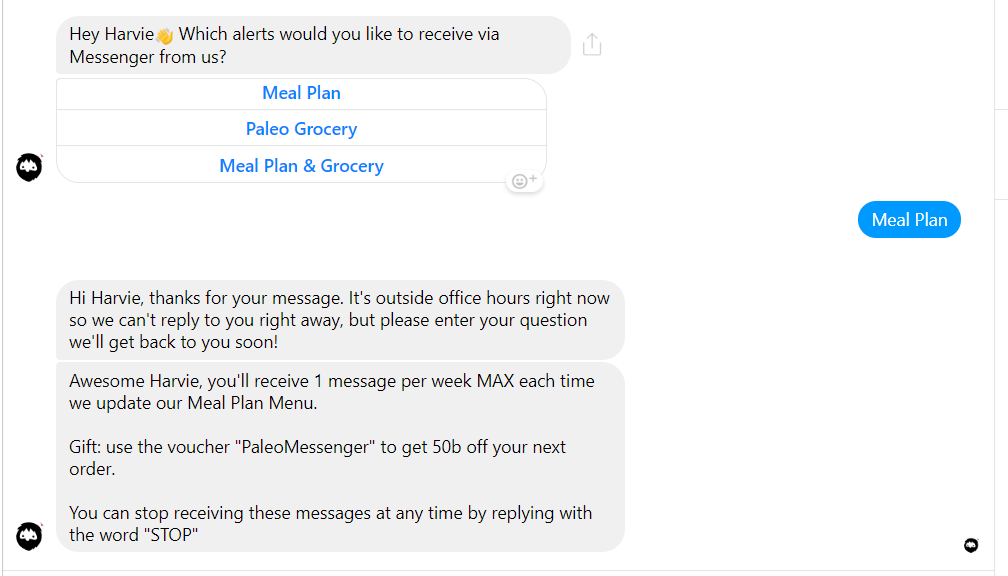 ManyChat will tag users based on their clicks, allowing you to later send ad-hoc messages to them. You can segment users to ensure that followers receive alerts that they care more about.
You can send non-promotional subscription messaging, promotional broadcasts, and follow-ups.
Non-promotional subscription messaging
You cannot continually spam your Messenger subscribers as your bot will be disabled and you may face harsh penalties from Facebook.
A non-promotional message can be:
a news-related story about your business,
value-related content (helping the user without asking them to take an action), or
personal tracking such as how many steps they have walked or hours worked.
To use this feature you have to apply for it directly on Facebook.
Here's an example of a non-promotional message:
(Source)
Promotional broadcast
A promotional broadcast is any message in which you're selling a product or promoting your business.
You can only send promotional broadcasts to anyone who has interacted with your business in the last 24 hours.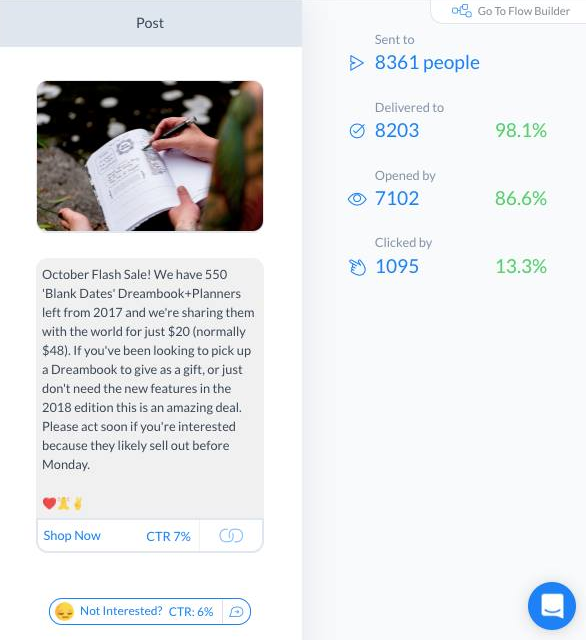 You can only send one promotional broadcast per 24 hours. The example above was said to have generated $18,400 in under three hours.
Follow-up
You'll be able to send one follow-up message 24 hours after your last message.
A great way to use a follow-up message is to run time-based offers. The follow-up message can be a polite reminder that your sale is ending in a few hours.
Once you send the follow-up message, you won't be able to send that user anymore promotional messages until they interact with the bot again.
Your turn
These are just a few ways you can use Messenger bots as part of your overall marketing strategy very quickly.
The three types of messaging I've discussed are very easy to set up and don't require any hard coding. Once you get to grips with the advantage of having your own Messenger bot, you can create more complicated bots that help you with the lead generation process and sales.