How many times have you clicked on a URL link from a Facebook post and left before the site had time to load?
You're not the only one, as much as 40% of Facebook users abandon a website if it doesn't load within 3 seconds.
To better serve its users, Facebook has updated its ad delivery auction to prioritize websites that offer users a fluid mobile-friendly experience (pretty much making it cheaper to advertise and reach more people).
In this article, I explain why mobile-friend pages are important and how you can improve the speed of your website when running Facebook ads.
Mobile Is Now Bigger Than Desktop
There are more people accessing the Internet using a mobile device than desktop: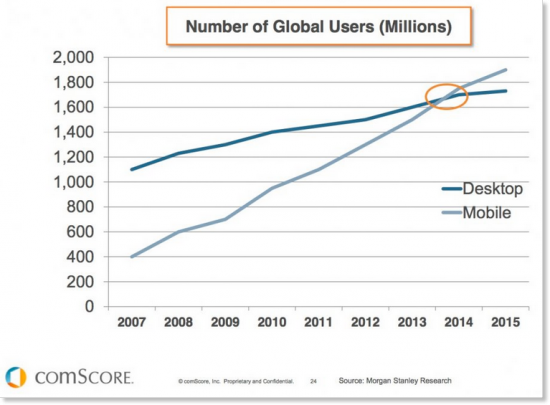 (Source)
90% of Facebook's daily active users access the site through a mobile device, and Facebook has created dedicated apps for Messenger, Groups, Pages and Ads (they have 7 dedicated apps in total).
This data is a clear state of intent that the future of Facebook is mobile, and their latest algorithm change is a message to all businesses to get their websites mobile-friendly.
Changes To The Auction Model
A source inside Facebook told us that they expect websites that offer a sluggish mobile experience to expect their CPC and CPM to increase. They should also notice a drop in clicks from users who are using lower quality network connections (2G/3G), as a large part of these users leave your website because of slow load times.
Our source inside Facebook said the verticals most likely to see a impact are:
Retail
Telecommunications
Financial services
Gaming
Education
Businesses operating in these industries may see a +/- 10% changes in CPC, CPM and total impressions in the coming weeks.
If you're spending thousands of dollars per day on Facebook ads, a 10% increase in costs is huge. Here's what you can do to ensure your ad metrics are + and not – because of poor website load times.
How To Speed Up Your Website For Mobile
There are a number of ways you can increase the speed of your website for mobile, including:
Short-term fix – if your website if not mobile-friendly (test it here) you will most likely require a website overhaul which can take days, weeks or months depending on the size of your website.
A quick short-term fix is to modify all pages you advertise on Facebook to be mobile-friendly. This will be your landing pages, sales pages and most popular product pages.
Facebook didn't state that your entire website had to be mobile-friendly (although I strongly advise it is), only pages you advertise on Facebook. As a short-term fix, optimize these pages to be responsive for mobiles while you get to work on the rest of your website.
Compress media – images and video are typically the largest elements on a page and are a common cause for slow website speeds on mobile. Consider compressing or removing unnecessary media and side-bar widgets to increase load times.
Content delivery network (CDN) – is useful if you target audience is nationwide or global. They work by caching your website on servers around the world, meaning data has to travel a much shorter distance to the user, resulting in faster load times: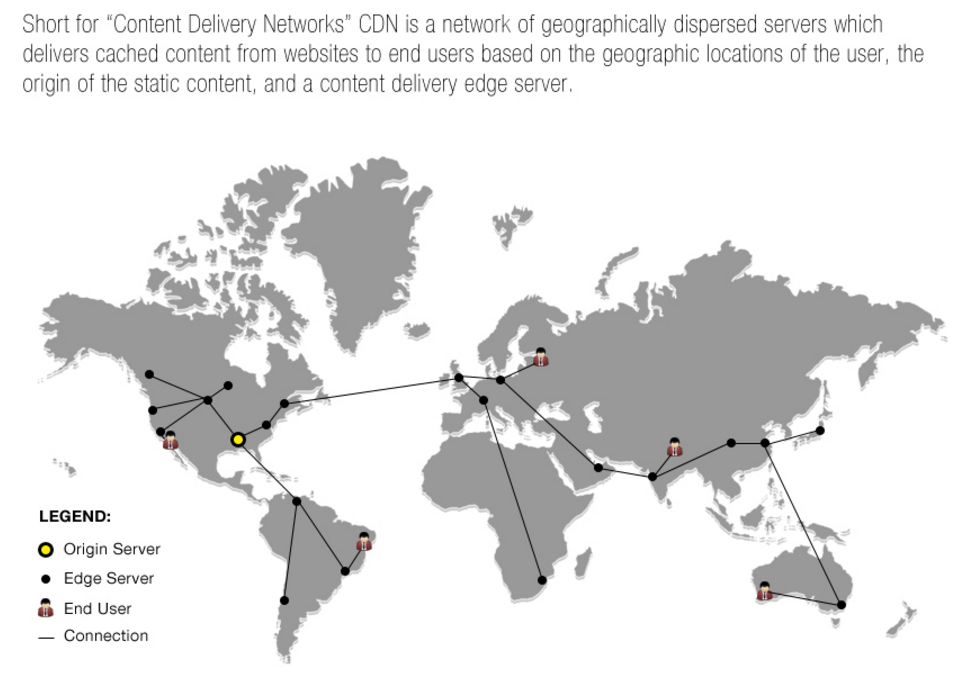 (Source)
Don't use redirects/ link shorteners – Facebook has made it easier enough for advertisers to track all campaigns if they've correctly setup their pixels and events. Using link shorteners or website redirects will add to your page loading slower.
Instant Articles – were created by Facebook as a way for businesses to share rich-media content without having to worry about load times. Instant Articles is a great avenue to leverage to promote content, you can learn more about it here.
Target Wi-Fi users – at the ad set level you can target Facebook users who are connected to mobile Internet or Wi-Fi:
You can also target by mobile type:

I advise to create ad sets for people using iOS and Android devices only who are connected to Wi-Fi spots to ensure faster load times. Facebook states:
" Feature phones are phones with more limited capabilities than smartphones" – Source
These are typically older devices which use slower processors and will provide users with a slower website experience.
Summary
Facebook is not the only platform that is going with a mobile-first strategy, Google recently revamped its algorithm to provide mobile users with a faster, more fluid experience.
We are just beginning to enter the world of mobile, if you don't make your website more responsive for mobile – you will pay for it (literally).
How have these changes impacted your campaigns so far?