Just as if Facebook couldn't offer you more ways to interact in real-time with your audience, recently they officially rolled out Facebook Live to everyone.
I will repeat this again, whenever Facebook rolls out a new product or feature it is imperative to jump on right away to get FREE impressions. The rationale is that Facebook usually serves many times more FREE impressions to the new product that they are launching in hopes to get data back.
If you're a business that spends a lot of time marketing to users on Facebook, you'll certainly want to use Live and in this post, I'll reveal how it works and how you can leverage it.
What is Facebook Live and how does it work?
Facebook Live is a status update that allows you to stream a live video to your audience.
You can use Facebook Live on a personal Facebook account or business page. There is no time limit to how long your stream can be, and once it is over Facebook converts the stream into a video allowing users who were not online at the time of streaming to view it later.
As you stream your followers can watch in real-time and leave comments that you'll be able to respond to during the stream. You'll be able to see the amount of people watching your stream and Facebook users can like and share your stream.
So Facebook Live is just like Periscope?
No, it's much better.
Facebook Live offers a few advantages over Periscope such as:
Audience base – Facebook has 1.6 billion users, Periscope has 10 million. You most likely have already built an audience using Facebook so getting thousands of people to watch your streams will be easy.
Periscope is not used by as many brands or users meaning you won't be able to reach as many people. Not to mention that users spend a lot more time accessing Facebook on desktop and laptops than Periscope which is primarily a mobile platform.
**** Some tactics we have tested, were turning back on our legacy Facebook Like campaigns and then creating Facebook Live's as we increase the our audience size with a main goal of increasing our reach on our Facebook Live's
Streams turn into video content – Every Facebook Live stream will later be converted into a video update allowing users who were not on Facebook at the time of streaming to watch later. Periscope only keeps videos on their server for 24 hours before deleting them forever.
The only downside to Facebook Live is you can only stream on Facebook whereas Periscope allows you to stream through Twitter and other social media sites. However this is not really a problem as the Facebook audience is so huge with over 1.6 billion users.
How Companies are using Facebook Live
You cannot run a paid ads with Facebook Live (yet), the only way you can target people is through organic engagement.
There are several ways you can leverage Facebook Live to better position your business, such as:
Live question and answers
In the middle of last year, IHeartRadio streamed a live question and answer session with singer Bebe Rexha allowing fans of the radio show to ask her questions.
iHeartRadio's CPO said: Our reason for existing is to connect fans with their favorite artists in meaningful and authentic ways and provide them unique and genuine access — which nothing lets us do better than Facebook Live,"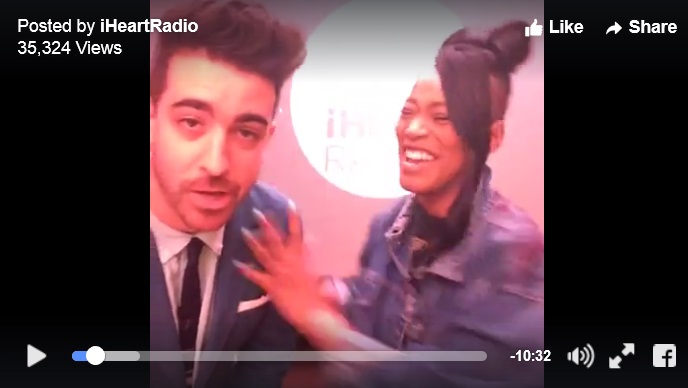 (Source)
Live Q&A with your customers about an upcoming event, product or an authority figure in your industry is a great way to connect with your fans, and increase your online presence.
An insider look/tour of your business
With the introduction of online marketing, smaller startups rapidly turn into huge entities in a matter of years (think Uber, Airbnb, Whatsapp).  Running Facebook Live to show your fans a 'behind the scenes' peek of your office, factory or production line is a great way to humanize your brand and to get away from the corporate vibe.
That's exactly what Dunkin' Donuts did when it used Facebook Live to stream one of its restaurants making its products.  The stream received 4,000 likes and drove over 31,000 organic views.
Streaming an event or conference
If you regularly host events or fairs, not all your fans can end up making it out. Facebook Live lets you bring the event right to their screens by live streaming it on Facebook.
Lady Antebellum used Facebook Live to and did a quick interview which she showed to her fans moments before she went live on stage:
The amount of streams you can do are endless 
Facebook Live can be used for just about every situation. Perhaps your business has an important company announcement to make, instead of spending hours writing a blog post and getting it approved by editors, simply pick up a mobile device and go Live.
Product demonstrations, webinars and building brand awareness are all fine objectives to complete using Facebook Live. The sky's the limit.
How do I quantify success or failure?
I know you are thinking, "this is great it sounds awesome, but how do I quantify conversions and ROI from my Facebook Live stream"?
I firmly believe this in the works for Facebook and that very soon they will be giving some sort of "View Through Credit" to people who have watched Facebook Lives on your business page.
Currently, its just a really great top of funnel strategy to drive engagement.
How To Set Up a Facebook Live Stream
Facebook Live can only be used on mobile devices. You cannot at this moment in time use a desktop computer, GoPro or any other device asides from a smartphone or tablet that uses iOS or Android.
You can stream Live on a personal account or Facebook Page.
To create a stream simply visit your business's Facebook Page on an iOS or Android device, head to the Publish Post option and choose the Facebook Live icon from the list:

Facebook will then ask you to allow access to your camera and microphone as it requires permission to use these features before you can stream. You'll then be asked to write a short description labeling the topic of your stream and finally you'll have the option to decide who will see your stream.
Once you've done this, simply hit the Go Live button and your stream will go out to the world.
Why You Should Start Streaming Right Away
Reach!
Whenever Facebook decides introduce new features they start by giving publisher free organic reach. If you posted an image update and the same time next week hosted a Facebook Live stream, your stream would reach several times more people for nothing.
Who knows how long this will be the case before Facebook start charging you to reach a wider audience using Live. They did it in 2015 with organic updates, and we suspect them to do the same with Live in the future.
But as of right now with limited competition, you're in an extremely profitable period of time where you can use Live and reach thousands of people without paying a cent. Even streams which are later saved as videos are favored in their algorithm and shown organically.
Start streaming as much quality content as you can to maximize on Facebook's generosity, because trust me, it won't last for long.
Summary
We mentioned in a previous blog post that Facebook is trying to dominate the online video market and surpass YouTube. Facebook Live is going to be an indispensable tool for brands with large amounts of followers as Facebook will value live streams a lot higher than link posts and even videos.
Facebook Live is available for all businesses get ahead of the curve and get started today!