Google Shopping Campaigns: 5 Successful Examples to Follow to Start Ranking Today
When strategizing how best to promote your DTC brand, Google Shopping campaigns rank top of mind. But how to get your brand's shopping ads to rank top of Google search results?
Not so obvious.
It's a complex equation that can—and should—be solved, as Google Shopping has more than earned its stripes as a profitable platform, accounting for 42.3% of new customers who generate an additional $300,000 in revenue. In other words, if you manage to stand out from your competitors in search, you can consider your brand good as gold—and your products sold.
But how do you win the "buy box" at the top of Google results … and actually rack in sales?
Having collaborated on many successful Google Shopping campaigns, Okendo, an official Google Shopping Reviews partner, and MuteSix, the top DTC digital agency in North America, are here to answer the million-dollar question for brands across five distinct shopping verticals.
For solutions from the experts on how best to leverage Google Shopping, consider your search done and read on.
Why Google Shopping Is Important for E-Commerce Brands
For starters, Googlers are pre-qualified because they know what they want, have an idea of what the product looks like, and accept its price tag prior to clicking through and sealing the deal. What's more, ads are triggered based on purchase intent: The shopper signals demand simply by typing in their query. Then, there's the prime real estate factor. Located on the SERP, Google Shopping Ads often proudly tower over search text ad listings and organic results, a location that screams, "Look at me!" to ready-to-buy consumers.
Increasing a product's relevance, Shopping ads show your product image, price, brand, reviews, and promotions (when applicable), and you can see why they are much more efficient than a standard Google Search ad.
Further, Google takes into account your reviews when deciding which ads to show for queries like "best" and "highest rated," which is why partnering with a company like Okendo is so important. Google also started showing user-generated rated reviews once you click into the product ad, which helps with relevance and social proof.
Combine Okendo's campaign strategies powered by social proof with MuteSix's unrivaled expertise in building targeted campaigns and scaling spend, and you've got yourself a Google Shopping victory.
Google Shopping Best Practices for Apparel

Touted the "world's most comfortable shirt," Buttercloth enjoys incredible success in the world of Google Shopping thanks to a few key tactics. Capturing what a Buttercloth shopper's intent is, the digital marketing experts at MuteSix relied on Google Shopping keyword targeting with "buttersoft shirts," "Shark Tank shirts," and "dress shirts for men," terms that speak to quintessential characteristics of Buttercloth's shirts (softness) and the most likely source where shoppers learned about this budding business (Shark Tank).
Additionally, MuteSix created unique Google Shopping campaigns to promote collection launches, which allowed them to up spend and highlight fresh-to-market potential bestsellers. But, wait, there was a strategic caveat to consider. Since inventory can be challenging to manage in the apparel industry (especially when favorites are flying off e-shelves in the blink of an eye), it was important to focus on serving ads only for new and best-selling shirts with adequate inventory. This strategy proved to work with its October Launch Collection campaign, which, compared to its October Main Shopping campaign, saw 1.25% CTR (vs. 0.8%), a 7% lower CPA, and an 8% higher ROAS.
When it comes to the review strategy for Shopping Campaigns, Okendo had a few winning tips, too. The better the overall quality of your reviews, the more impact they have on shoppers' buying decisions. When selling apparel, everyone's body type is different. Allowing customers to see the items on everyday people and how it fits is extremely important. Implement a tiered reward strategy to incentivize customers to submit a review for your product and to motivate them to include photos and videos. This will not only allow you to increase the number of reviews, but the quality of them, too!
Google Shopping Best Practices for Food & Beverage
Similar to Buttercloth, Google Keyword targeting was agenda item number one for Bev. For the innovative sugar-free wine brand, MuteSix used Google Keyword Planner to single out high-volume queries, which included "low carb wine," "best canned wine 2020," "zero sugar wine," and more. The winning keywords, which landed Bev in the top Shopping Ads and ranked them as one of the "Top 20 Wine Products in the U.S." in Shopping Insights, were also intent-based queries. Each differentiates the brand from its bevvy of competitors as a healthier alternative, making health-conscious, ready-to-drink consumers thirsty for Bev over the rest.
MuteSix took the optimization one step further by testing new product images, opting for bright, eye-catching product shots over your run-of-the-mill white background plus product creative that saturates the web. For Bev, it was all about appealing to its niche audience and making its drinks not just visible, but next-to-impossible to miss.
Okendo then served up expert advice regarding reviews for the Food & Beverage vertical, suggesting that brands make sure their reviews comply with Google's Product Ratings program policies. Okendo's auto-publish feature allowed Bev to minimize the time spent manually publishing reviews, while also maintaining strict controls around what content was published. For example, with Okendo, you can configure your auto-publish settings to publish only reviews with ratings more than or equal to four, which are from a verified buyer, have no media, and have a positive language sentiment.
Google Shopping Best Practices for Health & Wellness
Another example worth looking to is Moon Juice, the superpower supplement bridging the worlds of alchemy and biology for functional benefits. For them, the winning keywords included "ashwagandha," "mucuna pruriens," "chaga," and "maca," which are the signature adaptogenic ingredients in Moon Juice's supplements and "potions."
The next secret to Moon Juice's success was segmenting smart shopping campaigns by product collection, which allowed for even exposure across Moon Juice's product offering. This meant one or two products wouldn't absorb all the spend in a single campaign.
In total, Moon Juice's shopping campaign leveraged Google Shopping by implementing robust titles, eye-catching images, and product ratings to increase CTRs. As a result, the brand has seen a 120% increase in spend, 184% increase in purchases, 164% increase in revenue, and an 18% increase in ROAS.
Okendo stressed the importance of ensuring your reviews are refreshed every month in order for Google to deem your feed as relevant to shoppers. By creating an automated post-purchase review request email sequence, you are able to collect a consistent flow of customer reviews to display alongside your product listing ads. To get the best results, it's crucial that you find the sweet spot for sending your request emails.
Google Shopping Best Practices for Beauty and Skincare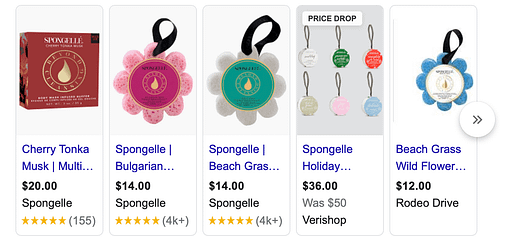 Spongellé, the colorful line of bodywash-infused "bouquet" body buffers foaming with infusions of exotic extracts, rich moisturizers, and gentle cleansers is one beauty item that could not be easier to find thanks to MuteSix's innovative keyword targeting. Keywords including "body sponge," "soap sponge bath," "body buffer," and even "hand lotion" point you to the budding bath brand.
At first, MuteSix tested exact keywords of Spongellé's product attributes (for example, "body sponge"). Once the agency saw CPAs reach optimal levels, they further expanded into each segment by adding in broad variations of the keywords. They then used this data to optimize the titles for the Shopping campaign feed to rank for these highly relevant keywords on both Search and Shopping.
For how to best replicate this, MuteSix recommends testing the top product attributes as keywords. Use the highest-converting keywords to optimize shopping feed titles. Then, segment out products based on various target ROAS to capitalize on high-volume products and gradually ramp spend up on the products that are lagging behind.
In following these tactics, Spongellé and MuteSix saw incredible results. The shopping performance over 60 days vs. that of the previous year (the same 60 days) showed +191% uplift in ROAS, with revenue improving by 200%. Additionally, search campaigns improved in revenue by +158% vs. the previous year.
To further enhance their Google strategy, Okendo gave Spongellé the ability to highlight organic product listings with Google rich snippets. When a product listing was surfaced in the organic Google search results, the Okendo star rating and review data was added below the product listing result. This made Spongellé's products more eye-catching than normal search results, leading to a higher organic CTR.
A strong Google Search Shopping campaign strategy combined with Okendo's social proof ratings and reviews validating the quality and customer satisfaction of the Spongellé products, has helped a generic, hard-to-rank "sponge" soak up all the limelight on Google Shopping.
Google Best Practices for Home Goods
In yet another shopping vertical, Google Keyword Targeting sparked visibility with DW Home Candles, using queries such as "best smelling candles," "crackling candles," "fall candles," and "wooden wick candles." Beyond just calling out the scents, MuteSix targeted characteristics of the candle like "crackling" and "wooden wick," which helps capture users with intent for a very specific type of candle. Additionally, the candle vertical is very seasonal, and fall is a huge-purchasing season, making it a timely keyword to use during the fall season.
The agency then segmented their Smart Shopping campaigns, creating a "low performer" campaign. This consisted of products that weren't showcased as often in the Shopping ads compared to their best sellers. This campaign allowed the brand to shine a brighter light on less-popular products, helping improve their performance. Compared to its main shopping campaign, this particular campaign proved successful with a 1.08% CTR (vs. 0.53%), a 15% lower CPA, and a 45% higher ROAS.
In a highly saturated vertical like candles, MuteSix aimed to test new product titles that call out value props differentiating DW Home Candles from the competition. For example, DW Candles are 100% vegan and cruelty / lead free, which the team added to its product titles in order to highlight what's also unique to the brand.
In order to provide shoppers with a transparent and comprehensive experience, Okendo added a few recommendations. Of most importance, they suggested responding to your customer reviews. Not only does this enhance the customer experience, but it also tells Google that your store is more accurate and helpful for shoppers. In addition, review responses are a great way to include highly relevant, long-tail keywords and phrases throughout your site.
MuteSix and Okendo: Your Google Shopping Campaigns' Dynamic Duo
MuteSix is the largest DTC agency in North America that has scaled some of the world's fastest-growing e-commerce brands across all shopping platforms, including the ever-changing, challenging landscape that is Google Shopping. Together, with Okendo, MuteSix solved the million-dollar-question as to how to stand out—and sell out—using Google Shopping campaigns.